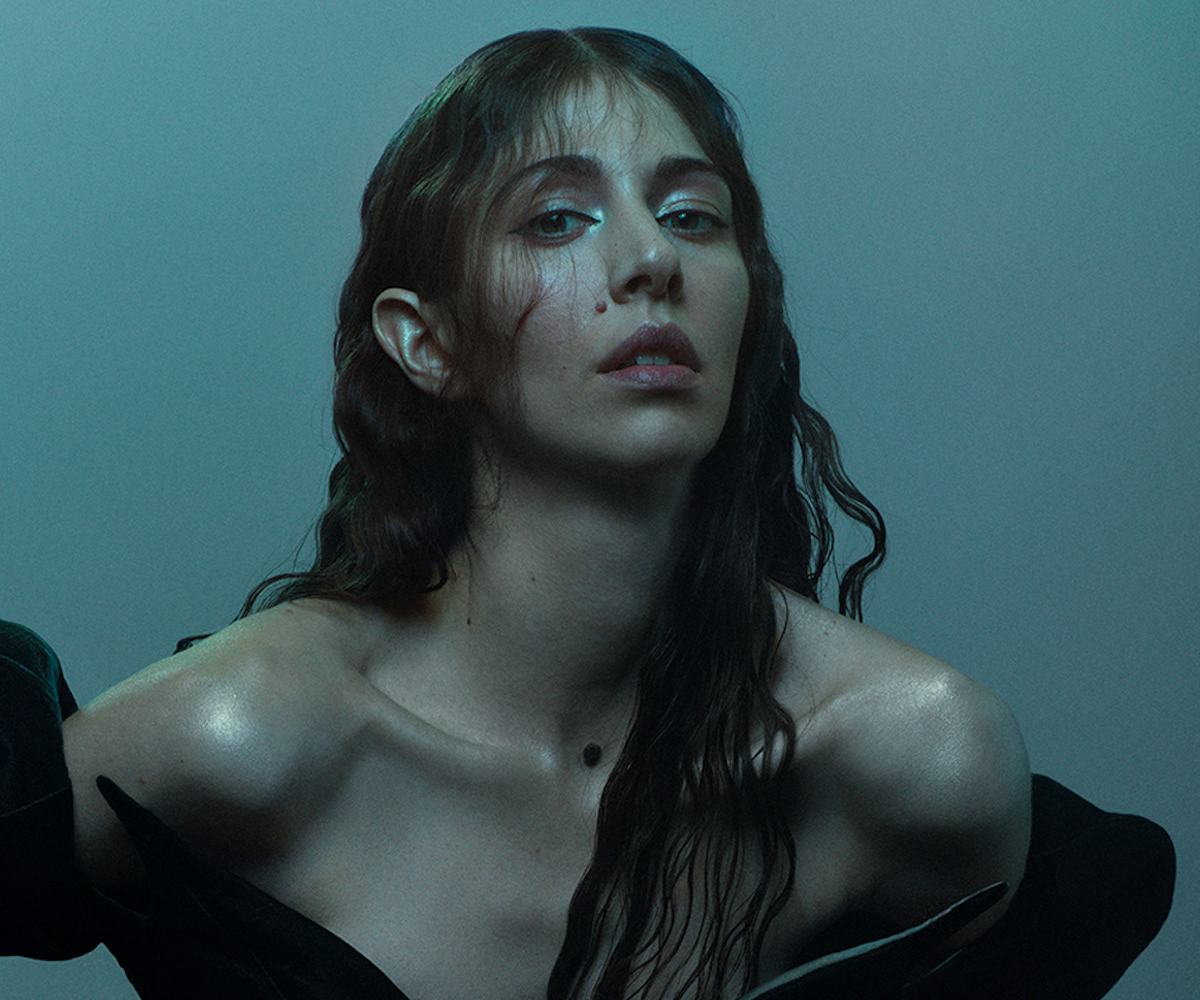 Photo by Karolis Kaminskas
Caroline Polachek Is Art Pop's Greatest Showman
How the indie-pop singer puts on a can't-be-missed live show
Walking into Caroline Polachek's concert feels like crossing a threshold. Outside, it's a snowy, miserable Saturday night in Brooklyn, where the streets are full of slush and inconvenienced New Yorkers. But once you step inside the doors of Warsaw, the iconic Greenpoint venue that will serve as Polachek's home for the evening, there's a warmth beyond the obvious temperature. Inside, a sold-out crowd has shedded their many layers and taken to the care-free, anything-can-happen vibe of a childhood snow day.
Then, a few minutes past 10 p.m., Polachek takes the stage, and the atmosphere changes once again. The 34-year-old former Chairlift singer emerges against a multimedia screen that depicts a gothic gate amidst a swirl of contrasting colors: deep violet, then cherry red, and vibrant blue against a spattering of stars. When Polachek begins the first song ("The Gate," the ambient opening track from last year's critically acclaimed Pang), she silences the crowd, but as they start to cheer and bop along, that anything-can-happen mood lingers. At this show, that much is true — but make no mistake, Polachek always knows exactly what she's doing.
The morning before her Brooklyn show — the second of her first 2020 tour that will take her everywhere from Chicago to London over the next several weeks —Polachek settled into a plush couch in a Manhattan hotel lobby. There, coffee in hand, she broke down exactly how she transformed one of last year's best albums into this year's must-see live show.
When you recorded the album, were you thinking about how it would translate to a live show?
In all honesty, no. Although ... I was very excited from the get-go to perform these vocals live. So much of this album vocally was written in a very improvisational way, at least melodically, and I think that live, you can feel that.
Do you find that difficult to do that each night? There are so many guttural noises on the album that seem to have come to you spur of the moment.
At this point, I've been touring for so long that I feel very free about making changes, but I also feel so much loyalty to these melodies. But that's one of the fun things about live shows: If you want to change something, you can just do it. And people love it. But for the moment, I'm enjoying doing it as is.
When you went to conceptualize what this tour would look like on stage, what was your jumping off point?
It was actually the same point that I was working with for both of the music videos. I was thinking about these surrealist landscapes and how to represent myself in it in a very simple way. I brought in an animator as the main collaborator on the live show, and he worked on all the music videos, so he has a real understanding of the vocabulary of the project. I also brought in this backdrop media company, that I have also worked with on all the music videos and photos, and they painted this gorgeous 15 x 20 foot painting that was designed by Timothy Luke, who I worked with on all the fonts and graphics. So it was a real fusion of the team.
We built this painting that gets animated projections thrown across it the whole set, but I didn't want anyone to feel like they were watching a screen. It's theater. It really functions as a changing landscape.
"If you want to change something, you can just do it. And people love it."
Did you approach this tour as a pop tour, which is something entirely different than a traditional rock one?
Obviously there is a lot of strategy in terms of, "How can I afford to put this on with the amount of people it takes?" Other than in terms of logistics, it really was thinking about how best to represent the spirit of Pang, and get that Disney-esque, but just very beautiful world on stage.
Do you go to other shows yourself to see what others are doing?
I've been trying to force myself more recently because I always get great ideas. I saw the comedian John Early perform recently in LA, and he does this thing where he mimes to YouTube videos with audio. I'm obsessed with this format. I can't stop thinking about how to bring it into my show. It's so fun.
This is not a traditional tour in that you are only playing a few cities over several months. What was the thinking behind that?
It was really a conversation with my management. At this point, I'm not touring in a van. I've been doing it for so long that I'm drawing a hard line and I'm not doing it anymore. Alternately, it doesn't make sense carbon footprint-wise to fly in for all these shows. With the quality of show that I want to do, and the quality of life that I want to have, the thing that makes sense is to just fly into cities that have the biggest audience and wait until the next record to go back to all those other places.
Do you feel added pressure knowing you only have a finite amount of shows?
Yes. I do feel a lot of pressure. One of the great things about doing a longer, more intensive tour is that you get really into a flow, and I don't have the luxury of that right now. Each show now requires so much focus and so many athletic warmups.
Did the movements you do each night on stage come organically, or were they pre-choreographed?
It did in the first iteration of the show, which is what I toured with last year. The show that I'm going to do tomorrow is my first collaboration with a choreographer, or movement coach. I worked with her on the "So Hot You're Hurting My Feelings" video. I felt like I needed to kick it up a notch this time around.
What is it like to work with a movement coach?
Oh my god, it's amazing. I feel like it must be kind of a bummer for her because there will be so many cool ideas that we'll workshop together and suddenly I realize, "Wait, I can't sing like that." The vocals are so demanding that we have to scale it back.
To that effect, how much do you have to think about function when it comes to selecting your on-stage outfit?
I probably should think about it more than I do. At this point, I've built up a palette in my closet, so I'm pulling pretty intuitively. I'm self-styling, which feels more honest, but I unfortunately leave clothes to last. Once all the other pieces come into place, the clothes come naturally.
I have started rehearsing in heels, because if I don't, it's such a big shock on stage. I really do love performing in heels. It puts me in a headspace where it feels like something special is happening. I've stepped out of my day-to-day, and something is happening.
One thing I've been thinking about so much recently, and this has to do more with being a female-identifying performer, is the amount of craft that goes into creating a stage look. I catch myself sometimes really hating it, but I've felt a new way of approaching. I'm suddenly feeling drawn to stage and cinema fashion throughout history, and as I'm getting ready I imagine Cher, for example, and the amount of care and work and costuming that goes into it, and feeling almost a spiritual connection to these people. There's this idea that this is about beauty, but it's not beauty — it's craft.
Once you get on stage, are there certain points in the show that have surprised you in terms of audience reaction?
There's this song on the record called "Look At Me Now" that is performed on the guitar, and I'm not a guitarist, at all. But that song was written for guitar and I told myself I had to learn how to play it on guitar. It's the only song I know how to play on guitar at this point. When I get up and play that one, it's very focused because it is totally acoustic, and that is probably the first point in the show where I am paying attention to people's faces. People get really emotional during that song. In Chicago, there was a guy who was crying and when my eyes would follow him, I felt that I would start crying too.
But, there's a line in the song where I talk about this very stressful moment in my life a few years ago where I started dropping weight as a result, and it goes, "Now my friends all tell me; girl, you're getting skinny," and some people always laugh and say it [in a funny way]. So when I see that, I start laughing. In Chicago, I almost started laughing and crying just based on people's reactions to it. It's an emotional odyssey.
Do you still enjoy people literally screaming "Caroline, shut up" to you every night?
Oh, fully. I'm living for it. I think everyone needs to have a crowd tell them to shut up. I recommend it as an experience. Twitter isn't enough.