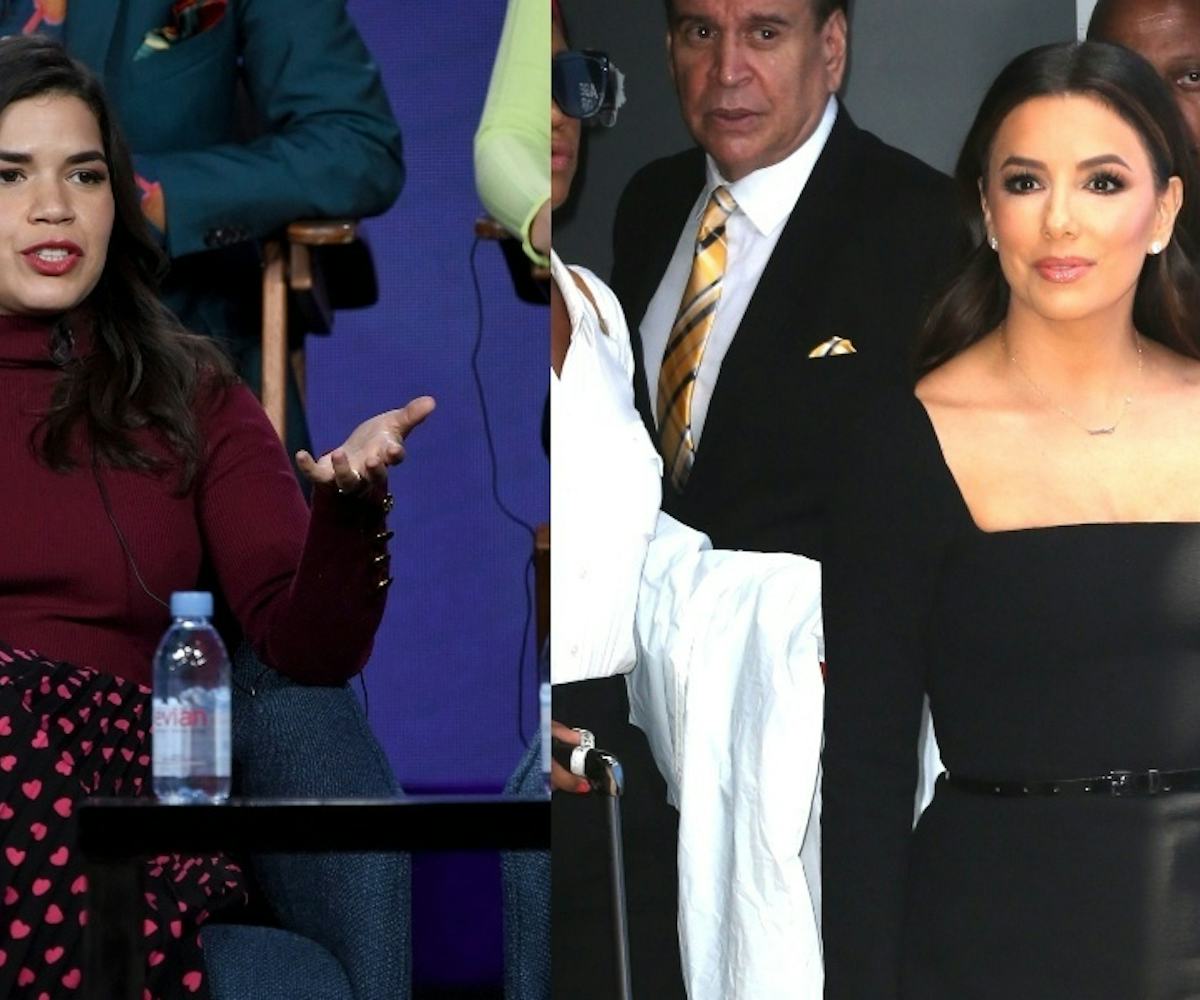 Photo by Richard Shotwell/Invision/AP & Broadimage (Shutterstock)
Eva Longoria, America Ferrera & More Write Letter Of Support To Latinx Community
J. Lo, Ricky Martin and more have all signed on
In response to the mass shooting in El Paso, Texas, and the recent ICE raids, more than 200 artists, activists, and leaders in the civil and labor rights movements have signed a letter in support of the Latinx community.
The letter was written by America Ferrera, Eva Longoria, Diane Guerrero, Alex Martinez Kondracke, Mónica Ramírez, and Olga Segura, and published in The New York Times, El Nuevo Herald, La Opinion, and El Diario. Signees now include Jennifer Lopez, Ricky Martin, Dolores Huerta, Lin-Manuel Miranda, Salma Hayek Pinault, and Gina Rodriguez.
Twenty-two people were killed and 24 others were injured after a 21-year-old white man walked into an El Paso Walmart and opened fire on August 3. The suspect was anti-immigrant, pro-Trump, and later told investigators that he wanted to shoot as many Mexicans as possible. Less than a week later, 680 undocumented workers were arrested after a raid on a food processing plant in Morton, Mississippi. It was the first day of school for local children, many of whom left school that day unsure where their parents were.
Part of the letter read: "Though real pain and fear are sweeping through our communities, we remain powerful. The indignities and cruelty we have endured will never change the truth that the contributions we make to this country are invaluable. Our humanity must be respected. And, we won't stop organizing for ourselves, our children, and for the soul of this nation."
"The Latinx community is known for being loving and welcoming. This letter embodies who we are as a community and the way that we are leading to unite our nation and guide us during these difficult times," said Ramirez, the founder of Justice for Migrant Women and organizer of the letter, said in a statement. "This message is not about policy or political parties. It is about human decency and care. We are asking people to sign on to love—and it is working. We hope that our allies and other community members will recognize our shared values and join us for the betterment of our entire country."
You can read the open letter in English here:
Spanish here: