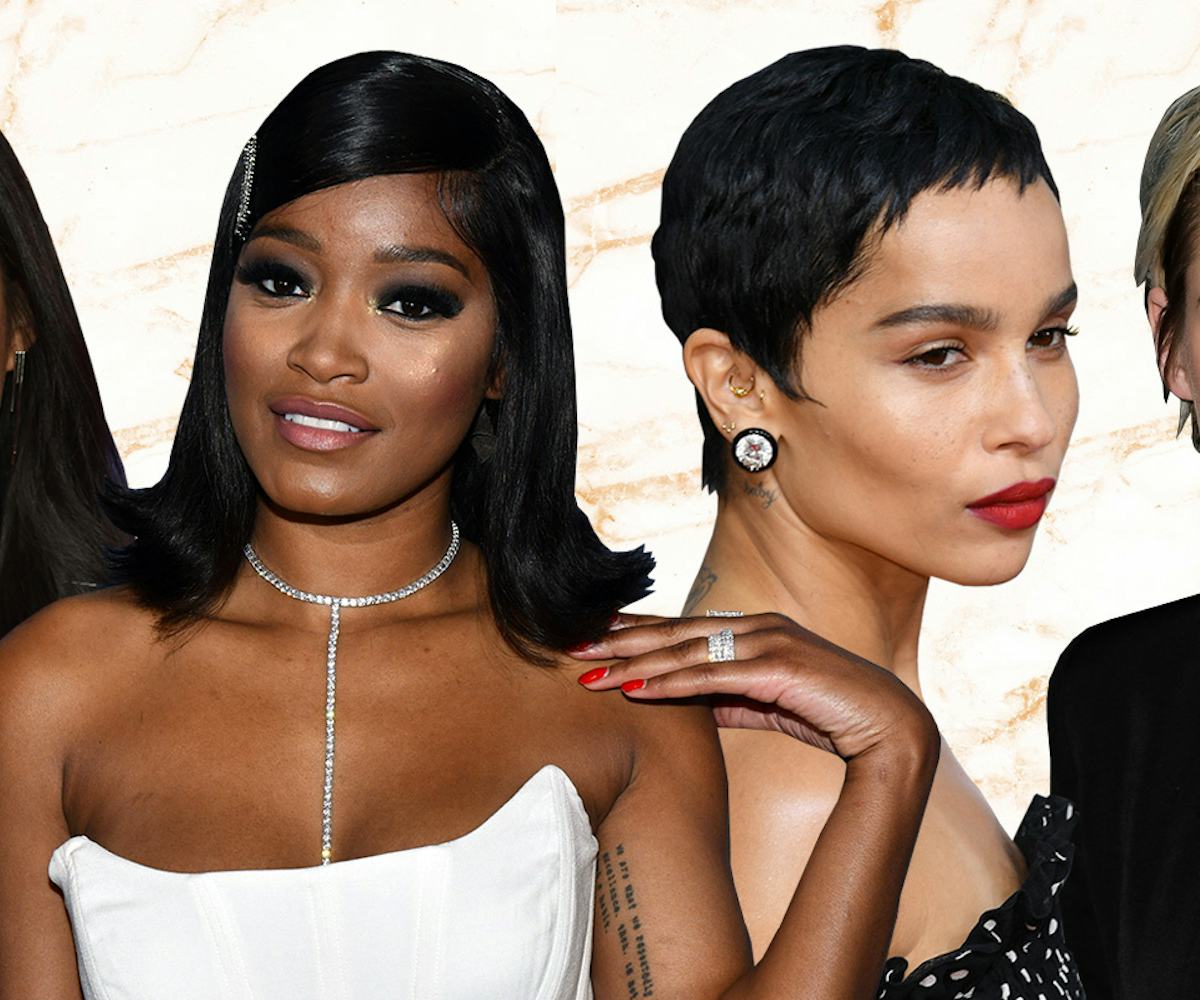 Images courtesy of Dimitrios Kambouris, Charles Sykes, George Pimentel, Tibrina Hobson via Getty Images
9 Extremely Good Celebrity Haircuts To Copy In 2020
From mullets to curtain bangs
The start of a new year has a funny way of making people feel like everything else in life should be new and fresh, too. But if you find yourself intimidated by the idea of setting lofty resolutions or goals that you probably won't even hold yourself to through February, there are plenty of low-stake ways to change things up — be it trying a new makeup routine or getting a haircut. The latter is proving to be an especially popular option, given just how many new celebrity haircuts have already popped in 2020.
From Miley Cyrus' new throwback hairstyle to Kristen Stewart's punk-inspired switch-up, there is no shortage of inspiration coming from the celebrity world and, maybe more importantly, their forward-thinking, professional hairstylists. Plus, there are fresh takes on styles old and new for every hair type and texture right now, whether you have pin-straight strands or thick, full curls — all of which are sure to bring on their fair share of compliments and copycats.
Ahead, check out nine of the most effortlessly cool celebrity haircuts of 2020 so far, because there truly is no better way to start fresh than to cut off a bunch of dead weight.
The Sleek Ultra Bob
Kaia Gerber went for a short, '90s supermodel bob in June of 2019, and we've been watching the style slowly creep up to its current, chin-grazing length ever since. When styled, like this look by celebrity hairstylist Bobby Eliot, Gerber's bob verges on pixie cut territory. "We wanted the look to feel sleek and rich," Eliot tells NYLON. Mission accomplished.
The Modern Undercut
Underwater star Kristen Stewart has long been with a classic undercut hairstyle, but recently freshened things up with the help of celebrity hairstylist Adir Abergel, who notes '90s grunge as a constant reference for the star. "It was more about changing the shape of the cut and still having the undercut," Abergel tells NYLON. "We removed some of the weight while keeping the length."
The Triangle 'Fro
Bring this photo of Grown-ish star Yara Shahidi to your next salon appointment for instant volume. Best for shoulder-length hair that falls in the curly-to-tight curl pattern, with medium to thick density, you'll walk away with the same energy as Shahidi had in her Instagram caption: "We (My hair and I) are taking up more space as we enter 2020."
The Fringe Mullet
Forget everything you think you know — or tragically remember — about the mullet before 2020. The controversial style has made something of a comeback in just the last few weeks alone, with stars like Miley Cyrus, Cynthia Erivo, and Euphoria's Barbie Ferreira bringing new life to the look. According to Ferreira's stylist Laurie Heaps, the modern mullet is achieved by chopping the hair into sections, using a razor and scissors, for fringe and texture.
The Choppy Bob
If the first two weeks of the decade have taught us anything about hair trends, it's that texture is key. This choppy, tousled look is inherently laid-back and cool — and, what's more, easy to manage.
The Curly Chop
The curly chop is far from new, but if you've been debating cutting all of your hair off — whether you're going for the big chop or just need a change of pace — this classic, minimal cut that still lets your curl pattern shine is a strong contender.
The One-Length Cut
If you're tired of layers, a low-maintenance one-length cut is an effortlessly cool move, as made evident by Farewell star Awkwafina. Plus, the classic style allows plenty of room to play around with a middle, center, or side part, whether you have short or long hair.
The True Pixie
While Big Little Lies star Zoe Kravitz loves jumping from hairstyle to hairstyle, she always comes back to the sweet pixie cut — and why wouldn't she? The short, fringed look requires little maintenance, and when achieved with the right cut, practically styles itself.
The Curtain Bangs
Ah, curtain bangs! The long, center-parted style has been going strong since the '60s but has seen a surge in popularity as of late, with stars like Dakota Johnson, Camilla Cabello, and Alexa Chung backing the look. Unlike the traditional, straight-across bangs, the curtain style makes it easy to move the fringe forward to frame the face or tuck back behind your ears, depending on your look and mood.
The Flippy Bob
We spotted the retro hair flip at the Golden Globes on Politician star Zoey Deutch, and the look continues to pop up amongst the Hollywood crowd. If you love your bob (or lob) but need some styling inspiration to freshen things up, this is for you.