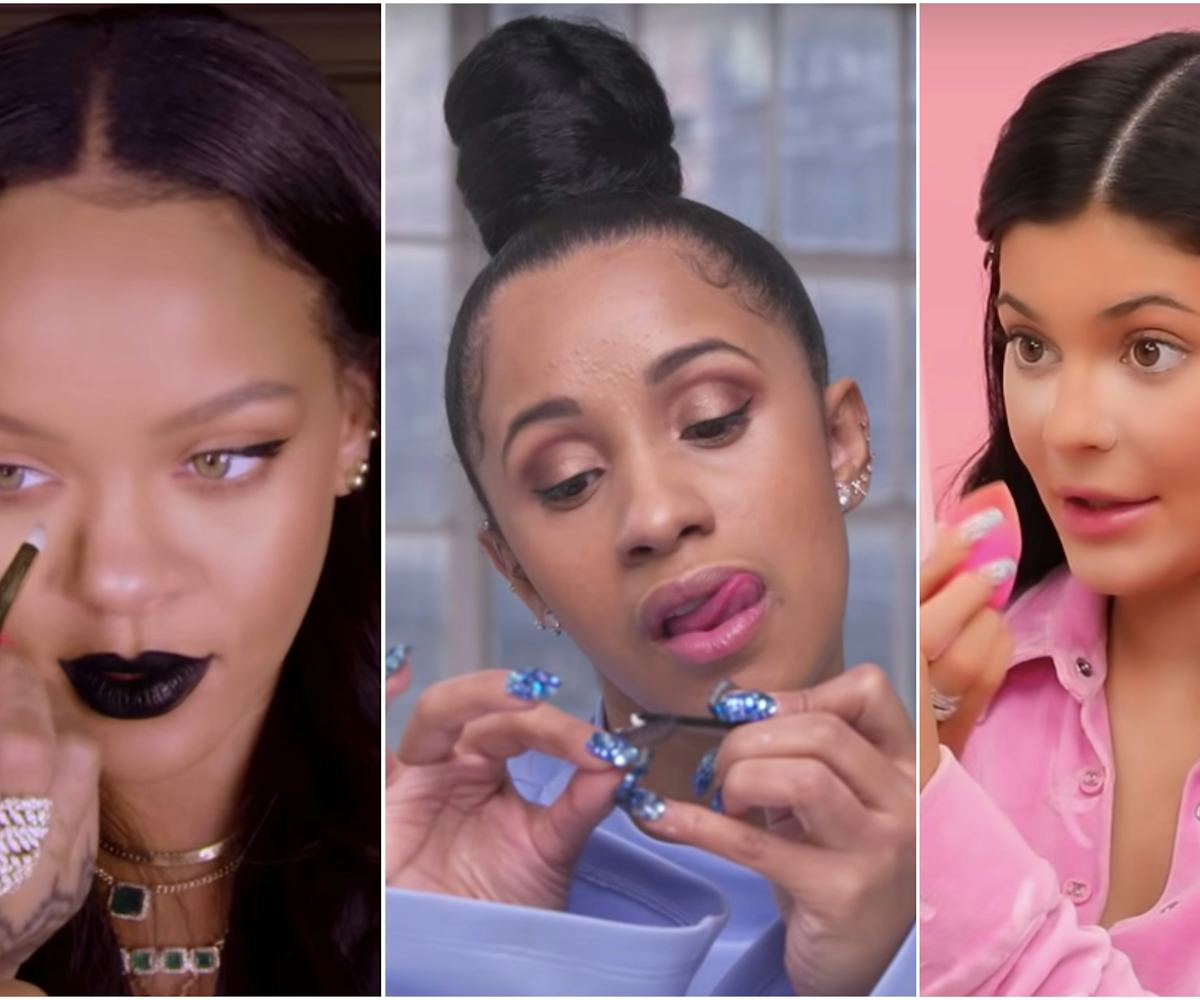 Courtesy of YouTube
17 Celebrity Beauty Makeup Tutorials You Can Perfect At Home
Including Jhené Aiko ASMR and Grimes facepaint
Every day doesn't always bring an occasion to bust out your brightest or best makeup routine, but that doesn't mean you can't use spare downtime— or a weekend filled with absolutely nothing— to test out something new. Whether or not you actually have anything to prepare for, there are seemingly endless celebrity makeup tutorials on the internet, allowing you to start planning and practicing brand new looks from the comfort of your home.
Red carpets and special events are often a place for celebrities to bust out their best beauty routines, but thanks to stars like Lana Condor, Kylie Jenner, and Alexa Chung, the secrets to their makeup success are now yours to master. While many in Hollywood may rely on a team of makeup artists and hairstylists to help achieve a routine that will withstand the demands of life in the public eye, that doesn't mean they don't also have a daily DIY routine of their own to follow.
As you'll find with the celebrity makeup tutorials below, you don't need a full glam squad and hours to spare to get ready. Even if you don't plan on doing your makeup, or carefully following the beauty instructions of Rihanna, the videos are a great way to watch your favorite stars have some fun and share a little bit more about their lives.
From an easy everyday look that takes Cardi B only seconds to complete, to Halsey's in-depth re-creation of her album cover, here are 16 celebrity beauty makeup tutorials that you can perfect at home.
Celebrity Makeup Tutorials: Gavin Leatherwood
The Chilling Adventures of Sabrina star proves he might have a future in makeup. As an added bonus for CAOS fans, he uses the CAOS eyeshadow palette created by NYX to complete the routine.
Celebrity Makeup Tutorials: Alexa Demie
The newly named face of M.A.C Cosmetics shared this sparkle-filled tutorial for achieving a "screen goodness" inspired look.
Celebrity Makeup Tutorials: Halsey
Halsey has long proven herself an expert at epic makeup looks, but this tutorial guides you on re-creating the routine she wore for the Manic album cover.
Celebrity Makeup Tutorials: Lana Condor
The star of To All The Boys I've Loved Before kicked off her YouTube channel with a peek at her everyday makeup routine.
Celebrity Makeup Tutorials: Doja Cat
Use your extra downtime to finally master the art of E-Girl beauty with Doja Cat.
Celebrity Makeup Tutorials: Alexa Chung
You don't need tickets to a music festival to try out looks often spotted on the festival grounds. Alexa Chung shared her go-to Glastonbury look for this tutorial.
Celebrity Makeup Tutorials: Amandla Stenberg
It's never too early to start preparing your New Year's Eve makeup, and with a little help from Amandla Stenberg, you're sure to sparkle when the big night finally arrives.
Celebrity Makeup Tutorials: Shay Mitchell
More than eight million viewers have turned to this everyday makeup routine from Shay Mitchell.
Celebrity Makeup Tutorials: Zoe Kravtiz
Learn the best practice for brightening up your eyes and using eyeliner to create a uniquely lined eye with this tutorial from Zoe Kravitz.
Celebrity Makeup Tutorials: Kylie Jenner
Grab your nearest lip kit, because Kylie Jenner takes you BTS of her daily routine.
Celebrity Makeup Tutorials: Rihanna
Don't shy away from bold, black lipstick. Rihanna makes the color look totally effortless in this tutorial.
Celebrity Makeup Tutorial: Patrick Starrr and Kim Kardashian-West
Two of the biggest stars in the beauty community collaborated for this video, which features Patrick Starrr guiding Kim Kardashian-West and viewers on the complete process to a "full coverage natural glam beat face slayed to the gawds hunty." The 2017 video was Kardashian West's first-ever makeup tutorial.
Celebrity Makeup Tutorials: Grimes
Give your skin a little glow and your makeup a little something, er, extremely unique with this complete routine from Grimes.
Celebrity Makeup Tutorials: Cardi B
Spend only seconds of your lunch break learning a new makeup trick care of Cardi B and her 90 second routine.
Celebrity Makeup Tutorials: Lizzo
In this 2017 video for Vogue, Lizzo shared her secret for a perfect day-to-night routine.
Celebrity Makeup Tutorials: Yara Shahidi
Glossy red lids, finger-blending, and french fries all make an appearance in Yara Shahidi's Vogue tutorial.
Celebrity Makeup Tutorials: Jhene Aiko
Beauty has long proven itself to be relaxing, but Jhene Aiko adds a truly unique element with this tutorial that also doubles as an ASMR video.