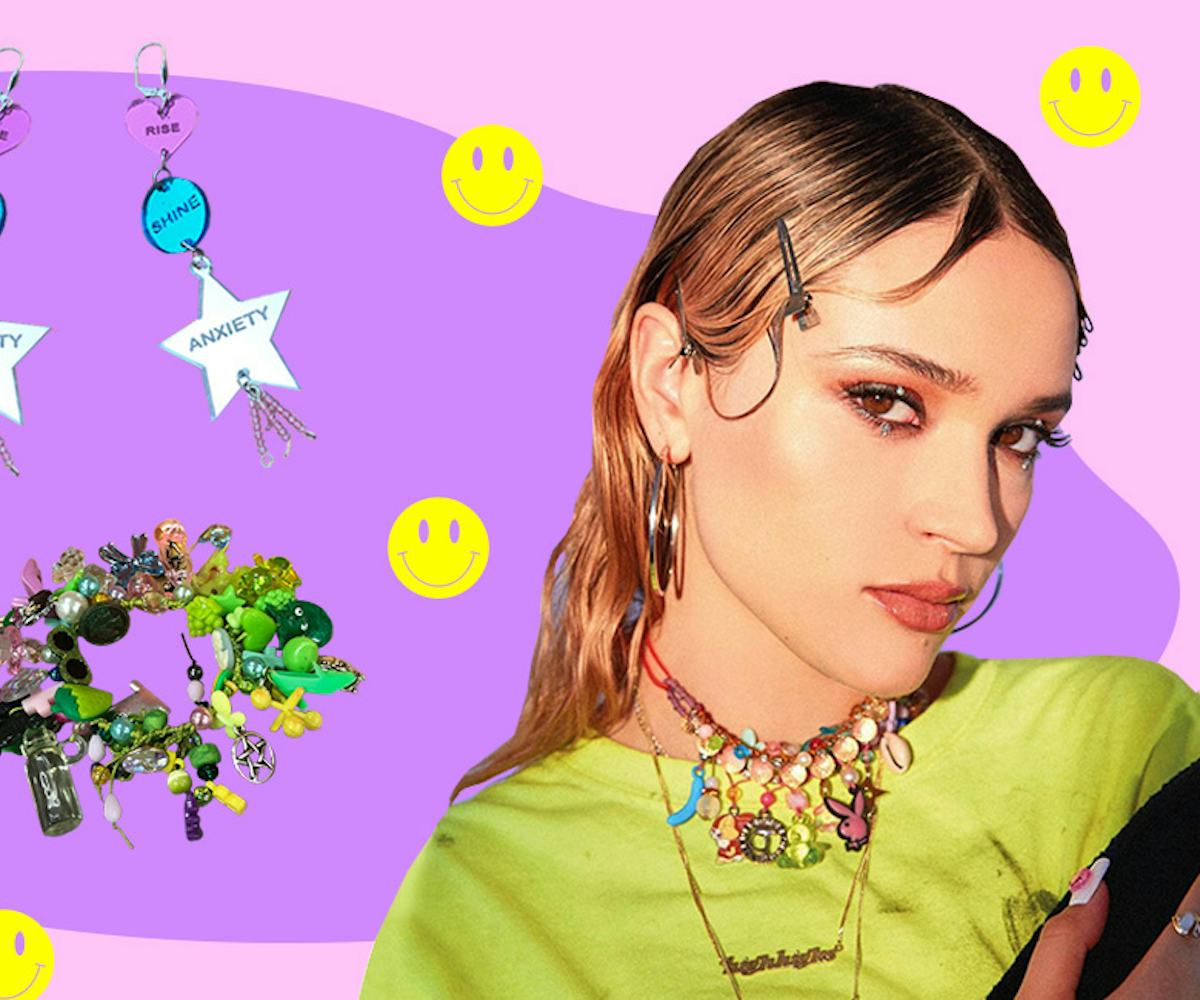 Photos Courtesy of Blobb, Tati Jewelry, Sweaty Pigeon, and Aurelia Cotton
Childlike Jewelry Can Spark Joy — And Distract Us From Adulthood, Too
Designer Sandy Liang and a group of emerging creatives are drawing from their childhoods for their designs
From the upcoming Lizzie McGuire reboot to the Spice Girls' recent reunion tour, our interest in all things nostalgia continues to reign supreme. In fact, this past September at New York Fashion Week, designer Sandy Liang showcased a Spring 2020 collection that was chock-full of childhood references, including her very first jewelry collection, which paid homage to her favorite Polly Pocket toys as a kid. Liang's childlike jewelry — baby-pink bracelets with rhinestone hearts and a "play ring" made from resin, among others — seems to be tapping into something that's at the forefront of everyone's minds: a collective desire to escape the present and revel in the joy of our youth. This is a sentiment and aesthetic we're continuing to see more of, thanks to a crop of emerging designers who are also drawing from their younger days for their designs.
Why all the obsession with nostalgia and our childhoods? For Tatjana Haupt, creator of Tati Jewelry, it can give a sense of safety, especially during what she describes as uncertain times. Haupt, who is finishing her fashion design degree in Switzerland, combines colorful, playdough-like clay with secondhand beads, pearls, and rhinestones, which remind the 23-year-old of growing up in Germany when she didn't have to worry as much. "It gives me freedom in my adulthood," she says.
"Children have a very pure way of drawing and being inventive with their hands," says Sofia Elias, an artist based in Mexico City who makes brightly colored abstract rings out of clay for her brand blobb, currently carried at Opening Ceremony. "They represent what they imagine without any preconceived aesthetic notions."
Elias says her pieces awaken memories from childhood with their colorfulness and blobbiness: "They allow the wearer to feel the aliveness and playfulness of a child." While she admits that her early days of making raw-pasta necklaces, daisy crowns, and Play-Doh rings inform her work today, her designs also reflect our growing interest in the imperfections of things made by hand, a process which she finds to be soothing and exciting.
For 23-year-old Joey Scher, dissecting her childhood is a major part of her work as an artist. In addition to being an arts educator in Los Angeles, she also makes videos, felt objects, sculpture pieces, and jewelry under the name Joey Shares. Scher says her work is simultaneously sad, funny, and chaotic, mirroring the emotions one undergoes growing up. "I think of my earrings as a portal back to the moments where I could embrace being a kid," she says.
Similar to the friendship bracelets she used to make every summer at camp, Scher's floral jewelry is handmade with resin and pigment, resembling gummy candy. In this way, her nostalgic designs feel comforting, playful, and silly. "I want my earrings to evoke memories of your sleepovers, rummaging through your mom's jewelry from the '80s, your favorite Lancôme Juicy tubes, and trips to Limited Too," says Scher.
"Referencing my childhood is definitely part of the process since I often use elements I saved from when I was a kid," says Aurelia Cotton, a 32-year-old designer living in Queens, New York. Her namesake line includes quirky charm bracelets featuring old toys, key chains, legos, Barbie dolls, and mini purses. But also, as Cotton grew up in the aughts, she sprinkles in Playboy bunnies, Dior elements, and things that evoke that "slutty, early 2000s vibe." If a piece starts to look "too sweet," she tries to even it out with punk or goth-like elements.
"My pieces are intended to bring the wearer a burst of happiness and delight as a momentary respite from the bleak, dreary state of affairs," says Cotton, who recently collaborated with designer Lou Dallas, a CFDA/Vogue Fashion Fund finalist, on a collection of jewelry pieces. While this is true for most nostalgia trends, for some designers, creating childlike jewelry is also a way of exploring what it means to become an adult today. "I tend to hold onto my youth because I'm secretly scared of adult responsibilities," says Belle Zhao, 21-year-old jewelry designer of Earth Angelry, which combines Snoopy charms with flowers, pearls, miniature dice, and other quirky pieces into drop earrings. "I'm scared of disappointing my parents and, to put it simply, I'm scared of failing because I feel like that's not acceptable anymore when you're an adult." For her, making jewelry is a way of reclaiming childlike excitement from her youth and rejecting societal pressures behind what an adult can and can't be. "When people wear my jewelry, I hope that they feel a sense of freedom and confidence in their own nonconformity. Be loud! Be weird! Listen to yourself!" she expresses.
Ann Ngyuen, the 23-year-old behind Sweaty Pigeon, says she hasn't yet felt like a "proper grownup," and this is why all of her creations, which incorporate tiny objects like silverware, pearls, hearts, stars, and other colored beads, end up looking childlike. "My attitude about jewelry-making is to have fun and experiment, so in that sense I'm very much like a kid," she explains. "Children aren't thinking about failures or assessing every possible outcome before embarking on a new endeavor." While Ngyuen's sources of inspiration range from her daily life to her friends, she does find herself referencing glimpses from her childhood spent in Saigon and Missouri, such as the manga series Cardcaptor Sakura or the K-Pop girl group 2NE1.
"The want to revert back to simpler times by way of dressing starts off as a nostalgia retreat, but the more these elements are injected into design, the more it sparks a sense of unapologetic optimism, which is why I see it perpetuating a longer trend line," says Hallie Spradlin, accessories director at trend forecasting company Fashion Snoops. Interestingly, "kidult" jewelry seems to be happening simultaneously as layered, dainty jewelry is growing more and more mainstream. With this, it's not about fully replacing one's stacked necklaces, but adding more iconography or childlike motifs — hearts, stars, animals — and introducing unorthodox materials — like resin, enamel, or acrylic — within those pieces.
"This is exciting for a trend that can be perceived as juvenile to start to filter in sophisticated pieces," says Spradlin. In fact, she's starting to see more high-end designers use color and humor in an elevated way, which she interprets as something that sparks joy. In this way, the trend seems to have staying power, so it's only a matter of time before more brands and retailers catch on.