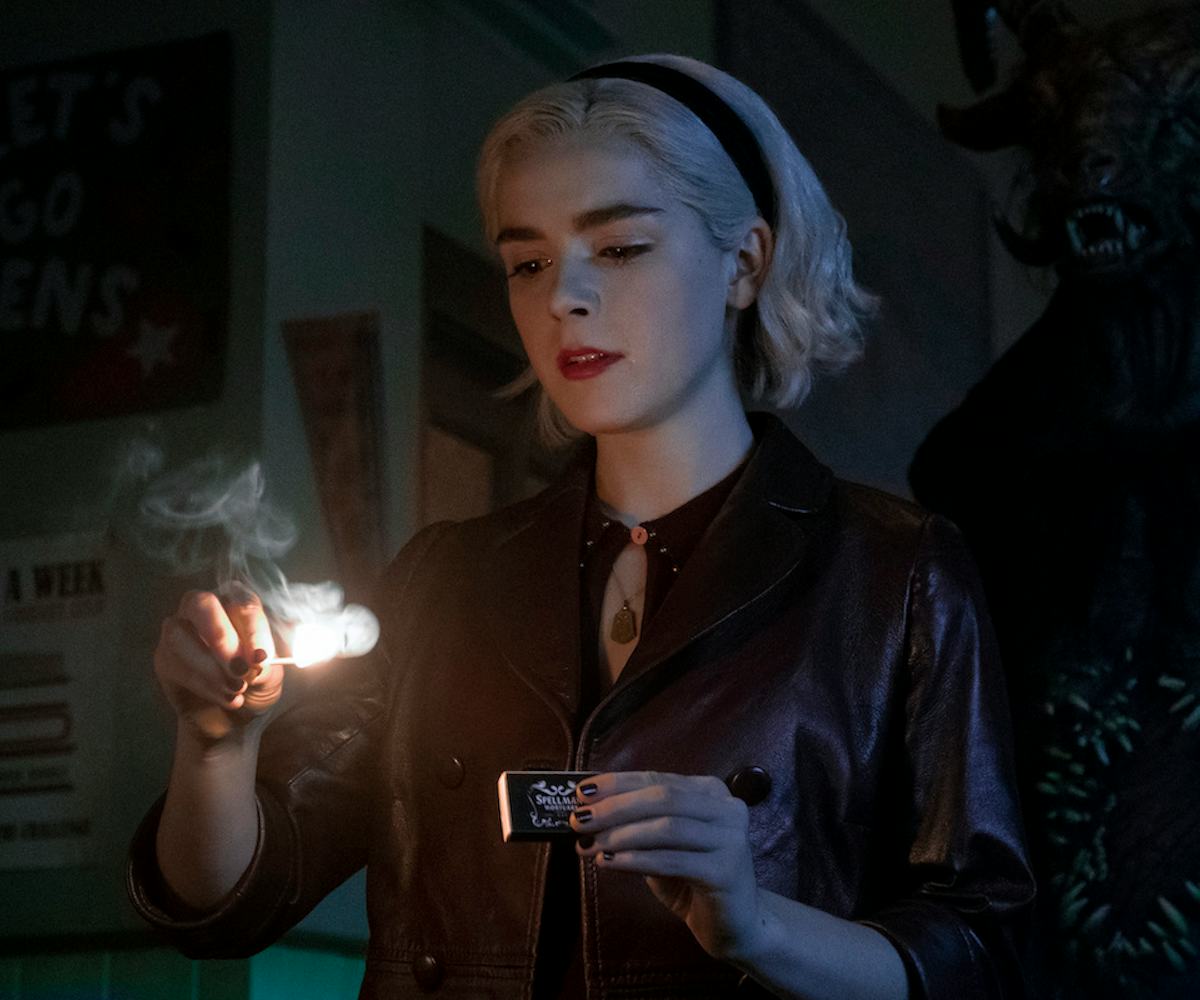 Photo by of Jeff Weddell/Netflix
Everything To Know About The Goth Beauty Looks On 'Chilling Adventures Of Sabrina'
Plus, shop the products used on the stars
To say we're excited for today's return of Netflix's The Chilling Adventures of Sabrina would be an understatement. Season 1 had us hooked, and in case you need a refresher about why, read this explainer to every dark, witchy thing that happened. And, for lovers of all things satanic, it looks as if Season 2 is going to be even darker—and that includes the makeup looks.
Because, if there's one thing we love about the addictive show (you know, aside from its twisted story line), it's the epic beauty moments. And according to Candice Stafford-Bridge, the makeup department head for the series and Blanche Macdonald graduate, the new season is about to be even cooler.
When Stafford-Bridge first began brainstorming the beauty vibe for the show, she sat down with writer Roberto Aguirre-Sacasa and director Lee Toland Krieger, and they collectively decided on a "timeless" look for Sabrina and co., drawing inspiration from the '60s and the '80s. It's classic beauty—but with a witchy, dark twist. So, how did she build on these look for part two of CAoS?
For starters, we'll see Sabrina (Kiernan Shipka) experimenting more with her look, while still remaining true to who we saw in part one. "I wanted to stick close to our classic, recognizable Sabrina, so the lips were the thing we played and experimented with," says Stafford-Bridge. With that said, we'll see Miss Spellman take her usual red lip a tad deeper, exploring a darker family of colors, save a nude lip in a scene where she wears a red cape. "The character is a teenager in high school, so I'm careful not to make her up too much—I think a lip change is believable."
However, as much as we love Sabrina (and Shipka in general), the true beauty stars of the series would have to be the Weird Sisters, who fully embrace the darker side of witchcraft and are seen sporting some epic modern goth (mod goth?) lips in part one—including shades of gray, green, and blue. And for Season 2? It gets, well, weirder.
"We start the three in some new environments in the second half, so we did get to move their looks around," says Stafford-Bridge. She hints that the girls have a "bedtime" look, which features more neutral tones for the girls. Things also get, erm, hotter for the Sisters: "We have some more sexy scenes with the three of the ladies, and there was a lot of M.A.C Prep and Prime Fix+ Shimmer Spray and Make Up For Ever Aqua Lip Liners used."
There were also a few other exciting moments with the other characters in the series: "Hilda goes on a date, so we amped up [her '60s-inspired blue eyeshadow] for that," Stafford-Bridge says. "Something happens to Zelda, and we took her to a very different look that was so fun for both Miranda [Otto] and myself." And, then there is a dream sequence that allowed her to create a "super-fun effect" on Shipka, which you'll just need to see to believe.
Below, check out the star products of the show, according to Stafford-Bridge.
Skyn Iceland, Hydro Cool Firming Eye Gels, $30, available at Ulta.
Stafford-Bridge used these "every morning" on female and male cast members to get them prepped for a day of shooting.
Make Up For Ever, Waterproof Lip Liner Pencil, $15, available at Make Up For Ever.
Stafford-Bridge cites these waterproof liner pencils as the products behind the vampy, deep lip looks seen on the Weird Sisters.
Bite Beauty, Amuse Bouche Lipstick, $26, available at Sephora.
Bite Beauty's lip colors were a must for multiple characters, according to Stafford-Bridge.
Ilia, Tinted Lip Conditioner, $28, available at Ilia.
Another lip fave? Ilia's subtle tinted lip conditioners.
Tom Ford, Eye Defining Pen, $58, available at Sephora.
According to Stafford-Bridge, this is the "best eyeliner pen on the market," so you can expect to see some winged cat eyes this season.
Anastasia Beverly Hills, Sultry Eye Shadow Palette, $45, available at Anastasia Beverly Hills.
Stafford-Bridge mentions that Anastasia Beverly Hills palettes were used throughout the show.
Anastasia Beverly Hills, Dipbrow Gel, $18, available at Anastasia Beverly Hills.
Stafford-Bridge is also a fan of the brand's brow products (and, uh, so are we).
Charlotte Tilbury, Matte Revolution Lipsticks, $34, available at Charlotte Tilbury.
Charlotte Tilbury's lip colors are a favorite of Stafford-Bridge.
Charlotte Tilbury, Hollywood Flawless Filter, $44, available at Charlotte Tilbury.
As are her foundations.
Jane Iredale, Amazing Base Loose Mineral Powder, $46, available at Jane Iredale.
Stafford-Bridge is also a fan of using these loose mineral powders on-set.
NYLON uses affiliate links and may earn a commission if you purchase something through those links, but every product chosen is selected independently.