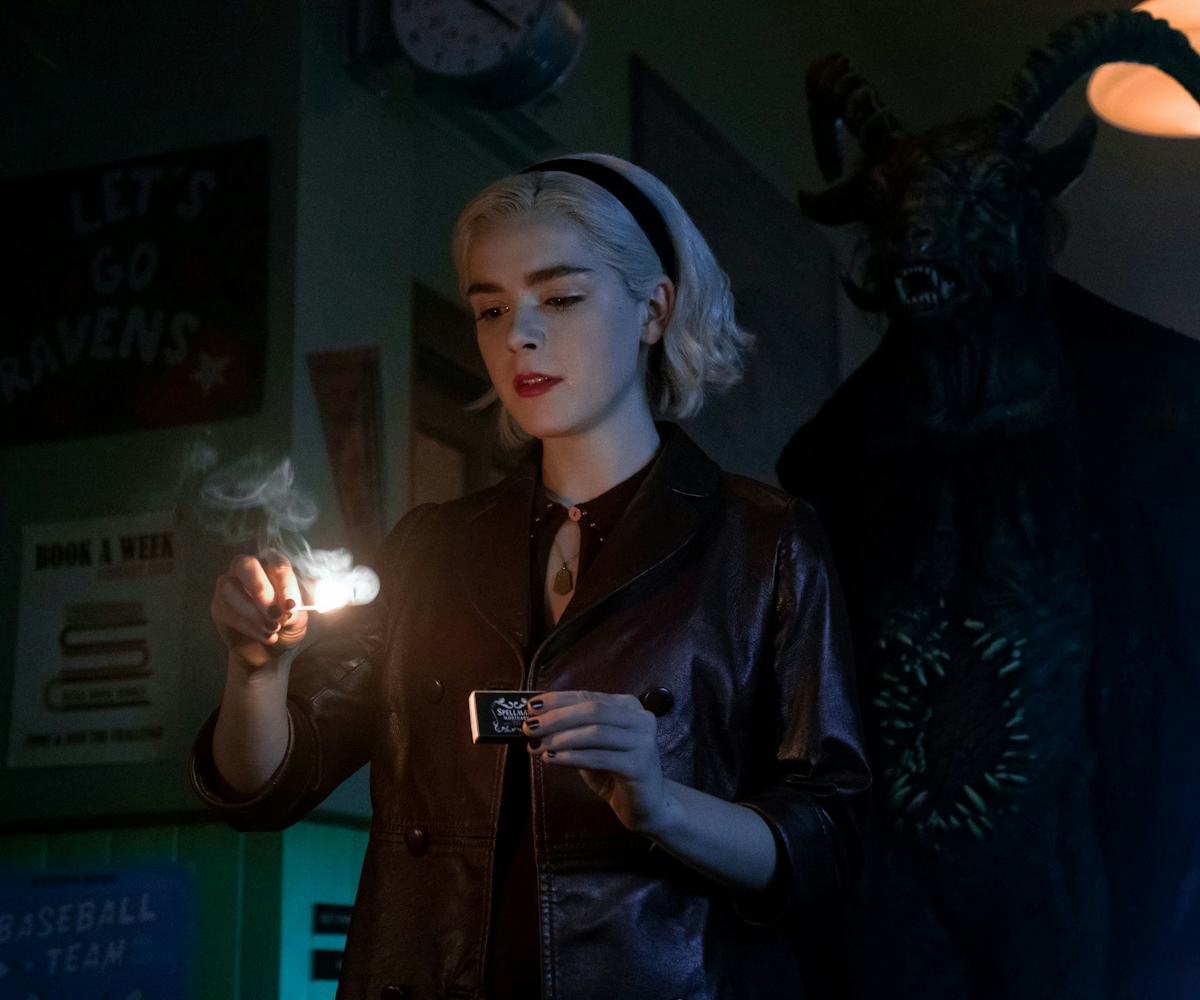 Photo Credit: Jeff Weddell/Netflix/Kobal/Shutterstock
'Chilling Adventures Of Sabrina' Is Getting Its Own Witchy Makeup Collection
It's 100 percent approved by the show's makeup artists
The new season of Chilling Adventures Of Sabrina doesn't hit Netflix until Jan. 24, but the franchise is teasing a new collaboration to get fans — and makeup lovers — even more excited. In an Instagram post from NYX Cosmetics, the brand debuted a first look at the NYX Professional Makeup x Chilling Adventures of Sabrina makeup collection, set to drop on Jan. 21. Finally, a chance to channel all of perfectly witchy and goth looks from the show the way they were intended.
While the post offered very limited details, it did show a glimpse of the hero shadow palette packaging, designed to look like Sabrina's classic spellbook. According to popular beauty news source TrendMood, the Spellbook Shadow Palette will include 30 eyeshadows and three pressed face powders for $35, accompanied by three Soft Matte Lip Cream Duos — named Half Witch, Fright Club, and Weird Sisters — for $12 each, featuring the beauty brand's iconic formula. According to an exclusive from Seventeen, each shadow and lip cream will feature light and dark colors, meant to symbolize Sabrina's internal battle between good and evil.
"NYX Professional Makeup is thrilled to be the first-ever cosmetics partner of Netflix," Yann Joffredo, Global Brand President of NYX, told Seventeen. "Not only will this palette introduce an elevated new formula to our audience, but it will unite makeup lovers and fans of Chilling Adventures of Sabrina from all over the world. With this limited-edition collection, both Netflix and NYX Professional Makeup are pushing the boundaries of fandom at the intersection of beauty and entertainment."
Both fans of the original Sabrina The Teenage Witch and the Netflix reboot alike aren't holding back their excitement for this collaboration, racking up nearly 3,000 comments on the NYX announcement post overnight. "[I] grew up with the OG Sabrina & I'm also a fan of the reboot. This is a must," shared one fan. "This is so big for NYX and really cool tbh," shared another. Some are already dreaming up which characters they plan to channel using the palette, considering just how good — and dark — the beauty is on the show. Are you Sabrina, or more of a Prudence?
See the sneak peak of NYX Professional Makeup x Chilling Adventures of Sabrina collection, below — and stay tuned for a full look.