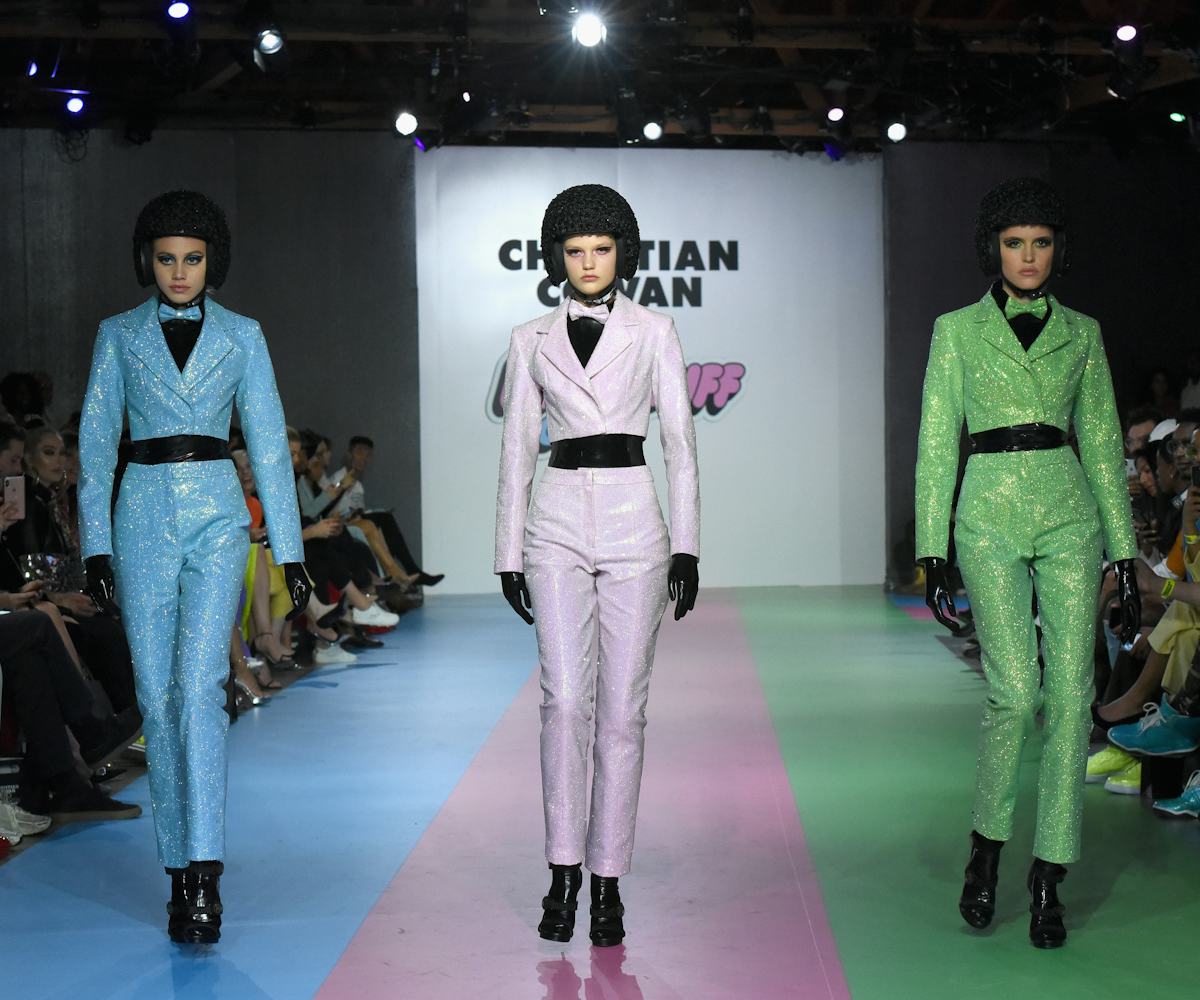 Photo courtesy of Christian Cowan
Christian Cowan Gave The Powerpuff Girls The Glow-Up They Deserve
On International Women's Day this past Friday, designer Christian Cowan gave our favorite childhood trio from The Powerpuff Girls the runway treatment to celebrate the show's twentieth anniversary.
Though we found out about the collaboration about a month ago, we had almost no specifics as to what the pieces would look like. All we knew was that this was no run-of-the-mill collab, and would feature couture silhouettes reminiscent of the characters' signature colors and styles. We couldn't have prepared ourselves for the looks that came down the runway, one of which was modeled by Paris Hilton herself.
The entire collection is replete with ruffles, feathers, sequins, and even a dash of neon. Most of the looks from the collection were inspired by Bubbles, Blossom, and Buttercup, with pieces like power suits and transparent dresses created in the trio's signature blue, pink, and green colorways—pieces we like to imagine they would wear if they were ever invited to a red carpet event. Some of the designs brought in all three colors, because the girls always worked best together.
And, of course, what would the show be without the villains? A couple pieces paid tribute to Mojo Jojo, the anthropomorphic ape who constantly challenged our childhood heroes. There was also a dress for the show's second greatest enemy and androgynous cross-dresser, Him. And Cowan made sure to include the girls' dad by creating an all-white look as homage to his lab coat. Ms. Sara Bellum (the mayor's secretary) was also given her runway moment, though Cowan didn't have to change much about her already fashionable look.
The collection is more than a blast from the past, it's benefitting charity, too. The collaboration will benefit She's the First, which is a nonprofit organization that "fights gender inequality through education."
See all of the looks from the collection, below.