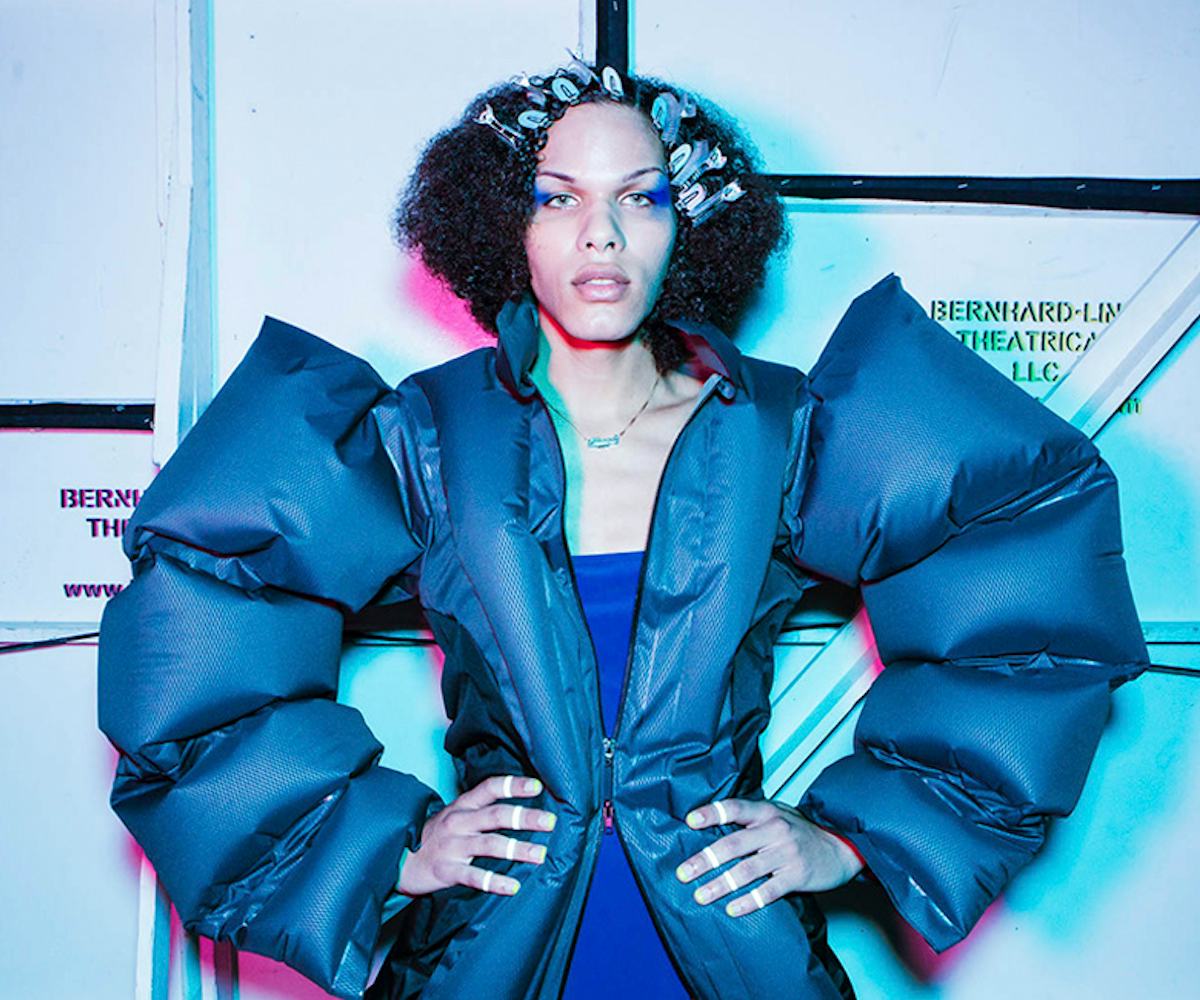 Photo by Daniel Sims
Chromat Makes Swimwear That Will Never Make You Feel Bad About Your Body
Talking with Becca McCharen-Tran about her revolutionary fashion label
Since its 2010 inception, fashion brand Chromat has led the charge toward body positivity and radical inclusivity on the runway, inspiring legacy labels and fashion newcomers alike. But, according to Chromat founder Becca McCharen-Tran, her goal wasn't necessarily to do this; inclusive design is not the goal of her process, it's just inherent to it. As the architect-turned-designer explained to me, her objective for Chromat was to make "architecture for the body." All the rest of it is just a natural result of that.
McCharen-Tran tells me that it actually used to upset her when the media focused on Chromat's runway models for being size-inclusive, gender-nonbinary, trans, and amputees, to the exclusion of the garments themselves. "In the beginning, I thought, Of course, the runway should look like this—it's not press-worthy," she says. "But I'm proud that that's what people associate with us now; it just speaks to how there weren't many people like that in fashion before." And she's right. Chromat's creations are radical in their refusal to hide (or hide from) the bodies we've been told don't fit the status quo. Before Chromat, there were no labels creating form-fitting bodywear designed to make the wearer feel comfortable in their own skin on the NYFW calendar—now, there's Chromat.
As the brand nears its 10-year anniversary and shows no signs of slowing down, it's clear it's actually held the spotlight this long because of its solid foundation of thoughtful design. Dreaming up unconventional collabs with companies like Intel and camping innovator Klymit, McCharen-Tran has married science and architecture with vulnerability and self-care, positioning Chromat as fashion's mirror of the times we live in. In the case of its AW '17 collection, "Buoyancy," which was in production during the Trump election, that meant sending inflatable swim looks down the runway. It was a time when, she says, "everyone felt like their communities were under attack. So we made inflatable garments that were designed to keep your head above water in rough open seas."
Among the looks were blow-up asymmetrical skirts, crop tops, and a Victorian-sleeved inflatable parka modeled by Maya Monès, which is now a part of Seattle's Museum of Pop Culture's "A Queen Within: Adorned Archetypes" exhibit, a show produced by Barrett Barrera Projects, that explores six feminine archetypes through fashion. The coat singlehandedly embodies the AW '17 ethos: It's a wide-shouldered, cinched-waist, A-line piece that demands its wearer take up space, styled to accentuate a feminine hourglass silhouette. And it falls into the exhibit's "Mother Earth" archetype, playing on another aspect of the collection's inspiration.
"More than ever, Chromat is really investigating our contribution to environmental devastation and sustainability," McCharen-Tran says. "The more the conversation about sustainability is geared toward people who are the first climate refugees and people who are impacted the most by climate change, inflatables and buoyancy seem to be an important piece of survival for a lot of people."
It's one of over 100 garments on display from the archives of legends like Alexander McQueen and Comme des Garçons and meteoric successes Namilia and Gypsy Sport, unpacking the symbolism behind traditional feminine archetypes. But with its foundational, forward-looking approach of design for all—regardless of size, race, ability, or gender identity—Chromat stands out among the crowd of greats.
Below, read as we sat down with McCharen-Tran to learn more about the future of gender in fashion and Chromat's place in the industry.
What spoke to you about "Adorned Archetypes: A Queen Within," and made you want to be a part of it?
I'm a huge fan of Iris van Herpen, so seeing her pieces in real life is always really cool, and I loved seeing June Canedo's photographs and Ryo from Gypsy Sport's works. Lately, more than ever, Chromat is really investigating our contribution to environmental devastation and sustainability, and how we can be involved more in that. So I think having our inflatable coat in the "Mother Earth" part, that was all about survival. We designed that during the Trump election. Everyone felt like their communities were under attack, and they were scared, it was a high anxiety time. So we were looking at a lot of life preservers and made these inflatable garments that were designed to keep your head above water in rough, open seas.
What else was on your mind while designing the AW '17 collection?
Just also thinking about collective care, and thinking about the fact that nothing is guaranteed—so you really have to work to create the world you want to see. And that takes action and a lot of dedicated intention.
To me, your work has always broken through traditional archetypes of femininity. How would you say your designs relate to the gendered symbolism "Adorned Archetypes" explores?
I hope that what we do at Chromat is expanding the definitions of gender. People ask us all the time to design menswear, but really, who's to decide what men and women are supposed to wear? We're just making clothes. It's important for us to showcase indigenous and nonbinary people, and different people along the gender spectrum to expand the definition of what is femme or what is womenswear. What does that even mean? What's the point of that? In that sense, defining these gendered archetypes, it's definitely something we are interested in expanding.
And the fact that this coat went down the runway on Maya Monès—who's a trans icon in her own right—I feel like that speaks to the power of fashion to broaden the scope of womanhood.
In the past few years, the conversation about inclusivity has morphed and changed so many times. It's been interesting for me, wanting to change the industry, recognizing as a teen that there was really only one way to be considered beautiful or to be in fashion or be a model, and that was to be white, with long, shiny hair—and that never appealed to me. I've always been pushing back against this narrow definition of beauty.
For Chromat's runways, we recognize that we have the platform during Fashion Week, and we do this to celebrate all the different people who inspire us and to celebrate these unique beauties. And I think creating the world that we want to see, where everyone is celebrated for all the different ways you can be beautiful, is something we've always wanted to do. Sometimes I feel like talking about inclusivity is only about body size, but there are so many more different communities to consider. It's not a one-sided conversation about plus-size or having more Black models. There are so many more people that are displaced in high fashion.
The show also features a film of the SS '18 "Serenity" collection—what was the inspiration that season?
That was the collection directly after the "Buoyancy," which was all about survival; and after that, once you wash up on the shore, after floating in the sea, you start to feel grounded. It was just so chaotic during the election time that afterward, we wanted to find some kind of serenity. So we worked with a lot of ribbed fabrics that reminded us of the raking the sand of a Zen garden, crystals, and salt baths. The garments are all these earthy materials.
How have those themes related to your own life beyond the political atmosphere?
I recently relocated to Miami, so that has been a huge game changer for my mental health. I've been living there since November with my wife, and just being there, being near the water, having a chance to take a breath of fresh air... I feel like I've been on a treadmill of runway show to runway show for so long, for 10 years. And this is the first time I've had a chance to think of my own mental health. It's given me a chance to think big picture: Other than just selling a swimsuit, why are we doing this? What is the goal?
Aside from my mental health and having a chance to breathe, I've been involved with a really cool collective in Miami called (F)EMPOWER. To me, it's a beacon of care and community wellness. Witnessing this group that's so dedicated to collective care has really inspired me a lot.
Living here has also inspired me because I don't see climate change as an abstract concept, but when you see the rising water and you see all of the pollution, the plastic water bottles washing up on the shore, you see climate gentrification right before your eyes; it's a lived reality here, and it's made me think about my own participation in the system of environmental sustainability. So I'm hoping we can make sustainability a bigger part of what we do at Chromat.
How has your work evolved from when you started up till now?
It's changed so much—we used to do super-architectural cages, and now we do swimwear. I feel strongly that swimwear is an interesting lane for a brand with our ethos, because you have to deal so intimately with the body in swim, and it becomes very vulnerable as a category—and our ethos is really useful in such a vulnerable space, to really just make people feel not so bad about their bodies.