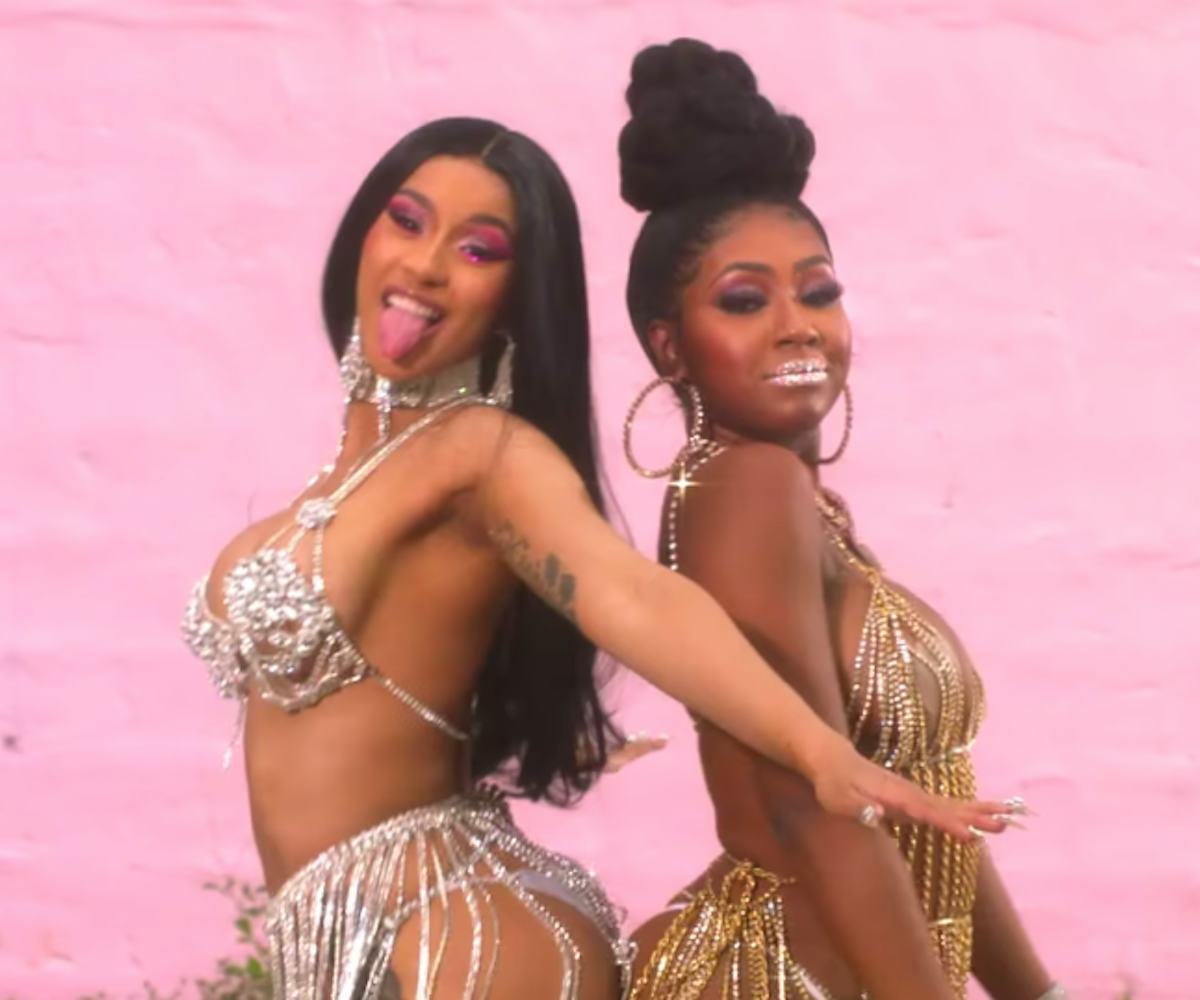 Photo courtesy of Quality Control.
Black Women Own City Girls And Cardi B's "Twerk"
Twerking has always belonged to black women, and this video is proof
"On November 9th, the City Girls sent out a challenge to the world. The goal… To find the world's greatest Twerker." These are the words that appear on the screen in the first few seconds of City Girls' "Twerk ft. Cardi B" video, which dropped earlier today. What happens next is three minutes of nonstop ass-shaking from dozens of black women—including Cardi B and Yung Miami in full animal print body paint—and it's glorious to behold.
Thousands of women, many of them women of color, posted videos of themselves throwing it back after Yung Miami—one-half of the City Girls, along with the currently incarcerated member JT—announced the contest on her Instagram page. Twenty-five women would be "flewed out" to Miami for an all-expenses-paid trip to appear in a music video for the single, and one winner would win $25K when it was all said it done. That winner was Jamaican Dancehall Queen Headtop, aptly named for including You Got Served-style headstands in her dance routines. Since then, supporters of the Miami-based duo (and twerk enthusiasts) have been waiting for the arrival of the "Twerk" visuals.
However, the real beauty of "Twerk" is that it represents a homecoming for the dance itself. Twerking has always belonged to black women, who have been creatively bouncing their butts across the diaspora since before the City Girls, Cardi B, and even I were even born. But in 2013, the dance was thrust into American pop culture consciousness thanks to Miley Cyrus' weird experimentation with black music. Suddenly twerking was a "trend" that enamored white kids from the suburbs and scared their parents. It became the buzzword that popular media couldn't get enough of, whether they were shaming the practice, incorrectly applying it to any dance that involved the butt, or sexualizing the people doing it.
As with most things that end up in an easily forgetful entertainment news cycle though, twerking no longer takes up as much space in pop culture conversations. It ran its course and the powers that be moved on to other forms of cultural appropriation. But the decision of nonblack communities to wash their hands of twerking had little effect on the black women who originated it. Black girls twerk for fun. We do it at parties when our favorite songs play or in our rooms alone just because. We twerk with our friends for no other reason than it seems like the right thing to do. Rihanna literally did a little twerk to celebrate winning a CFDA award. It was never a mating call or a "wave" for us. It's just a dance that is part of black femme culture.
And that's what viewers get to witness in "Twerk." In the video, black women are having a blast, enjoying their bodies for the absolute joy of no one else but themselves. Cardi and Miami laugh with each other as they literally bump butts. Smiling faces are just as abundant as asscheeks throughout the entirety of the video because black women own "Twerk." Period.