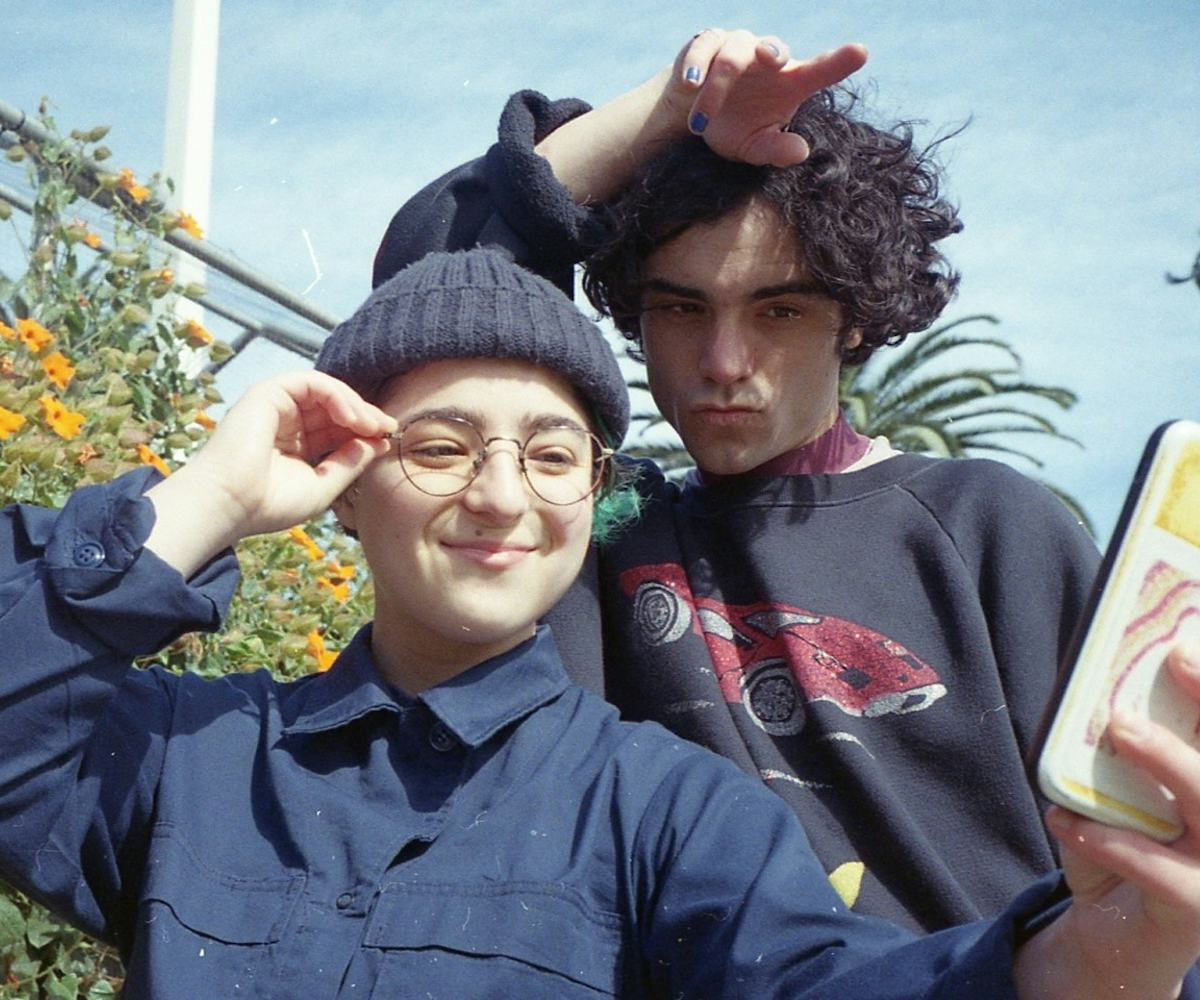 CJ Moy
Premiere: Claud & Del Water Gap's "My Body" Is A Sad, Auto-Tuned Bop
Watch the homemade video, below, and learn more about the two Brooklyn-based singer-songwriters
In 2018, Brooklyn-based singer-songwriters Claud (formerly known as Toast) and Del Water Gap's Holden Jaffe worked together to write Claud's disco-inflected bop "Never Meant To Call," the colorful video of which featured an unforgettable dance scene with a blow-up doll. Now, nearly a year and a half later, the two have joined forces once again for "My Body," an intimate and bittersweet ballad that mixes DIY rawness with a liberal use of Auto-Tune, so when the two sing "You only love me for my body" to one another, it sounds like two lovelorn computers desperately trying to find common ground on their hardware.
As serious and devastating as that all sounds, the origins of the track were decidedly less so. Over email, Claud and Jaffe explain that the song was cranked out in a couple of hours during a hot July day spent in the studio. "Claud calls [the song] 'creative puke'," they write. "To the average listener, it's a heavy story told through a blanket of autotune, but to us, it's a lighthearted jaunt and a funny take on our friendship that started when we wrote 'Never Meant To Call' a year ago in Brooklyn."
The accompanying Dillon Moore-shot video, which NYLON is premiering on Wednesday, suggests as much as well, the two friends serenading one another in what looks to be a bedroom, carrying serious-like expressions on their faces. All the while silly post-production editing, courtesy of Claud and Jaffe, makes the video come off as a big knowing wink; a loving creation made between two friends who clearly know each other well.
Watch the video, below, and read on to learn a bit more about Claud and Jaffe.
What are you two up to right now? Describe your surroundings.
Holden's apartment. Drinking spiked seltzer. Eating gummy snakes and trying to finish our music video.
How did you two meet?
We met at Claud's (fka Toast) midnight show at Baby's All Right a year a half ago. We got together shortly after and wrote "Never Meant To Call" at Holden's apartment.
How did "My Body" come together?
We got together to write in Brooklyn and started playing with chords on the Mellotron. The song just came out of us telling stories and trying to make each other smile.
Is there a specific lyric or moment on the track that stands out to you? Which and why?
We love the bridge:
Tell me to wait
But it's already late
So I'll leave my door open
For when you get lonesome
It really clearly sums up the message of the song — the song is about wanting more from someone emotionally than they're offering."
Besides making music, what do you both like to do in your free time?
Claud: Taking classes online, thrifting, and dancing with my friends.
Jaffe: Coloring, hanging out with friends, and listening to my grandma play recorder.