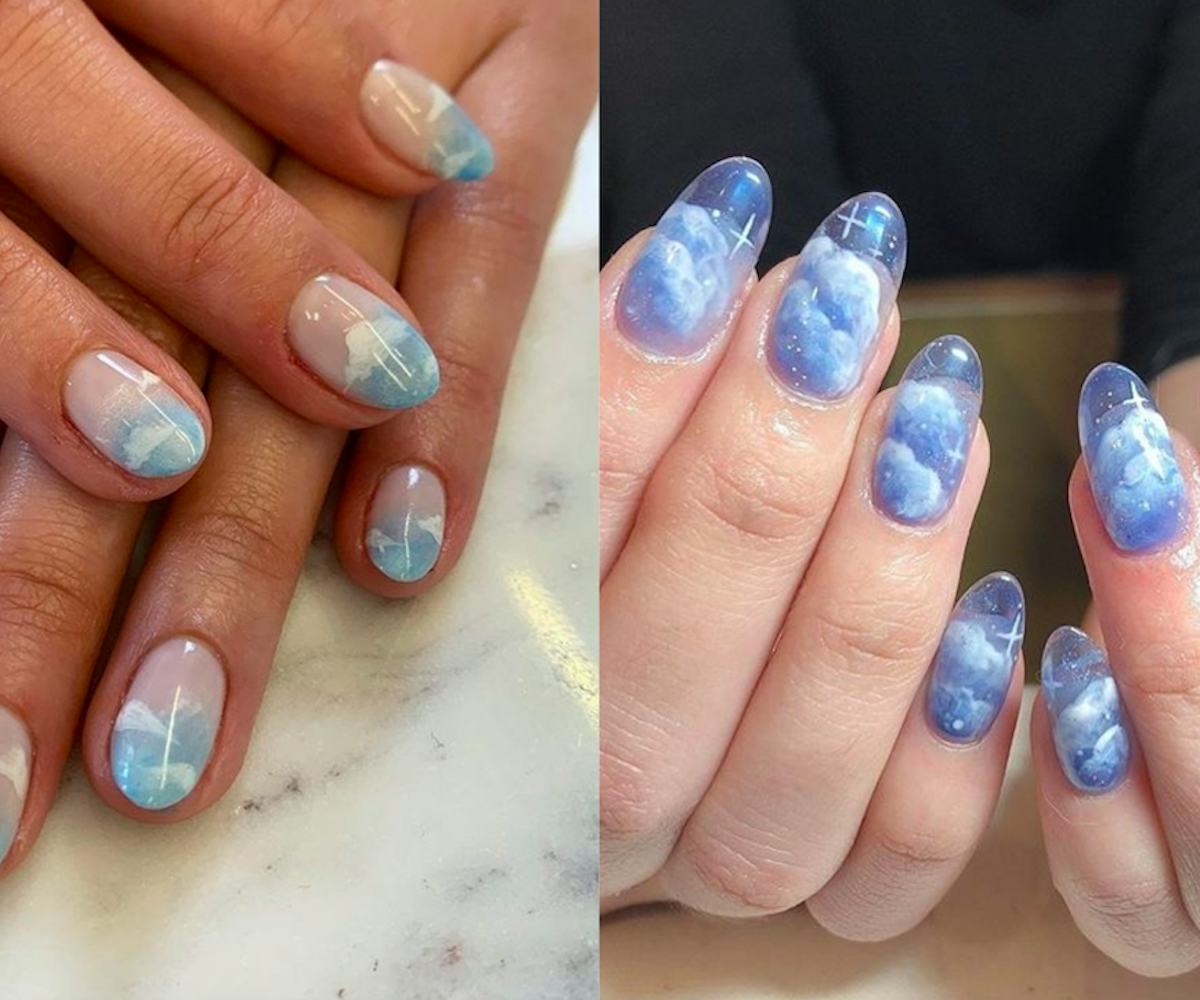 PHOTOS VIA @FREEMKAT / @IRISNAILSNYC
Cloud Manicures Are the Dreamiest Nail Trend Yet
And they work for every nail shape, too
The latest trend in nail art was made for daydreamers and stargazers. With spring rapidly approaching, salons everywhere will soon be swapping out your Valentine's Day nail designs for something that features a little less love, and a lot more color. Luckily, cloud nail art has arrived just in time to shake up your seasonal beauty routine.
Taking its cue from the skies above, the latest Instagram approved style comes in a variety of styles, with manicurists creating everything from cotton candy-colored skies to a purple scene inspired by sunset. According to Courtney Nicole, owner of FX Nail Studio, customers started requesting the style in her salon near the end of 2019. She attributes the rising popularity to an Instagram video of a starry sky manicure that she posted in November, noting that its gained continued popularity on the social media platform.
In order to properly create the look, Nicole told NYLON that she spends a little more than two hours on the art. "To create my cloud designs, I have always done a pastel blue and pink shimmer ombré to keep it as girly as possible," she said. "Then, using my white gel paint from Nailchemy and a detailer brush, I have to draw the base of the clouds, then start at the highest point of the cloud, and work down to the sides." For those looking to attempt a DIY sky, Nicole previously shared a tutorial on her YouTube channel. She also told NYLON that in order to replicate the design, one should work slowly and be precise.
Of course, if you try your hand at the trend, it doesn't have to be as involved — or literal — as the nail masterpieces Nicole creates. One of best parts about the cloud-inspired nail trend — aside from the fact that it looks good on virtually every nail shape — is that you don't have to stick to a blue sky. A quick scroll through the Instagram tag reveals nails in every shade imaginable, including a pastel sunset, a green-colored atmosphere, and a silver skyline that this nail artist painted freehand.
Make your daydreams of a cloud mani come true, and scroll through some of the very best takes on the trend below.