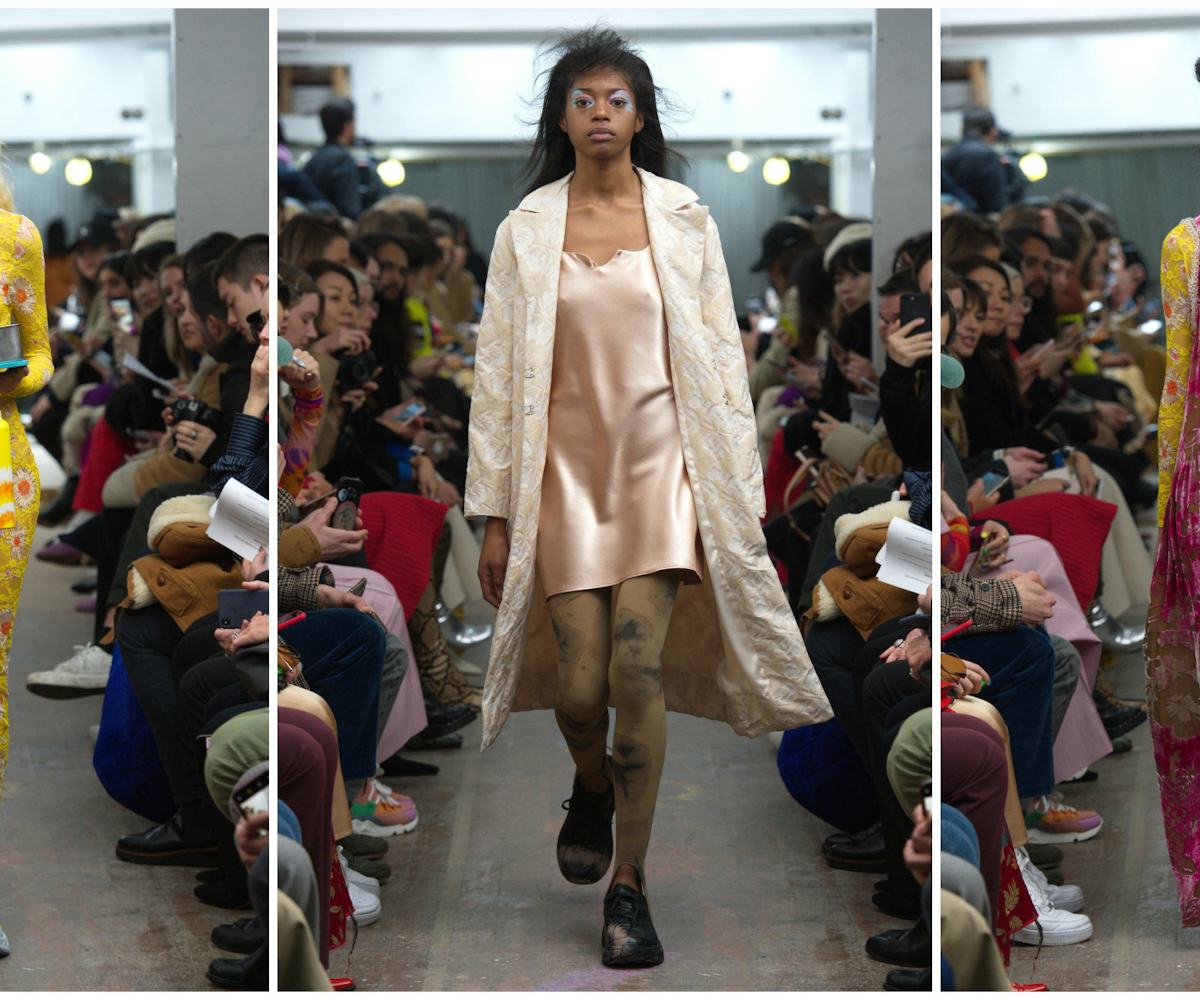 Photos courtesy of Collina Strada/Mitchel Sams
Collina Strada's NYFW Show Urged The Fashion Industry To Clean Up Its Act
By leading the way with some important promises
Collina Strada's Fall 2019 Ready-to-Wear show yesterday addressed the fact that fashion is the second most polluting industry in the world head-on and made a promise to not add to the problem.
Instead of playing music during the show, indigenous musician and environmental activist Xiuhtezcatl Martinez recited a poem which addressed the problems with the fashion industry's lack of sustainability and environmental consciousness and called on all present to treat the earth better. The runway was strewn with trash, which the models, some of whom showed looks off while carrying reusable water bottles, made a point of picking up during the final walk.
Designer Hillary Taymour also admits to her own slip-ups. "I will be the first to admit that I buy a plastic water bottle at the airport when I travel. I order from Seamless instead of cooking. I am an avid Amazon user, when I could be shopping locally," she says in a press release "But this year I am vowing to stop. I want to make choices with an environmentally conscious mindset and realize that every purchase we make affects our future."
So, she says, the brand promised to clean up its own act. According to the press materials given out during the show, Collina Strada vows to change some of its practices this year to make the brand more sustainable. Some of the promises include using 75 percent dead stock fabric in the production of ready-to-wear pieces (starting with this collection), switching to "biodegradable or recycled packaging," continuing its practice of manufacturing in the U.S. "to reduce transit," and donating "all of our fabric scraps to Fabscrap and local fashion schools." The brand will also host biannual clothing swaps, offer a 20 percent discount to customers who bring back old clothing, and host a "repurposed Collina Strada sale of these items."
Given the state of our environment and fashion's negative impact on it, it's an applause-worthy move on the brand's part—and one strong way to start the first day of New York Fashion Week.
See some of the behind-the-scenes looks below.