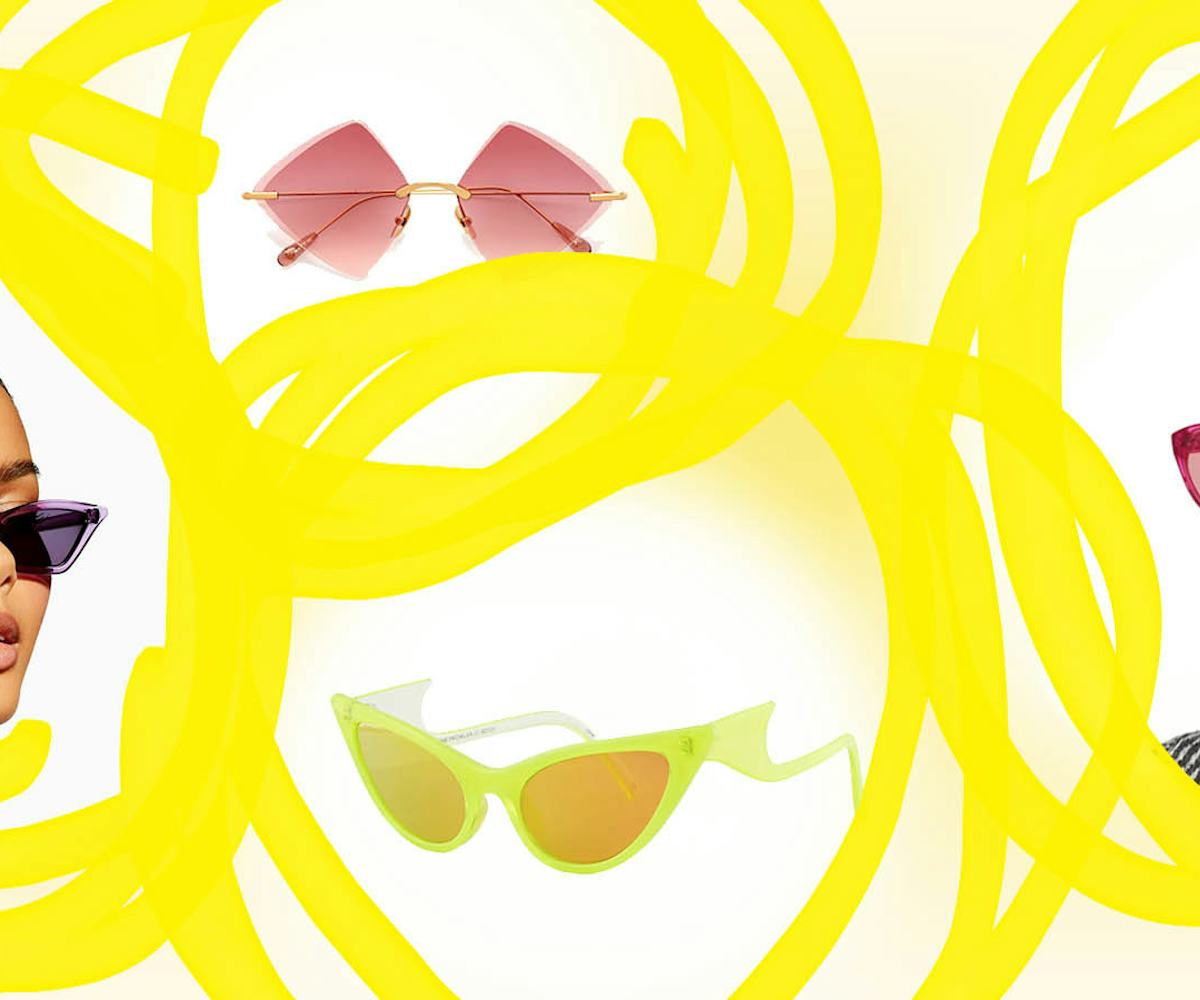 15 Pairs Of Colorful Sunnies To Make Winter Less Dark And Dreary
Because... is it spring yet?
By this time of the year, we're painfully tired of winter and its bleak, short days (and even bleaker temperatures). Spring needs to get here, and it needs to get here fast.
As we begrudgingly continue to bundle up in our coats, scarves, hats, and gloves, we're in dire need of a functional accessory that will also spark some joy. That's why you'll find us stocking up on the season's most colorful sunnies. We believe that we should see the world through rose- (and yellow- and blue-) colored lenses all year-round. That, and, of course, the fact that, even if we're not sprawled out on the beach, we still should be protecting our eyes from harmful UV rays.
Check out the wonderfully colorful sunnies to wear throughout the rest of the winter (and through spring and summer), below.
Poppy Lissiman, Shinjuku Blue, $120, available at Poppy Lissiman.
Etnia Barcelona, Yaletown Sun, $285, available at Etnia Barcelona.
Adam Selman x Le Specs, The Prowler Sunglasses, $120, available at Opening Ceremony.
& Other Stories, Mirrored Round Frame Sunglasses, $29, available at & Other Stories.
Westward Leaning, Lynx 07, $175, available at Westward Leaning.
Karen Walker, Red Miss Lark, $220, available at Bona Drag.
Kaleos, Monroe 5 Titanium, $295, available at Kaleos.
Paul Chavarria, #02 Yellow Rimless Sunglasses, $75, available at Need Supply Co.
Oh My Eyes, Oh-II, $239, available at Oh My Eyes.
Kenzo, Classic Framed Sunglasses, $170, available at Opening Ceremony.
Urban Outfitters, Heartbeat Mono-Cut Heart Sunglasses, $16, available at Urban Outfitters.
Chimi, Tiger Square Yellow, $149, available at Chimi.
Acne Studios, Howard Aviator Sunglasses, $245.99 available at Need Supply Co.
Ganni, Triangle Sunglasses, $235, available at Ganni.
Topshop, Cindy Slim Sunglasses, $26, available at Topshop.
NYLON uses affiliate links and may earn a commission if you purchase something through those links, but every product chosen is selected independently.