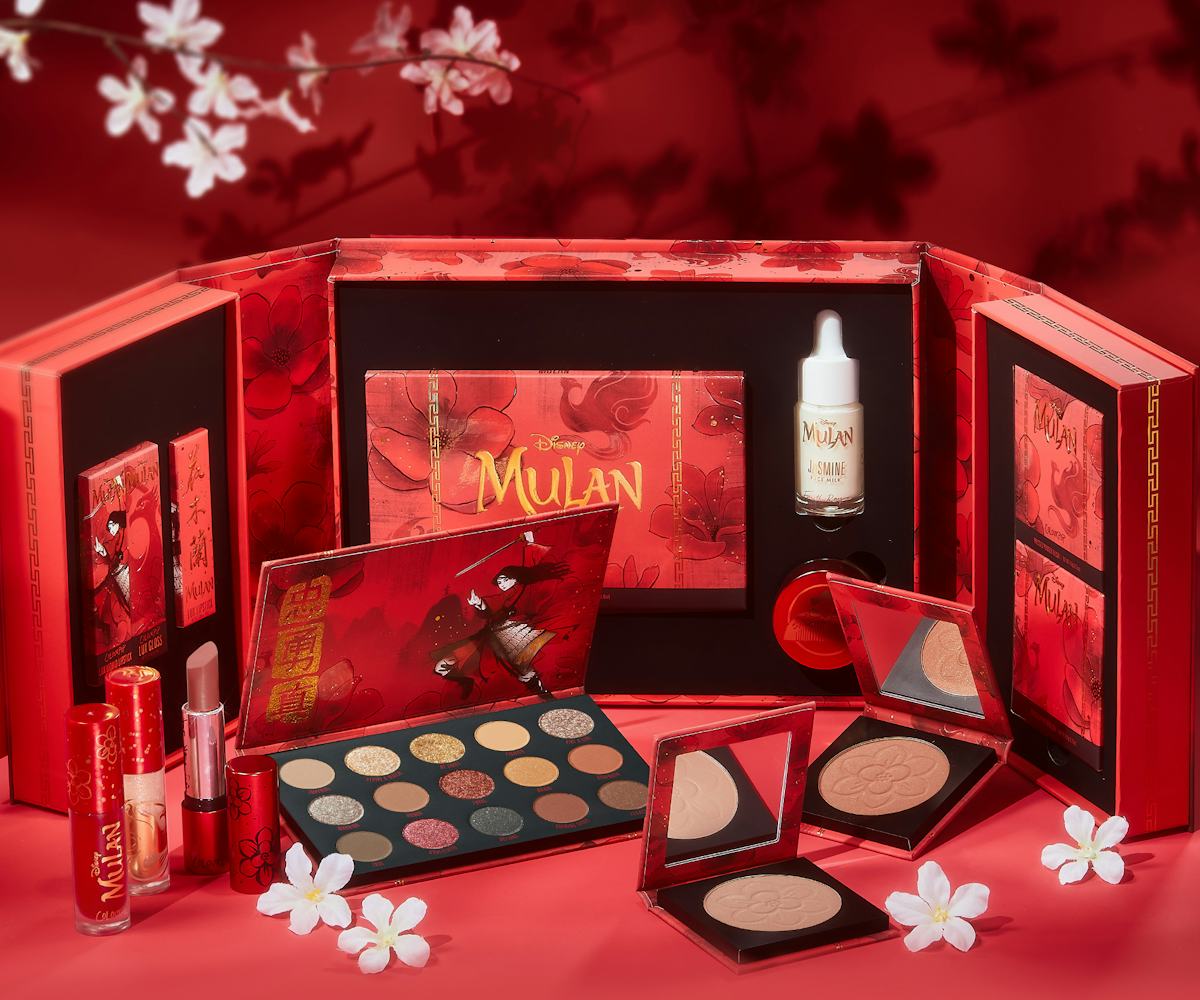 Courtesy of ColourPop
ColourPop's Latest 'Mulan' Collaboration Is Bound To Be Its Next Sell-Out
Featuring bold 'Mulan'-inspired shades
Editor's Note: This story has been updated from its original version to reflect the planned release date delay of the Mulan live-action remake.
There's another magical ColourPop collaboration headed your way. Following in the footsteps of previous collections inspired by Frozen, and two lines themed around various Disney princesses, news of a ColourPop x Mulan collection has arrived. Released on March 19 at 10 a.m. PST to coincide with the debut of Disney's live-action Mulan remake (whose release date has been pushed back from March 27 on Thursday amidst the coronavirus outbreak), the collaborative line includes both makeup and skincare items.
For the eyes and face, the collection, released on ColourPop.com, includes a 15-pan eyeshadow palette with shades of gold, bronze, reds, and peaches; a special edition Lux Velvet Liquid Lipstick in a true yellow red called Strong Chi; a Lux Creme Lipstick named Hua Mulan, that comes in a rosy pink; and a Lux Gloss named Phoenix, which features a peachy gold coloring with gold and pink pearl undertones. Offered individually or in a bundle, none of the products will retail for more than $25.
The launch also includes two shades of Pressed Powder Blush in a soft terracotta shade with gold pearl named Good Luck Charm, plus a pale nude with Gold Pearl called Matchmaker. ColourPop's skin care sister brand Fourth Ray is also featured in the Mulan-inspired launch, debuting a face and lip bundle that features a Jasmine Tea Face Milk and a Gold Lip Mask.
As you debate which products to add to your collection, one follower summed up the mood of others, commenting on Trendmood's Instagram, "Colourpop needs to stop coming out with these cute*ss collections cause I can't afford all of them." Others called the packaging "stunning," saying, "That lipstick color is fire."
Given the recent delay of the film's release, fans on Trendmood had expressed concern regarding the collection's release date. As The Hollywood Reporterdetailed, in response to coronavirus concerns, Disney has delayed the release of a number of films, including Mulan. There's no word on a confirmed new date for the film's release, but THR notes that Disney is eyeing later this year. "Unfortunately, the movie's been delayed," one fan wrote on Trendmood. "I wonder if they'll push back the release of the collection now that the movie release date is on hold," a follower questioned on HotFire Makeup. ColourPop later confirmed the March 19 release of the collection in an Instagram post.
The entire collection retails for $81 as a set. You can get a complete look at the Colourpop Mulan collaboration, below.
Mulan Shadow Palette ($22)
Honor To Us All Lux Lip Trio ($25)
Pressed Powder Blush ($12)
Pressed Powder Blush ($12)
Fourth Ray Beauty Face Milk & Lip Mask Bundle ($17)
Complete Mulan x ColourPop Collection ($81)