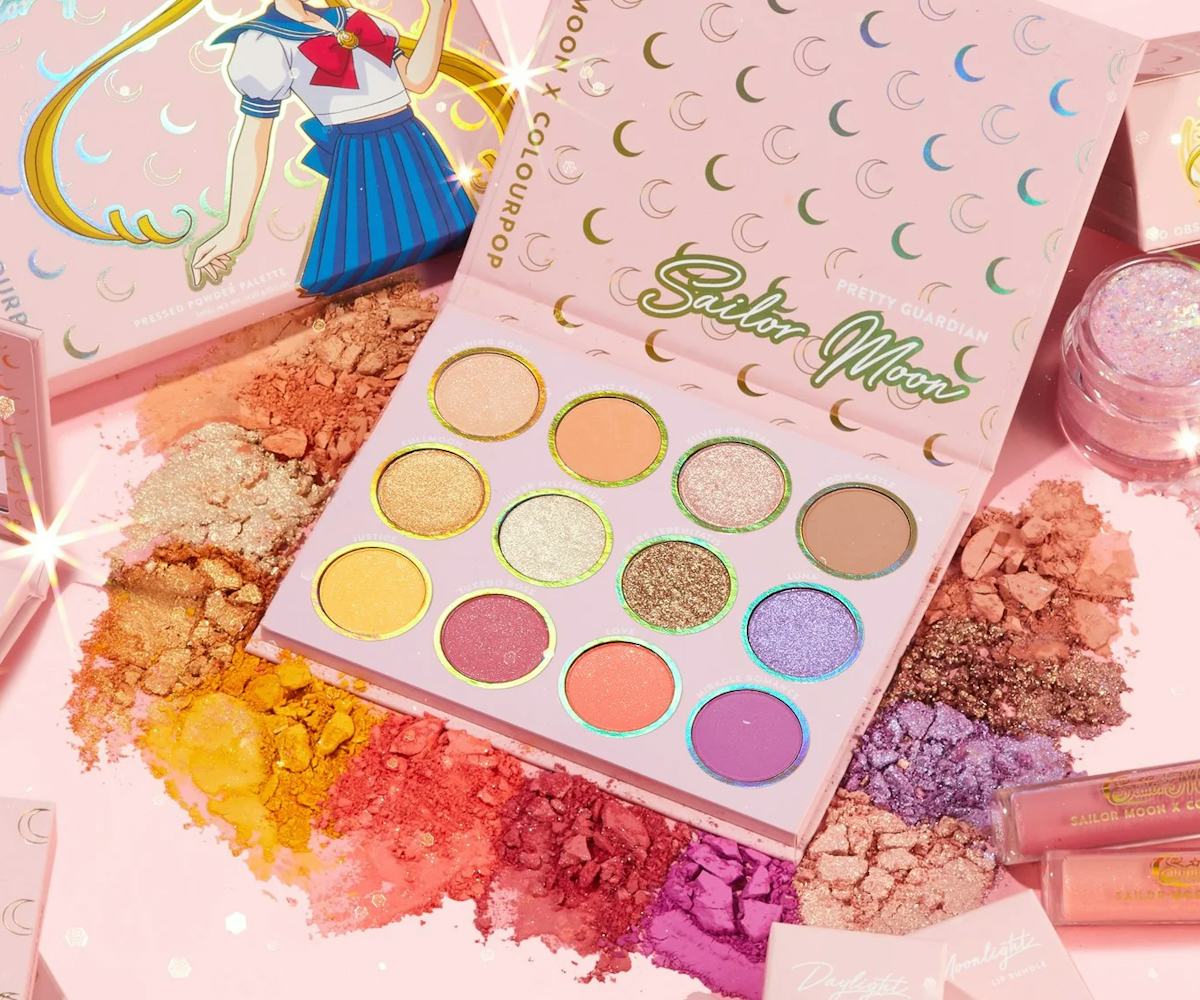 Image courtesy of ColourPop
ColourPop's Latest Collaboration Is A Glowing Treat For 'Sailor Moon' Fans
It arrives in Ulta stores on March 15
ColourPop is known for a lot of things — from its solid pigments and affordable price tags to its clever collaborations. Thankfully, fans of the brand won't have to wait much longer for their next dose of the latter. On Feb. 20, ColourPop is set to release a Sailor Moon collaboration, and although you might not be in need of makeup that will help you fight off evil by moonlight, the latest ColourPop launch will have you looking pretty fierce by daylight.
The complete collection, which includes some seriously adorable products worthy of Usagi-inspired tears of joy, will arrive online at 10 a.m. PST on Feb. 20. Featured in the pastel-colored collection are two lip bundles, two blush compacts, two glitter gels infused with shiny star and moons, and an eyeshadow palette.
Following an online debut, which quickly sold out, ColourPop has confirmed on Twitter that Ulta will now carry the Sailor Moon line beginning on March 15. There's no word on whether every Ulta store will carry the collection, but ColourPop's tweeted announcement also assured fans that a restock on ColourPop.com was coming soon.
ColourPop initially teased the launch on Instagram, sharing a clip of Usagi's transformation into Sailor Moon and a pink-colored picture. "(っ◔◡◔)っ ♥ #COMINGSOON ♥," the brand tweeted. Although there's no telling whether Luna had temporarily managed to take control of the ColourPop account and share the good word, fans were more than excited. Reactions included the very appropriate use of GIFS from The Office and Clueless, along with this relatable as heck sentiment, "There's gonna be a sailor moon colourpop collection n i think i'm actually gonna explode."
Photographs of the complete collection showcase the Sailor Moon tributes included throughout the packaging and products. The 12-pan Pretty Guardian Shadow Palette ($20) features matte, metallic, and super shock shadows in colors named after parts of the series, including an iridescent lavender called Luna, a vibrant coral red named Tuxedo Rose, and a yellow orange with a gold flip dubbed Full Moon. A Moonlight and Daylight Lip Duo ($15) are also featured in the launch, and come in shades named Bun Head, Moon Tiara, and Usagi. Rounding out the collection are two shades of pressed powder blush ($12) and two Glitterally Obsessed Gels ($9), one in a soft lilac named Moon Prism Power and one in soft pink called Moonlight Legend. For those that can't imagine picking and choosing their favorite items, the entire collection will retail for $89.
ColourPop confirmed the collab was one of their most requested, and the items included are intended to be a throwback to the '90s, but with a modern twist. And while many on social media might have their eyes on the launch, you may want to act fast, or call in Tuxedo Mask to help you, because ColourPop reports the items will be available for a limited time only.
Gather your sailor guardians and get a complete look at the launch, below.
ColourPop x Sailor Moon Pretty Guardian Palette 
ColourPop, Pretty Guardian Shadow Palette, $20, available at ColourPop.
Sailor Moon Gliterally Obsessed Glitter Gels
ColourPop, Sailor Moon Gliterally Obsessed Glitter Gels, $9, available at ColourPop.
Pressed Powder Blush
ColourPop, Pressed Powder Blush, $12, available at ColourPop.
Lip Bundle
ColourPop, Lip Bundle, $15, available at ColourPop.
ColourPop x Sailor Moon Complete Collection
ColourPop, Complete Sailor Moon collection, $89, available at ColourPop.