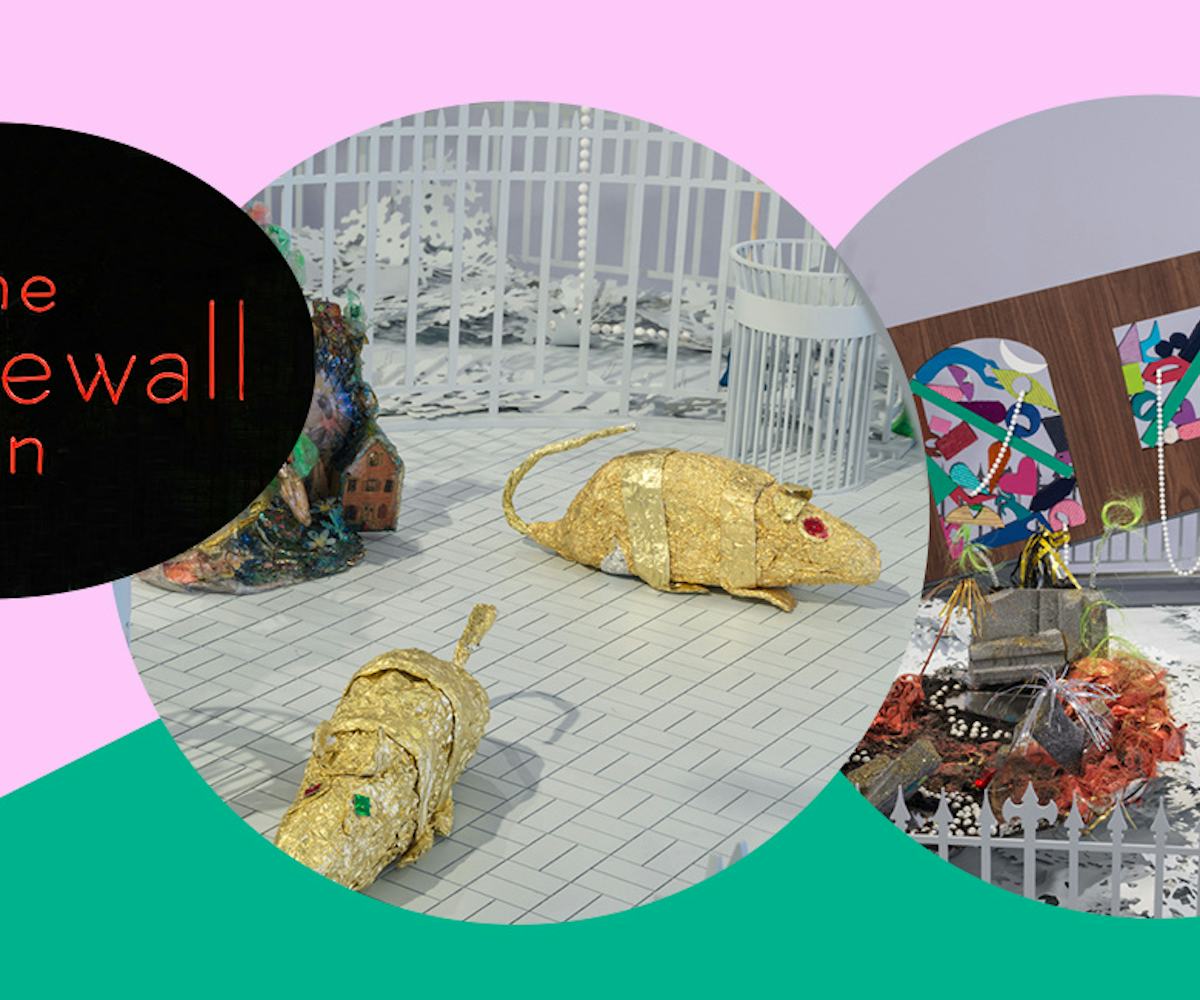 Photos by Maris Hutchinson/EPW Studio & Spencer Platt/Getty Images
What It Looks Like When Queer Artists Memorialize Stonewall
"Consciousness Razing—The Stonewall Re-Memorialization Project" is on view at NYCs New Museum
Though it's one of the most recognizable moments in LGBTQ history, the 1969 riots at New York City's Stonewall Inn tend to be remembered differently by different people. For some, Stonewall is known primarily as an important gay bar in New York City's West Village, for others, it's a site of anti-establishment resistance spearheaded by trans women of color who remain overlooked. Then there's Stonewall, the 2015 film panned by critics and activists alike for its whitewashed version of history.
But, what if the site and events were memorialized in a different way? Say, by being honored with a huge T-shirt launcher? Or, celebrated with a series of relaxing chairs? These kinds of creations are exactly what happened when Chris E. Vargas, founder of the "semi-fictional, transient" Museum of Trans Hirstory and Art (MOTHA), asked artists for their own Stonewall monuments in a current exhibition at New Museum in New York City.
Although President Barack Obama designated the Stonewall Inn and its neighboring Christopher Park as a national monument in 2016—making it the first to be centered around the LGBTQ community—Vargas finds this commemoration insufficient; MOTHA seeks to provide the trans community with "a gender-neutral hirstory all their own," so it's only natural he'd ask the queer community to take honoring Stonewall out of the government's hands and into their own.
"Depending on who you are, your relationship to the events at Stonewall and that history is very different. So a multi-generational group of artists felt really important," Vargas tells NYLON. This project is also different from his prior ventures at MOTHA in that it includes a wider range of artists across the sexuality and gender spectrums.
"There's been a lot of work to kind of displace that one narrative that's very white and cisgender-focused, pointing to the trans women of color who were instrumental to the riots. But it's also important to not overlook all the people who have stakes in this history as well. [The exhibit is] very trans-focused, but it's not only trans artists," he explains.
Vargas' diverse team expands what the very definition of "monument" can mean. There's somewhat traditional options, like Sarah Zapata's large sculptures of feet, as well as those that are more avant-garde, such as Catherine Lord's Plexiglas tube filled with used shirts bearing activist symbols and "lesbian sweat, lesbian blood, lesbian thought," paying tribute to "another figure absent in the march of history."
Some offer a multimedia element: Keijuan Thomas's wooden raft connected by hair beads, "like the kind [her] momma used to use," is accompanied by a poetic proposal and spoken word audio track. "I felt the weight of a history so heavy/ It moved me to keep moving, to keep," she proclaims.
Almost all the works were created specifically for the show, but one is an actual relic of history. Thomas Lanigan-Schmidt, a veteran of the Stonewall riots, contributed two sculptures from 1969 (one of which was remade for this exhibit), as well as a handwritten piece from 1989.
"This wasn't just another battle … Our Mother Stonewall was giving birth to a new ERA and we were all the midwives," he wrote.
Devin N. Morris proposed a practical collection of chairs and lounges to be scattered throughout Christopher Park. Inspired by the phrase "a seat at the table," they're named for black trans leaders like Marsha P. Johnson and Miss Major.
"I wanted to provoke a feeling of belonging or a desire to stay in a certain space," Morris explains. "I designed chairs that could satisfy many different needs for rest, especially in a now-disparate location in lower Manhattan that doesn't represent a safe space for queer or trans bodies of color."
These monuments currently only exist as written proposals, sketches, and small, low-budget models placed in a miniature Christopher Park on the fifth floor of a New York City museum. "I feel like it's very much in the Zeitgeist, this conversation about what history gets monumentalized," Vargas explains, "so it was sort of a funny thing to really not embrace that style of doing things, and instead embrace a very strange mid-size, miniature scale to talk about this history."
Some artists did articulate desires to make their work large-scale. Nicki Green, who proposed a pile of "Stonewall-brand" bricks to acknowledge both the object's role in the riots and the word's slang meaning as "a trans woman who does not pass as a cis woman," said "I would be so excited to design and produce full-scale bricks and install them impermanently, as I think a monument that is a constantly shifting form would truly activate the work in a way the [model] couldn't."
Jibz Cameron, who performs under the name Dynasty Handbag and proposed a series of cartoon illustrations such as "the Stonewall Inn's overflowing toilet (as described by a frequenter of the bar)" and a "stiletto heel being slammed into the eye of a cop," said, given the resources, they "would create an enormous statue of a tattered spiked heel that shot flames into the air and blasted an air horn whenever anyone got close to it."
Art isn't the only component; an adjoining room presents political literature and tangible ways for one to make a difference, such as working with the Sylvia Rivera Law Project, which provides "free, quality, respectful, affirming legal services for low-income transgender, intersex, and gender non-conforming people." While this room was required due to the exhibition's place in the museum's Department of Education and Public Engagement program, Vargas says it also helps remind people that more vulnerable members of the LGBT community, like trans women of color, still face a lot of the same oppression today those at Stonewall did in 1969.
"Making this history concrete and creating monuments around Stonewall is to create this safe distance," Vargas says. "There's this illusion that we've solved the problems, so it felt like a way to point to the fact that that's not true for a lot of people in our community."
MOTHA and Chris E. Vargas' "
Consciousness Razing—The Stonewall Re-Memorialization Project
is on view through February 3 at New Museum in New York City.