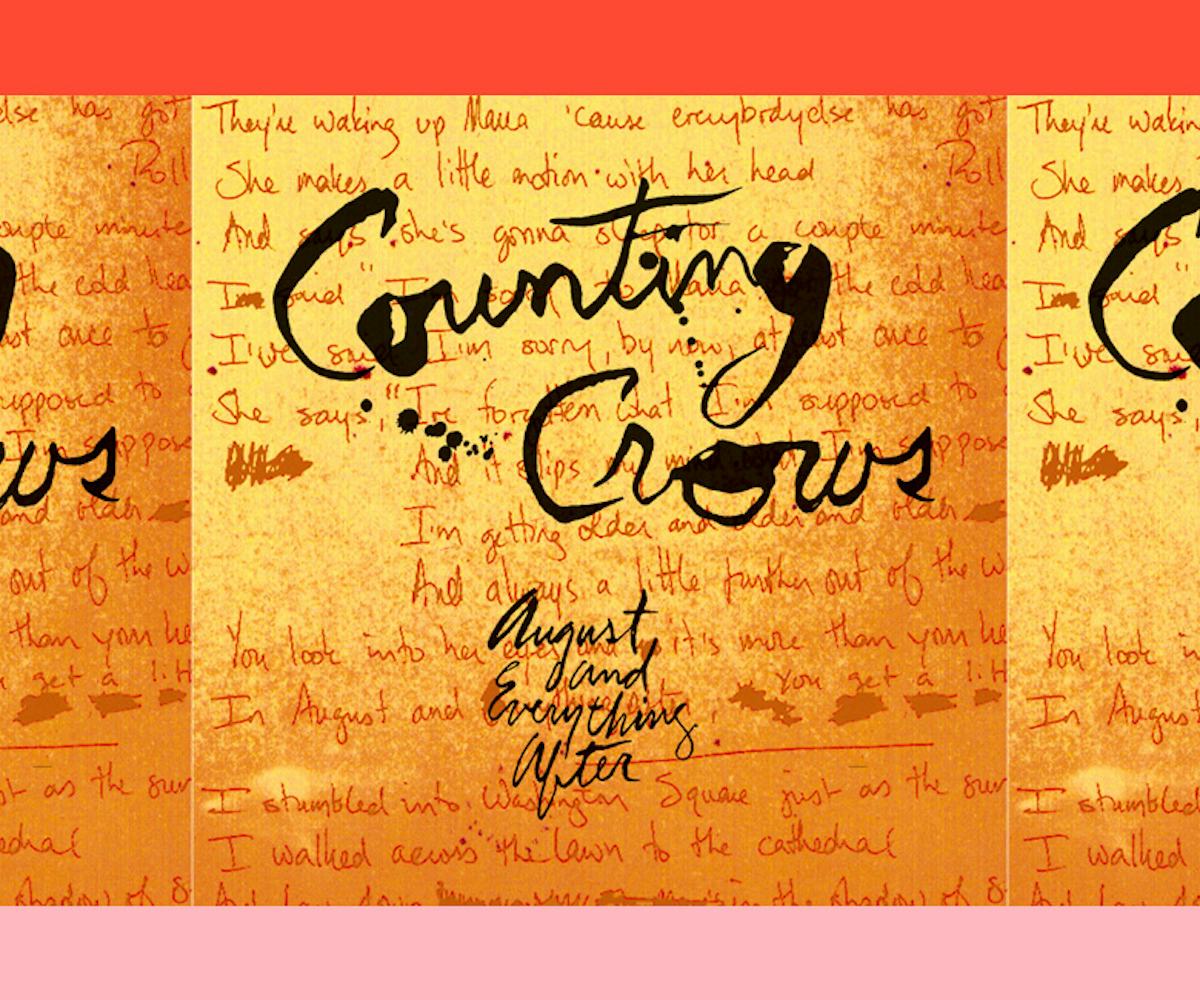 A Long December: On 25 Years Of Counting Crows
May all your favorite bands stay together
I'm in the now-defunct branch of Andy's Records in the small city of Hereford, near the border between Wales and England, and I've got big black headphones on hooked to a listening post. I'm waiting for the album to start, and it isn't. It's silent. The guy at the counter hasn't loaded it up yet, I think, but that can't be it because the track number has come up. I feel a little self-conscious because I'm, like, 12-years-old, and there are lots of older, cooler people in this record shop wanting to listen to music. I skip the track to see if maybe that'll fix it, and then I hear an accordion. I'm not expecting an accordion, to be honest, but that's how it starts, both the song Omaha, by Counting Crows, and my relationship with them as a band.
The album was August and Everything After, which was released 25 years ago, and, obviously, the CD wasn't broken, it's just that the album begins with 10 seconds of silence before the opening, sparkling guitar figure from "Round Here" kicks in. By the time I got to the band, I was nearly 10 years late to the party, totally oblivious to how big that album was when it came out.
Let's go back to the start. Counting Crows were a pretty seasoned band by the time they released that first album. Lead singer and songwriter, Adam Duritz, was pushing 30, and had already been involved in The Himalayans—who released the original version of "Round Here"—and also Sordid Humor. David "Immy" Immergluck was a pretty well-known guitarist, playing in Camper Van Beethoven and Monks of Doom. It's easy to think of emerging bands as emerging straight out of high school, or college, but this wasn't the case for them.
Once they started playing live, word got out quick, and there was a scramble to sign them, before they eventually went with Geffen. However, nobody really expected them to shoot out of the traps in the way that they did. Seven million albums sold —bigger than their label mates Nirvana and Guns 'N Roses. An MTV Video Music Award. "Mr. Jones" is the single that everyone remembers from that record, but, in actual fact, it was their performance of "Round Here" on Saturday Night Live that got the rock rolling down the hill. If Paul Simon has "Graceland" and Springsteen has "Thunder Road," then "Round Here" is surely the song that sums up Counting Crows; it's structured so perfectly and tightly, but also so it can be pulled apart and turned into something else every time they play it. It's not uncommon for the song to go beyond 10 minutes live, not a single one of them wasted. "Mr. Jones" is great, but "Round Here" is a song that only Counting Crows could write, and everybody loved it, and them.
And then, after a little while, everybody stopped loving them.
People talk about bands going through "difficult second album syndrome," but in hindsight, a lot of the time this feels less to do with the band and more to do with what audiences—and the press—expect the band to do. In the case of Counting Crows, lead singer Adam Duritz is pretty candid about why he thinks the band went from being critically adored to critically ignored. Geffen released an old Counting Crows demo from 1991 called "Einstein on the Beach," which the band had allowed to be on an album of rarities. The song went to No. 1, but Duritz was worried about the band suffering from exposure before their second album came out. This proved to be true, and Recovering the Satellites wasn't met with nearly the same level of critical acclaim as August… was. As Steven Hyden says, "By 1996, the music press was no longer sympathetic to guys like Duritz being angsty all the time."
However, teenage me was very sympathetic to angsty, sincere, loud rock music, and also, it's a kind of music that's having something of a resurgence recently. If anything is to characterize the musical landscape of the past few years, it's that irony and posturing is out, and emotional earnestness, honesty, sincerity, is in. Across genres, hearts are being pinned to sleeves, from The 1975's I Like It When You Sleep…, to Chance The Rapper's Coloring Book, toPhoebe Bridgers' Strangers in the Alps, to Jason Isbell's Southeastern, and countless other commercially and critically successful releases.
If Recovering the Satellites came out now, it'd probably do pretty well. Listening in comparison to August…, there is a sense that this is a band more in tune with what kind of band they want to be. There are big swings on this record—the way that "Miller's Angels" feels like it's constantly approaching a big crescendo, and when it comes, it immediately falls away into something desperate and desolate, or the way that "Children in Bloom" begins with a big wall of reverb and distortion, and only ever briefly allows itself to settle into a groove. The follow-up, This Desert Life, is different again—almost psychedelic at times, with weird organs and synths and soundscapes. Hard Candy, the first album of theirs I was able to buy on release, has a Byrds-era lushness and shine to it, heavily influenced by producer Steve Lillywhite. Even their most recent studio album, Somewhere Under Wonderland, begins with the almost operatic, heavily narrative-driven nine-minute long "Palisades Park."
It's probably obvious by now, but Counting Crows are my Favorite Band. Capital F. Capital B. They have been my Favorite Band since that moment. This makes them uniquely difficult to write about. It's like being asked why you love your parents. I love them because they raised me. It's impossible to get the requisite distance to approach them objectively. August and Everything After was the first that felt like it belonged to me, and me alone. I was a regular poster on the Counting Crows message board. I downloaded every demo and rarity I could find, mostly all from a now-defunct fan site called AnnaBegins.com. I read and re-read liner notes looking for hidden depths and clues as to what the songs were about, who he was singing about. I used their lyrics as my MSN screen name. I, unashamedly, have a Counting Crows tattoo. Most recently, I have listened to every episode of Adam Duritz' podcast with American journalist James Campion, Underwater Sunshine, in which the two of them dig into music history, the band's history, and play a slew of excellent music from almost every genre. As Helena Fitzgerald wrote, "Most of the things we love are the things that embarrass us," and yeah... fair enough. I feel it.
People talk about how bands struggle to remain relevant throughout their career, but on a micro-level, if one band can remain relevant to you—through adolescence, through your early 20s, into adulthood, if you can still find something in those songs to relate to, then that's something to hold onto. I've had to watch a lot of friends lose their favorite bands over the past few years—through death, or through breakups, or, more recently and upsettingly, through uncomfortable revelations and accusations about the bands in question. It's a disorientating thing, and, to be honest, it's not one I'm really here for. Favorite bands are a constant, and to have a sense of finality applied to them feels wrong. The best-case scenario is that formerly beloved songs are tainted with a bittersweetness, but in other cases, they could be rendered unlistenable. It's impossible to know the life expectancy of a band. The most you can hope for is that you notice when their vital signs begin to dwindle and that, while they're alive, you remember to be thankful that you are as well.