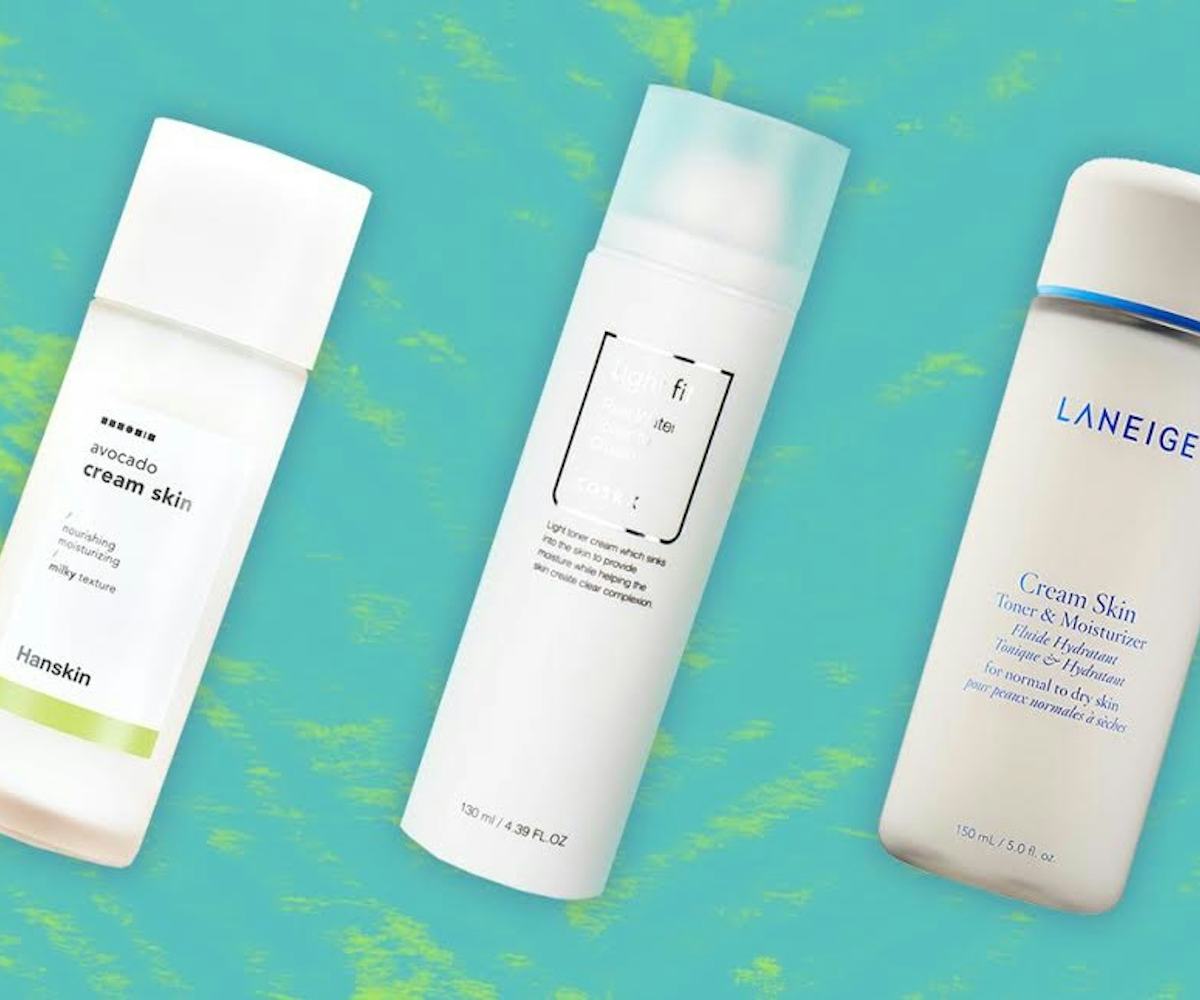 Images courtesy of brands
Is Cream Skin The Next Big K-Beauty Trend?
The new hybrid product category promises your most dewy skin yet
The world of K-beauty is known for a lot of things, but keeping the rest of the beauty industry on its toes is at the top of the list. The category has ushered in some of the buzziest skin-care trends to the U.S. in recent years, from the 10-step routine to glass skin, and it looks as though it already has another on the way. In a recent interview with StyleCaster, Charlotte Cho — founder of popular K-beauty marketplace SokoGlam — named cream skin as the big K-beauty beauty trend to watch, predicting the category would have a major moment Stateside in 2020. The ambiguous name leaves room for a lot of questions: Is it a product? A texture? A look? The answer falls somewhere in the middle.
"The first thing to know is that, in Korean, 'skin' ['스킨'] doesn't always refer to the actual skin of the face, but it is also used to refer to toners or essences," Alicia Yoon, founder and CEO of K-beauty retailer Peach & Lily, tells NYLON. Unlike the glass skin trend — which describes a look of pore-less, luminous, and translucent skin — cream skin refers to a product type, best described as a toner-moisturizer hybrid.
While the name might suggest a texture that's well, creamy, a cream toner is a lightweight, milky liquid, blended to absorb quickly and comfortably into the skin. Plus, like with any hybrid product, cream toners come with a multi-tasking benefit, allowing you to achieve dewy, hydrated, and healthy skin in fewer steps and with fewer products. The idea is that the product preps and softens the skin like a toner and moisturizes like a cream to offer enough hydration that you may not need (or want) to apply anything else afterward.
The category was first initiated in 2018, when Korea's biggest beauty conglomerate, Amore Pacific, launched a product by the same name under one of its brands, Laneige. (That product currently has over 600 five-star reviews on Sephora and a 90 percent approval rating.) "Since then, this unique product and texture has been flying off the shelves in Korea and now in the U.S.," Cho tells NYLON of the product. "With the success of this toner and moisturizer hybrid, other companies started to create their own versions of cream skin, which ultimately broadened this product into an actual category."
In a world where many are gravitating toward more minimal skin-care routines, and a bigger, more general want to buy less stuff, it only makes sense that cream toners are beginning to pick up momentum — especially when they result in healthy, illuminated skin. "We're always interviewing and working with the top labs in Korea, and they all have next-level cream skin, liquid cream, creamy toner concoctions up their sleeves," says Yoon. "Expect to see a lot more of this new product category."
Check out four of the leading cream toners available in the U.S. right now, below, and be the first one of your friends to reap the benefits of the cream skin trend before they blow up in 2020.
Laneige Cream Skin Toner & Moisturizer
Laneige, Cream Skin Toner & Moisturizer, $33, available at Sephora.
The bottle that started it all. The lightweight liquid formula features white leaf tea water that is rich in amino acids, used to not only strengthen the skin barrier but moisturize and soothe.
Hanskin Avocado Cream Skin 
Hanskin, Avocado Cream Skin, $30, available at SokoGlam.
Perfect for dry, dull, sensitive skin — or anyone in need of a dose of hydration — this cream toner is enriched with nourishing avocado extract and natural seed oils that lock in moisture for skin that stays hydrated longer.
The Yeon Liquid Cream
The Yeon, Liquid Cream, $16, available at Amazon.
This product is infused with actual milk protein-concentrated nutrients and multivitamins for radiant skin that won't be left feeling sticky.
CosRX Light Fit Real Water Toner To Cream
CosRX, Light Fit Real Water Toner to Cream, $18, available at SokoGlam.
This phase-changing formula comes out of the bottle as a cream, but transforms into a watery liquid on contact with the skin. It's enriched with moisture-boosting ingredients like sea water, hyaluronic acid, and sea buckthorn, a source of vitamin C and niacinamide, which also aid in brightening uneven texture and fading acne scars.
NYLON uses affiliate links and may earn a commission if you purchase something through those links, but every product chosen is selected independently.