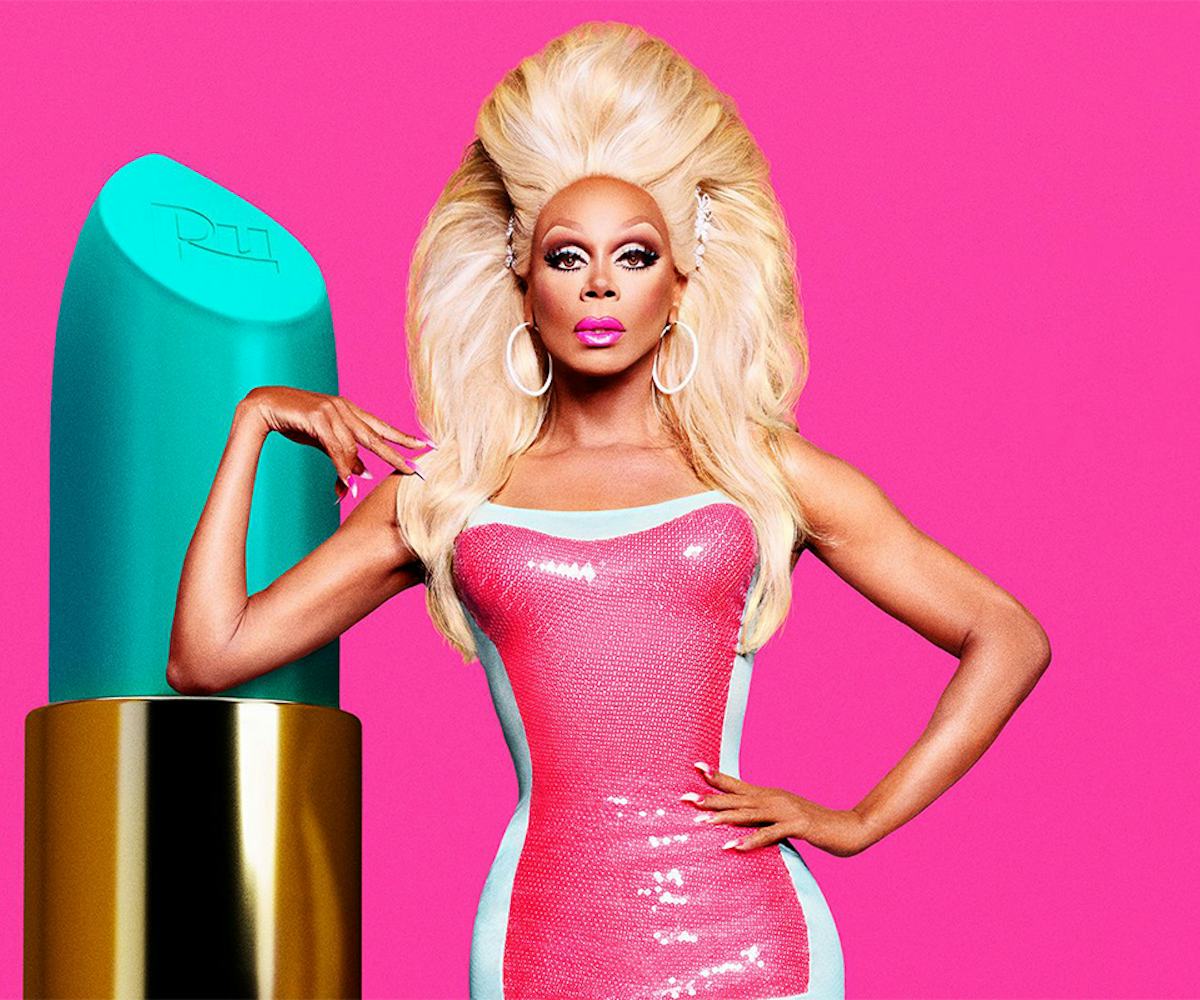 Photo Courtesy of VH1
How 'RuPaul's Drag Race' Has Forever Changed The Conversation Around Drag
The show brought a subculture into the mainstream, but it's been a bumpy road
"Sleeper hit" is a term used to describe a song or album that plays successfully for a long period of time, despite having had an unsuccessful release. Lady Gaga's "Just Dance" debuted in early 2008 but did not reach the top until January 2009, where it would spend 49 weeks on the Hot 100. That was my junior year of high school, and I was the only one amongst my friends who could play music while on the go. I'd place my out-of-date Sidekick LX on the dashboard (the iPhone had pushed it out of relevance two years earlier), and "Just Dance" would be the only song that played while we drove to the mall or loitered outside of liquor stores. Sitting amongst piles of soda cans in a white two-door, we role-played how to flirt. If one of us was successful in finding an adult to buy us Four Loko, we would then use our booze to barter with someone's older sister for an hour alone with the TV. RuPaul filled that hour. A figure we all dimly remember hearing on the radio as toddlers, RuPaul was on television now, and working a form we all understood. Our fashion knowledge, until that point, came from marathons of America's Next Top Model on Oxygen, and our humor was reduced to constantly quoting Tiffany Pollard aka New York on Flavor of Love. RuPaul's Drag Race was a mixture of all these reality shows, except it was gay as shit.
Each week, the queens competed in various modeling and acting challenges, and one by one they were eliminated until we were left with America's Next Drag Superstar. Like the queens, all we had were our aspirations: to be models (we had MySpace), to be photographers (we had digital cameras), to be famous (we lived in Tennessee), to be happy (we were not). We used she/her pronouns generously, and for various reasons. For me, it was a self-declaration, and for my friends, it was a term of endearment. We learned, as many teenage trans girls and gay boys at their local clubs learn, that when a queen is standing on a stage with something to say, you pay her with respect and crumpled dollar bills. One of us made the grave mistake of using he/him with a queen out of drag, and she banned us from ever standing front row at her show. Ever since then, I've only used she/her when speaking about a Queen's avatar, the side of herself that she presents to the world.
The first-ever mini-challenge on Drag Race was a car wash-themed photo shoot, wherein each contestant had to pose with two men while being doused in water. My best friend demanded help creating a similar effect, posing for his 10k MySpace friends (the most out of all of us) in an inflatable kiddy pool. The "shoot" was cut short when his mother found paint smeared on the porch. Each week, we watched the triumphs of our favorite queens, but it was their failures that stayed with us. Logo—a channel I'd only known for playing reruns of But I'm a Cheerleader—became our MTV. At school when we'd part for class, we recited Tammie Brown's exiting message: See you later, in the magazines.
Other formative TV shows of the time, like The Hills or Gossip Girl, had ultimately brief runs, but Drag Race has become omnipresent. I'm still tuning in. While I was in the middle of writing this essay, a friend called to tell me about her day, and described it as "Yara during her lip-sync against Alexis." The lip-sync she was referring to is near the end of Season 3, a battle that would determine which of the two queens would continue to the final challenge. Alexis Mateo dutifully performs "I Think About You" by Patti LaBelle for the judges, while Yara Sofia paces the main stage. Visibly disappointed and barely mouthing the words, Yara begins to rip off the dress that landed her there in the first place. As she falls backward into a slow-motion spiral under the strobe light, Yara's disembodied voice explains what we are seeing: "I'm crying because there's a lot of emotions. I'm thinking too much, I'm so angry, and I'm so disappointed. I'm a mess." The song is forgotten as the judges watch in concern, and Alexis stops her lip-sync to help Yara stand up and face her elimination. I told my friend that I'd had a similar day.
The experiences of the queens on the show have become placeholders for our lives, and it has turned into its own language. I have friendships centered around sending screenshots and GIFs, and we have 11 seasons of content to sift through. References have to be sharp, and a good one can send group chats into chaos. Recently, a friend texted to remind me of Serena ChaCha, the youngest contestant of Season 5 who vehemently defended her poorly constructed runway looks by saying that they were part of a "new art movement called 'soft sculpture.'" For the days and texts that followed, we found a way for everything to relate back to "soft sculpture." Having anxiety about what you're gonna do with your life? It's just this new art movement, called soft sculpture. We recognize Serena's justifications in who we've been, and who we could become when the pressure is on. Living in New York has its own challenges, and the rewards are on constant display online and on the street. We are the closest we've ever been to our dreams, but the distance has never been more apparent.
I've recently rewatched Season 1, for the first time since its original debut. A few of the queens enter the workroom with a nervous uncertainty, but it's eclipsed by the excitement of being taken out of the clubs and put on TV. Rebecca Glasscock, the season's self-proclaimed pretty girl, walks in casually, wearing jeans and a T-shirt, ready to claim her reward. RuPaul's music plays multiple times throughout each episode, including the theme song—also a RuPaul song. The show seems ad hoc; RuPaul routinely winks at the camera to remind us that all the music is available on iTunes, and you get the sense that she's working to keep the lights on. The runway is really just a walkway with a curtain, and the entire season looks like it has been shot in a pre-historic Snapchat filter.
Now, all that has changed. Ten years later, the small show that began on an unknown channel is having its day. The grand prize has risen from $20,000 to $100,000, raising the stakes so high that many queens enter the competition in debt just to afford their costumes. No longer on Logo, the show takes a prime Thursday night spot on VH1, sandwiched between Love and Hip Hop and T.I. & Tiny. It is no longer the show that once felt as though I was its only viewer.
Many of its current contestants have also grown up watching the show, their ultimate goal being to occupy the same space as the queens who inspired them. It's even expanded into several spin-off series, conventions, podcasts, and four additional seasons of All Stars, a chance to reunite the audience's favorite personalities. Just being on the show can increase a queen's booking fee, or open up the possibility for sponsored content catered to their new audience. And that audience can be demanding. In Season 9, we met Valentina, a beautiful Latina queen who was poised to win before meeting her (now-legendary) downfall. Her confidence veered into arrogance, and in her lip-sync against Nina Bonina Brown, she ruined her chances by not bothering to memorize the words. As the fan-favorite of her season, Valentina's elimination had her followers expressing all their outrage online. Nina Bonina Brown's Instagram became flooded with comments from viewers, many of them stooping into racist and anti-Black rhetoric. Drag Race has largely stayed out of monitoring its fans' behavior.
Valentina's departure was the only memorable moment of that season, and the build-up to her exit left viewers deflated. The rest of the competition coasted by, and Sasha Velour's victory is lackluster, even though it's deserved. Shock has become the formula for the most recent seasons, with the show dedicating itself to creating moments that can become memes. It's their most reliable form of marketing, but Drag Race is at its best when it caters to a narrative, and Season 5 is its finest example. America got to meet Jinkx Monsoon, a charming, narcoleptic, Jewish actress from Portland. Jinkx's competitors single her out immediately, as cliques formed and bullying against her ensued. It wasn't much better on the main stage, where the icy Michelle Visage repeatedly disapproved of her style and makeup techniques. Through all of that, Jinkx managed to perform well throughout her season, most notably delivering an impersonation of Little Edie from Grey Gardens for the show's Snatch Game, which still stands as one of the most studied and accurate portrayals Drag Race has ever seen. Her win is a great release of tension for the viewer, and it completes the hero's journey.
In 2019, being a Drag Race contestant has become now a full-fledged, viable career. Many of its alums have agents and professional representation. Last year, Season 10 winner Aquaria signing an enviable contract with IMG, the agency that launched Gigi and Bella Hadid. Aquaria's Instagram already had a considerable reach before competing, and since her time on the show, this has only increased. She's modeled for Vogue Italia, Marc Jacobs, The Blonds NY, and even appears in this year's MAC Viva Glam 25th anniversary advertisements, a campaign that RuPaul originated in 1994. A queen can now dream bigger than lip-syncing for dollar bills, and Ru has made that possible. Replicating the milestones of RuPaul's life, the queens must act, model, and sing their way to the top.
But now, Drag Race, like the rest of us, finds itself in a new world. Early seasons of the show included the phrase "You've got Shemail," a reference to ANTM's Tyra Mail. The Shemail delivered clues for what lay ahead for the next maxi-challenge while framing the episode for the viewer. But it also was seen as being emblematic of transphobia, and an inappropriate term for the show. In fact, Season 2 contestant and Steven Meisel muse Carmen Carrera brought attention to this on Twitter, demanding that the transphobic slur be removed from the show. While it's true that she seemed to have had no issue with the word while competing, since her time on Drag Race, Carrera has transitioned and turned her reality show stint into a career of modeling slash activism. However, RuPaul not only resisted this commentary but also defended her choice of the word on Twitter. She elaborated further on Marc Maron's WTF podcast, saying: "It's just words. Yeah, words do hurt... You know what? ... You need to get stronger."
Further fanning the flames, stand-up comedian and Season 6 winner Bianca Del Rio told Carmen to "take whatever was left of her dick, shove it in her mouth, and shut the fuck up," to a cheering audience of men. And yet now, the phrase is gone from the show, in what I can assume was a result of pressure from the network. A friend pointed out to me that the show's new phrase, "She done already done had herses" leaves a couple beats of silence at the end, so seasoned viewers can still hear the original phrase in their minds.
The question does remain: What was RuPaul thinking? Were her intentions good or bad? I think it's more that she is indifferent to the struggles of right now. RuPaul's breakout hit, "Supermodel," came out in 1992 when she was 32 years old. I've seen people leave New York before turning 25, discouraged and unable to turn their Downtown notoriety into a living. We've never seen RuPaul's determination falter in public, though, despite having largely disappeared from the public eye in the new millennium. But, she brought herself back with Drag Race. Ru only loses her temper on the show when the queens commit the show's ultimate sin of not believing in themselves. She spends time coaching the queens, warning them against giving in to what she frequently calls "an inner saboteur."
If you go to YouTube and type in "RuPaul '80s," you will find videos that document her time Downtown. In one, titled "RuPaul Explains The Difficulties of Go-Go Dancing in 1988," posted by user 5ninthavenueproject, you see a disheveled and model-thin Ru rummaging through her dressing room for lipstick. If you skip to 0:40 seconds, you'll see her staring at herself in the mirror as she says, "I let these men touch all over me for the money. I got to pay my rent, I'm trying to get a new apartment. I let all these men touch me because I wanted the money." In 1988, having an ambiguous gender presentation was portrayed as just a way to pay the bills. She looks directly into the camera and says, "Isn't that terrible? What am I going to do? I'm in show business." This was five years before her modest hit would reach number 45 on the U.S. pop charts, and even longer before show business would allow people like her (us) to participate openly.
***
I'm on the other side of 25, and currently unemployed. I respond when casting directors slide in my DMs, offering me the same "inclusive, LGBTQ friendly photo shoot" that publications seem to never tire of publishing. I'm not a model, but I usually need the money, so I say yes. My transness can be packaged and sold, and I am aware of that. The person standing behind me on the subway, or whoever lets me sniff their poppers at the club, might be on a magazine cover next month, and that isn't an exaggeration. I've definitely (accidentally) cut in front of some editors I'd love to work for in line for the bathroom. We are all standing at the corner of viable and visible, trying to make a buck. Stardom is just a viral moment away, as evidenced by Cardi B's Grammy or Miss Vanjie's legendary Drag Race Season 10 exit. Posting online can become your profession, but your words will be surveilled. Failure to abide by the rules of wokeness can get you eliminated, or canceled.
In 2015, RuPaul told BuzzFeed about her preferred method of lending a helping hand: "I remember once I had this place that overlooked the Hudson River, and I saw this guy on a sailboat and it had capsized and I went to the phone thinking: 'I've got to call someone'."
She continued, "But then I thought: What's the best thing I can do? You know what? I'm gonna pray for this person. I'm gonna send them loving energy." The writer takes note that RuPaul "does not say whether the man survived." We the viewers do not know RuPaul, it is only her avatar with which we are familiar.
***
I posted a selfie on Instagram today, in the pink bathroom of the Doubles Club on 5th Avenue. It was taken last night while I dissociated at a Gucci party. We were all carrying this season's tiniest bags, standing around in mutual fascination and contempt. I retreated to the bathroom four times for some peace, peeing out the free drinks faster than I consumed them. Posing in line for the toilet, I captioned the photo "waiting 2 pee." A close friend commented, saying: "Waiting to pee on the runway," a reference to Dida Ritz's catchphrase from Season 4. Dida's shining moment came in episode three, where her lip-sync against The Princess exemplified the joy of which Drag Race is capable. The queens must lip-sync to "This Will Be (An Everlasting Love)" by Natalie Cole, in front of celebrity guest judge Natalie Cole. She positions herself to perform directly in front of her, Dida's voice over confessional saying, "Natalie Cole is sitting right in front of me. I have to do it for her, I don't want her to leave here thinking, That drag queen did a horrible job with my song." Gold glitter falls from her costume and surrounds her as she scoots her way across the stage, an assured smile of victory on her lips. Natalie begins to holler, no longer a judge but an attendee of Dida's show. Or maybe she's at the movies, with Dida posing as the young starlet who has finally found her one true love. Latrice Royale's voice rolls in as we watch her clap from the back of the stage, saying "That is what a lip-sync for your life is. That is high drag at its finest."
I really wanted to rewatch this, but YouTube's version was a recording of someone's TV (with 37,696 views). Luckily, it's on Twitter with complete clarity. I retweeted it.