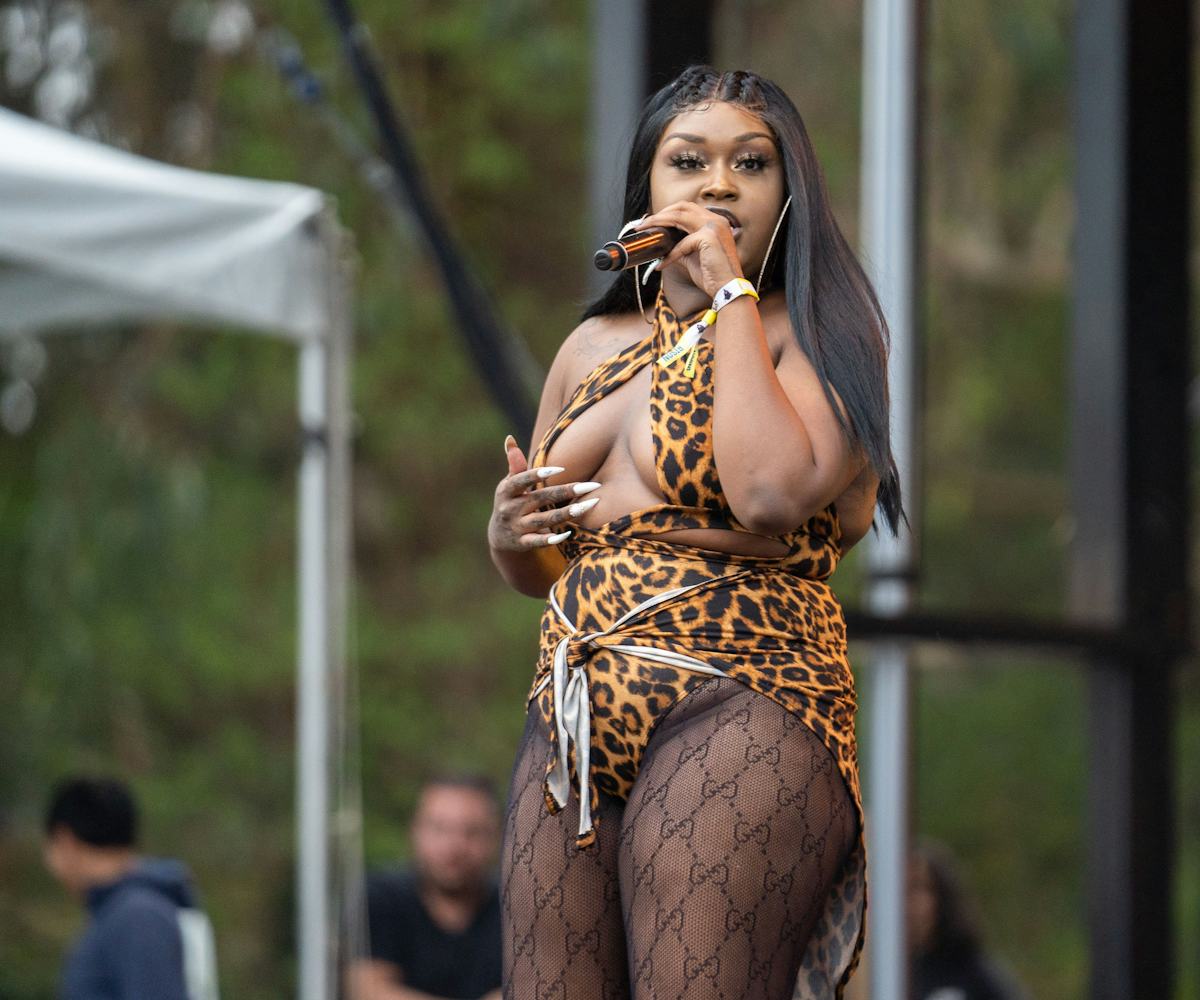 Photo via Alison Brown/imageSPACE/Shutterstock
CupcakKe Announces She Is Retiring, Removing Music From Streaming Services
She revealed the reasons for her decision in an emotional new video
In a nearly 20-minute Instagram Live video on Sunday night, rapper CupcakKe announced that she is quitting the music industry and will be removing all of her songs from all platforms. She also stated that she will end her tour early, and has removed all content from her Twitter and Instagram pages.
According to CupcakKe, the reason for her retirement stems from the fact that younger girls are listening to and dancing along to her sexually explicit tracks, and she feels as though she's "corrupting the youth." "I saw a video, and it was of like, a 13-year-old dancing to the music, and I just decided that that's it," she says. "I don't want to do music no more." She also points out that since her concerts are all ages, she's seen people even younger in attendance. "Seeing all age kids at my show and seeing them sing along to 'hump me and fuck me' and all this shit, it has torn me apart," she says. "I'm just not happy." CupcakKe notes that she appreciates the support that she's been given, but the content matter of her music reaching children "isn't okay to me."
According to the video, she also feels like she has only been given attention for her explicit material and not her more serious tracks. "People that have been supporting me for a while [know] that I'll drop a sexual song and then right behind it I'll drop a song that really shows my talent," she notes. "I did it to bring awareness to my actual talent and not to the sexual music, but it seems like no matter what I do, the sexual music just overpowers the 'non-sexual' music, you know, talented music."
She then points to her body as a reason why she feels like she cannot just make the kind of music she's proud of. "Even if I change the content [of my music,] I know for a fact that with me being my size, no one will support me," she says. " I realize no matter what I put out I will never be good enough for society, no matter how talented I am."
The rapper additionally reveals that she has dealt with a "bad gambling addiction," and lost about $700,000 last September. "I learned during the time that I lost all the money that I am very much at peace without it," she says, adding that she feels as though the success and wealth she's gained has attracted fake friends: "When I had the money, all I gained was people that used me and didn't care for me really."
While some people were sad about the unexpected news, others questioned CupcakKe's safety in the comments of the Instagram Live and in a YouTube video of the recording, noting that she glances at someone off-screen throughout the video.
This news comes almost nine months after CupcakKe was hospitalized after tweeting about suicide. Although we like many don't want her to quit making music, we hope that she is just doing what's best for herself.
Watch CupcakKe's full Instagram Live, below.