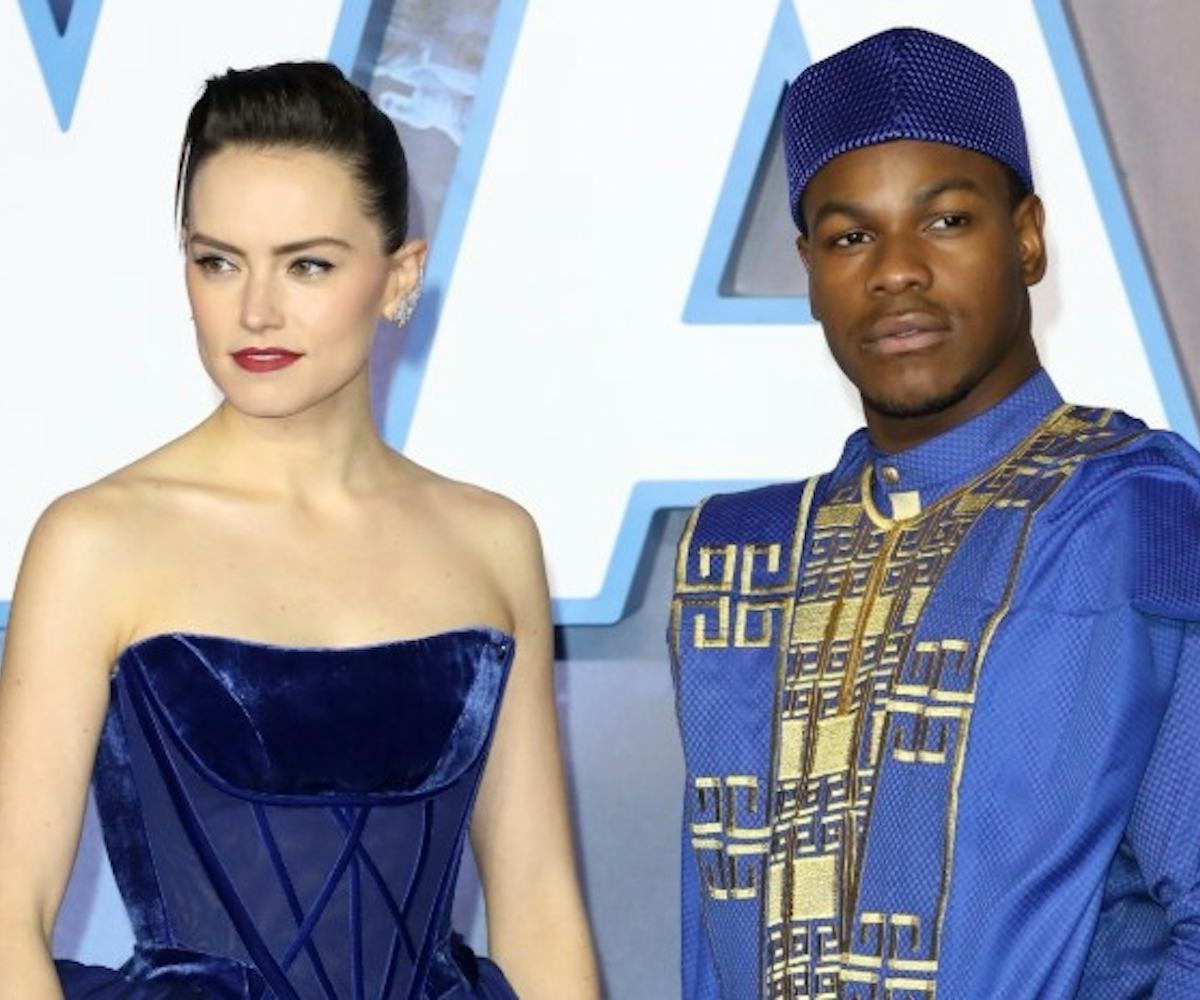 Photo by Tristan Fewings/Getty Images
Daisy Ridley and John Boyega Color-Coordinated For The 'Star Wars' Red Carpet
The two matched in blue looks for 'The Rise of Skywalker' premiere in London
Daisy Ridley and John Boyega may have pre-planned their coordinating outfits for the red carpet. The two arrived to the European premiere of Star Wars: The Rise of Skywalker in London on Wednesday wearing matching royal blue looks. Yes, Oscar Isaac was also there, but he apparently did not get the sartorial memo. Very sad.
Ridley, whose stylist is Samantha McMillen, wore a blue velvet gown, complete with a form-fitting dress with a detailed bodice and an open statement skirt, which online fan accounts are claiming is a custom design by Vivienne Westwood. Meanwhile, Boyega paid tribute to his Nigerian roots in a traditional blue-and-gold look. The duo even had similar accessory choices down to their footwear, both of which were in the color black.
Ridley recently revealed that, after years of behaving on the Star Wars set, she finally stole a little something: a piece of Dark Rey's jewelry.
"I've been so well-behaved the whole time," she told Lily Singh, adding that "the boys" have stolen costumes and other "various bits." "This time, I was like, I'm going to take something. I took the ring that I wear for Dark Rey [an evil version of Ridley's heroic character, Rey, which is teased in the new film] and I may have been given a sword made of light, which is very exciting and I'm gonna ask for my costume but I haven't asked for that yet."
Ridley shouldn't have to ask to take anything from set, frankly. Take it all, Ridley, it's yours!