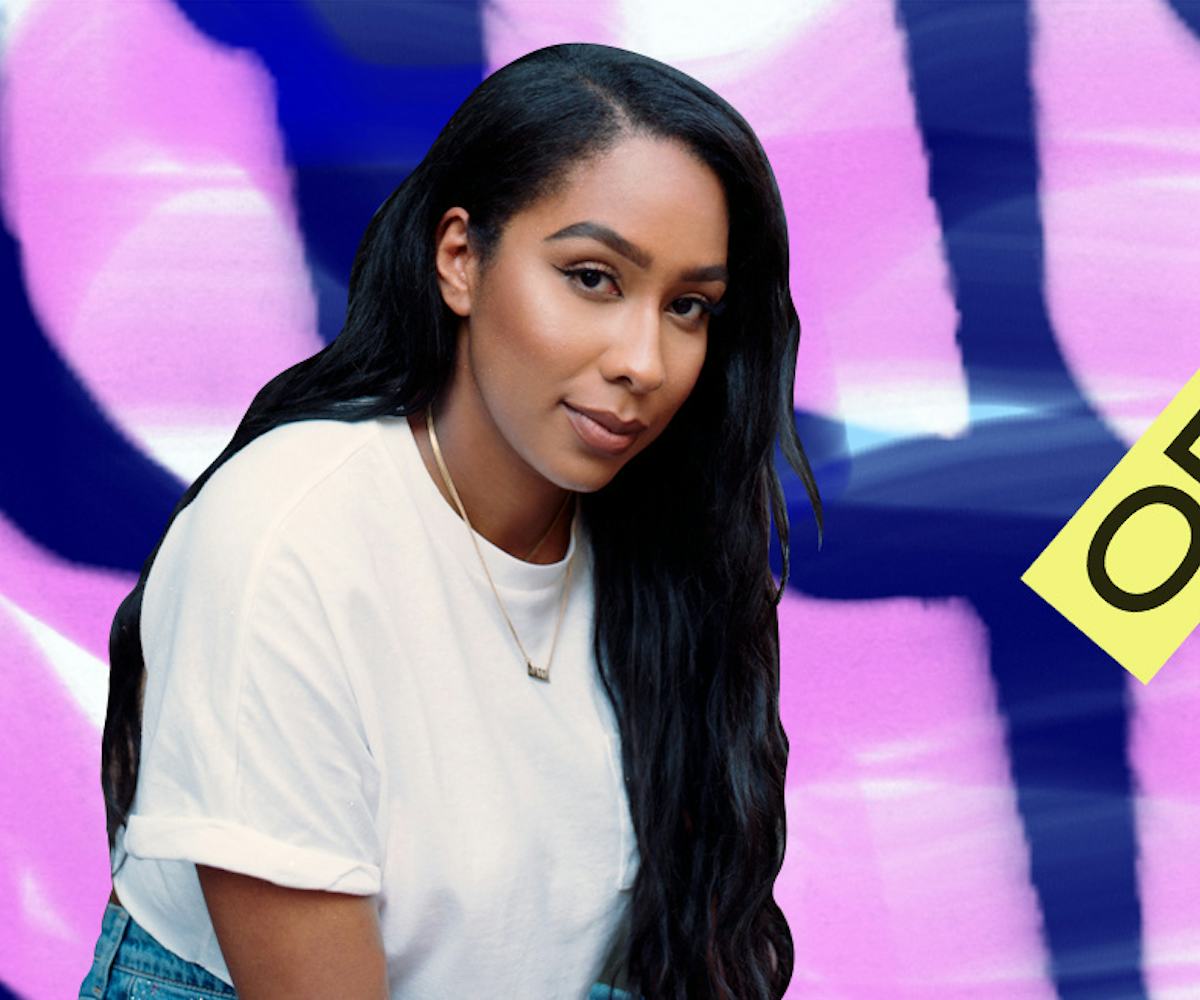 Dalia Dias Made Sure There Were No Men In The City Girls "Twerk" Video
The creative director talks about those viral visuals
This is Off Beat, where we explore the careers of women who work in the music industry—just not on the beats and melodies.
Based on her Instagram alone, Dalia Dias belongs in front of the camera. She is dripping in IG baddie sauce, posting up in different locations all over the world and putting her own stylish spin on designer fashions. However, her picturesque Instagram content is just the tip of the iceberg as far as Dias' refined visuals are concerned. The creative director first picked up a camera when she was 16 years old, having returned to London from boarding school in Nigeria. Since then, she's been charged with executing the creative vision for editorial shoots, fashion spreads, and, of course, music videos.
Dias has helped hip-hop artists like Quavo, YG, Tyga, and Ty Dolla $ign pull off polished, colorful visuals that bring their songs to life. Most recently, she was tapped to be the creative director for City Girls and Cardi B's viral "Twerk" video. Dipping Cardi and Yung Miami in body paint was her idea—and so was the decision to leave it completely free of men.
In our interview below, we dig into why that was such an important decision for Dias, why her Nigerian and Egyptian immigrant parents still haven't seen it, and how much of the budget she expects when she signs on to a project—because being a creative doesn't always mean you have to struggle.
What was your first big project?
When I started out, I was working with a lot of rappers and musicians based in the U.K. I had access to so many up-and-coming rappers. Then I moved into fashion because the people I was working with just cared about wearing baggy clothes and tracksuits. They didn't care about fashion, or models, or art and set designs. I was like, "Guys, the videos need to look like this, and we need to do this." And they were like, "Nah, what's all of that?" So, I was like, "You guys don't know anything, I'm gonna go work with fashion brands and magazines." [laughs]
When you were working with the artists, were you only doing music videos or were you also doing branding photography and promotion?
I was doing both. Just everything, content-wise. Then I used that portfolio to move into fashion and gain fashion clients. But I would say, in the last three to four years, I kind of went back into music. I felt like I was able to develop a really strong portfolio to show my work, my flair and taste, and my creative direction in fashion, and bring that back to music. And I feel like it's only three or four years ago that people really started—I mean, small, up-and-coming guys—to take their image more seriously. Especially in the U.K., hair has always been a thing, but back then, they never really cared about it.
The budget is totally different as well. Finally, they saw my work, and they were like, "Okay dope, I want my next video to look like an editorial or like [a fashion] campaign." They wanted more of that high-end feel. Music has always been my first love, and it is my passion. If I could sing, I would have been a musician, but I can't, so I'm behind the camera instead. So yeah, I went back into music—focusing on directing videos, creative directing, and just cleaning up the image of certain up-and-coming guys, people that sort of need to revamp their style.
I definitely feel like there's been a music video renaissance in the past few years. We obviously expect artistic visual productions from pop artists like Lady Gaga and Beyoncé. But I'm also looking at the recent videos for people like Cardi where it's clear that labels and brands are investing in more creative, high-end concepts.
For sure, 100 percent. [Hip-hop] is the biggest genre today. So there are more companies and labels investing money behind it. People now have access to certain things that they've never had access to before. I feel like that gives us access as creatives, the freedom to do whatever we want, and [the ability] to push the boundaries and create something that you would never think of.
How many projects do you have to do in a year to cover your living costs?
It varies. It honestly changes every time. There is no set rate. Some people do have a set rate, and that's how much they get paid every time they're approached for a job. Some people have a day rate. But as a director, it's a percentage. I think the industry standard is 10 percent, but some people might be 20 percent, and others might be 5 percent. It just depends on what level you're on.
With that being said, [how much I'm paid] depends on the budget for the job. I wouldn't take a job under a certain budget. I started technically when I was 16. I was studying and dipping in and out of freelancing. In the last four or five years, I've been very consistent with it, and it has been paying my bills. It has been paying for my lifestyle. I've been able to travel wherever I want to go, buy whatever I want to buy. But I will say it's very important to stay relevant and keep on your toes. You can look at it as if you're a musician or an artist because you're a creator. You have to keep yourself hot. You have to keep yourself popping. People need to see work that you've done and what you're putting out. A major difference is that in the U.K., the average music video budget is 10,000 pounds, which is the equivalent of maybe $13,000. In the US, $50,000 is considered a very low budget.
And then you're only getting paid 10 percent of that.
Yeah, you'd better be doing 10 videos a month! But I've done videos with [budgets of] half a million and a quarter of a million dollars. A massive budget. I feel like you just have to know what opportunities are out there. You have to understand how the industry works, how it varies from country to country. That's important for a creative, just to know what's available to you, and to make yourself accessible to it, as well. Because people won't tell you these things, I found out by coming here more frequently and getting more offers in the States.
How did you get brought on to help direct the "Twerk" video?
Daps, who actually directed the video and is a really good friend of mine that I collaborate with a lot, brought me on board to creative direct. We also had a co-director, Sara Lacombe, who is a woman. It was great because we had so many females on the project, behind the scenes, too. From production to behind-the-scenes photographers, there were so many women involved, and that was just beautiful to see. Initially, when I was writing the concept and the treatment, I was thinking the song's called "Twerk," I've listened to the lyrics, and it is a bit crazy. But how do we make this different?
I thought, first of all, it shouldn't be about men. Or it shouldn't be about dancing for men. So let's make it a completely female-only zone, or no-boys-allowed. I don't want to see one guy in the video. That was definitely one of the aims from the very beginning. At the same time, you have to please the client. They wanted super-sexy, and just asses everywhere, basically. So we were just like, "Okay, cool, but still keep that message." We can give them the sexy, but we want to make it a thing where it's not objectifying women. At least that's not something that I stand for, and that's why I feel like it was important for me to work on this project, because I completely flipped the narrative on its head.
So after talking to Cardi and [Yung Miami], we really locked in the idea. It was about celebrating Black women. All of the girls that were in the video were part of the 25k Twerk Challenge, so people are [asking], "Why weren't there white girls or Spanish girls?" First of all, we didn't go out of our way to just pick Black women, these are the women who entered the contest. But aside from that, it is our culture, it is our music, and it's for us. It's ours! [Twerking is] a dance that we created, so we should be allowed to embrace that. We should be allowed to celebrate that.
Who's idea was it to paint Cardi and Yung Miami's bodies?
That was my idea, but it was Cardi's idea to be a tiger. You know, [then] Miami has to be an animal as well, so I was like, "Okay, we'll make her a zebra." But it was crazy because the paint literally lasted the whole time. They were twerking in the water and in the sun. That was some super-professional body paint for sure. We knew the video was gonna go viral. As soon as I wrote that treatment, I knew.
I'm sure your parents are proud of you and your career. Have they seen the video?
They both studied law, and they moved to London and met there. But they're the first ones from their family to move to the U.K., so they're still very traditional, and they're still very super African. If I was to show that video to my mom, she would be like, [in an accent]: "What is this nonsense? Why do I see so many asses shaking on my screen?" She would literally be like, "Ah-ah! Turn off this nonsense rubbish video! Is this what I raised you to do?" She wouldn't understand. And my dad's Muslim, so… I do show them my work, so they understand what I do. It took them some time. But that video, I'm never gonna bring that one up to them [laughs].
What's it like working in this industry as a woman?
I think the thing that stands out to me the most when I go to set is that people will approach me thinking I'm the model, the stylist, the makeup artist, or the hairstylist. Those are all respectable roles, but why are those the first things that come to mind? I've been to sets where someone will ask me, "Who are you?" I tell them I'm directing. They're like, "Oh my god, I'm so sorry!" because they realize that in a few seconds, I'm going to have to give them instructions. I feel like people are shocked because not only am I a woman, I'm a woman of color in that position, and it's not common to them. For some people, it is their first experience encountering someone like me. But it should be something that is normal. That's why I really want to do my best to encourage girls that are up-and-coming to just push for whatever it is—especially the ones that want to get into creative and become a director. As Black women, no one else can tell our stories. We have to be the ones to do it ourselves.
What project have you worked on that you're most proud of?
Probably that "Twerk" video, as well as the Wizkid "Come Closer" video featuring Drake. When I did that video, it was my first time coming to the States for a massive job, and showing my [African] culture to the world as well. I was very proud of that moment and being able to do that.
Do you want to explore other kinds of videography like filmmaking? What are some of your other goals?
I would love to make films in the documentary field because I like to talk about real issues and follow more of a storytelling route, as opposed to coming up with something fiction or narrative. For me, the goal is to dig deeper into things that are relatable and issues that we have in society that people don't necessarily talk about. At the same time, I love music videos, I love music.