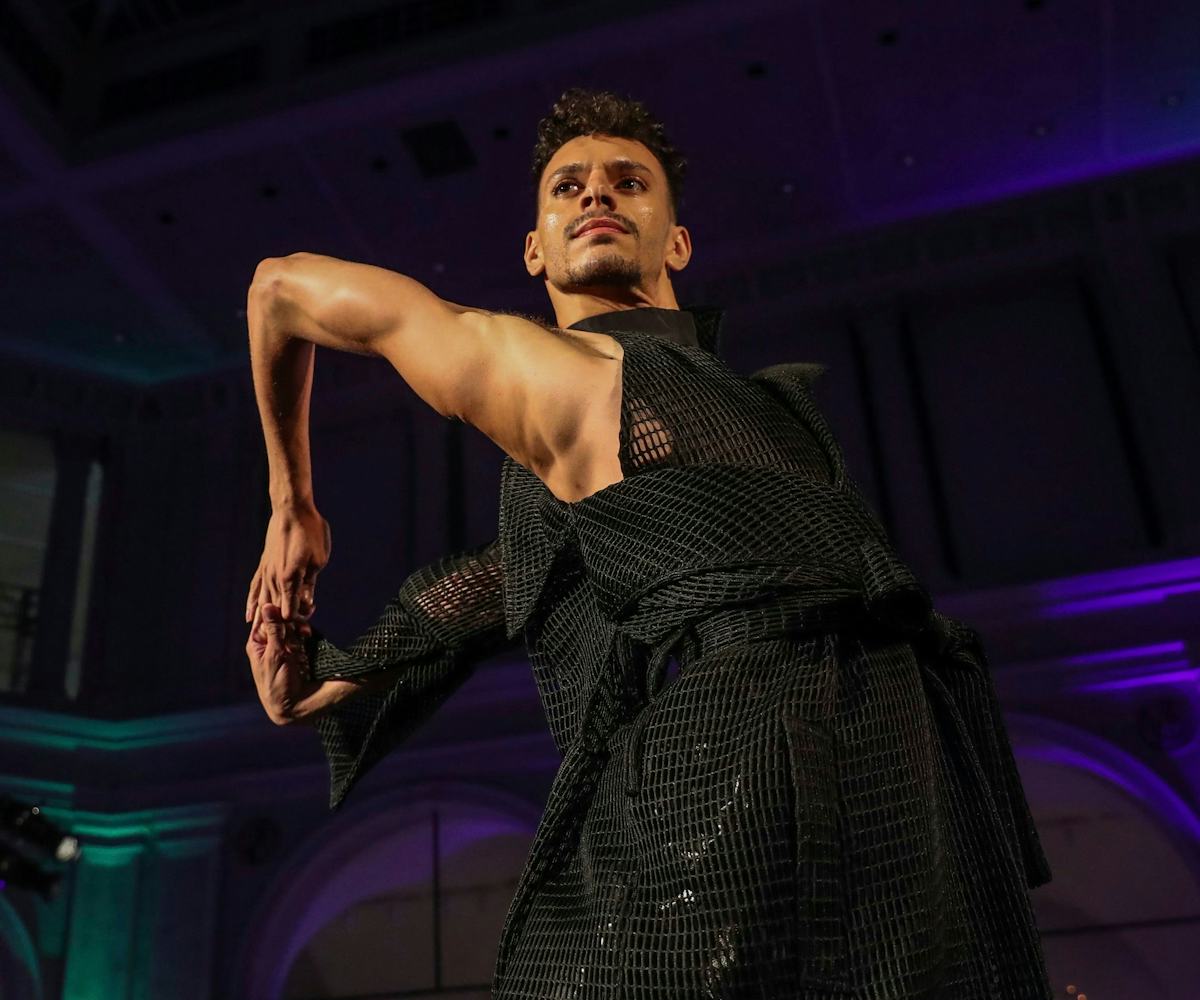 Photo via Jeenah Moom/AP/Shutterstock
Queer Excellence Was On Full Display At DapperQ's NYFW Show
It's the best night of the year
Runway shows can get pretty predictable: You take your seat and watch a slew of expression-less models walk back and forth; the show ends, you clap, and leave. The clothes are usually gorgeous, and so it's still entertaining, but the monotony of the proceedings is pretty real.
Which is why we particularly love going to queer fashion publication dapperQ's runway shows; they're always a blast. This year was a special one, because being in the audience felt like being part of a Pose-era ball. (It It helps that it was hosted by a cast member of the show, B. Hawke Snipes.) It was dynamic and celebratory, diverse and inclusive, and it was a party.
A diverse array of 10 designers showed their designs at the show, which took place at the Brooklyn Museum, and truly proved that queer fashion doesn't look like one thing. From size- and ability-inclusive underwear to perfectly tailored suits to club kid masterpieces to flowing gowns that moved fluidly through the air, the designs showcased were just as diverse as the models who wore them down the runway.
Seeing models dancing, interacting with the audience, and showing us how good they felt in their garments made the clothes feel that much more vivid—and that was by design. Deb Saywell of Shane Ave., one of the brands showing, told me, "The effort [the models] put into bringing our brand to life on the stage will be etched in our memory forever." Nicky Cutler of Goorin Bros echoes this sentiment, noting that there was "a camaraderie displayed among the many designers and models... and the queer community walking the runway. The smiles, the joy, and the individuality each model brought to the runway was truly a sight to see."
But all credit ultimately goes to dapperQ, who place a high value on queer community-building. "The best thing about showing my work with dapperQ is being surrounded by this beautiful community of queer people, so you already feel this support and energy that everyone is rooting for and cheering for each other to succeed," said Travis Oestreich. "It's such a collective experience and everyone is here to help make this night so memorable and show that queer people are beautiful inside and out." The audience adds to this, too: Every model who came out was cheered on and applauded, especially if they were turning an iconic look.
This event is further important to the designers because they are able to debut their collections to the world, of course, but also because they are able to do so in such an inclusive environment. This isn't something the queer community can always count on.
Ellen Ford, who designed Sharpe Suiting's collection, points out, "A lot of times the queer community gets stripped of their prom night, because they weren't out yet, or they can't wear a suit yet because their parents won't let them. We haven't been able to get married but within the last four years, that just passed. So we're stripped of all these major events." However, Ford said, "The feeling when you're at dapperQ and getting ready and on this runway is that feeling. It's that opportunity again. And because we can stream it and we can invite all of these people, it feels like we got to take that back and we got to take it back on our terms."
And that's why it felt like such a celebration: of fashion, of aesthetics, and of life. "Look around at all the beauty," Fran Dunaway, the CEO and co-founder of the night's presenting sponsor, TomboyX, told me. "The societal norms and beauty standards are messed up, and we wanted this to be much more about celebrating your inner beauty, your outer beauty, and just who you are."