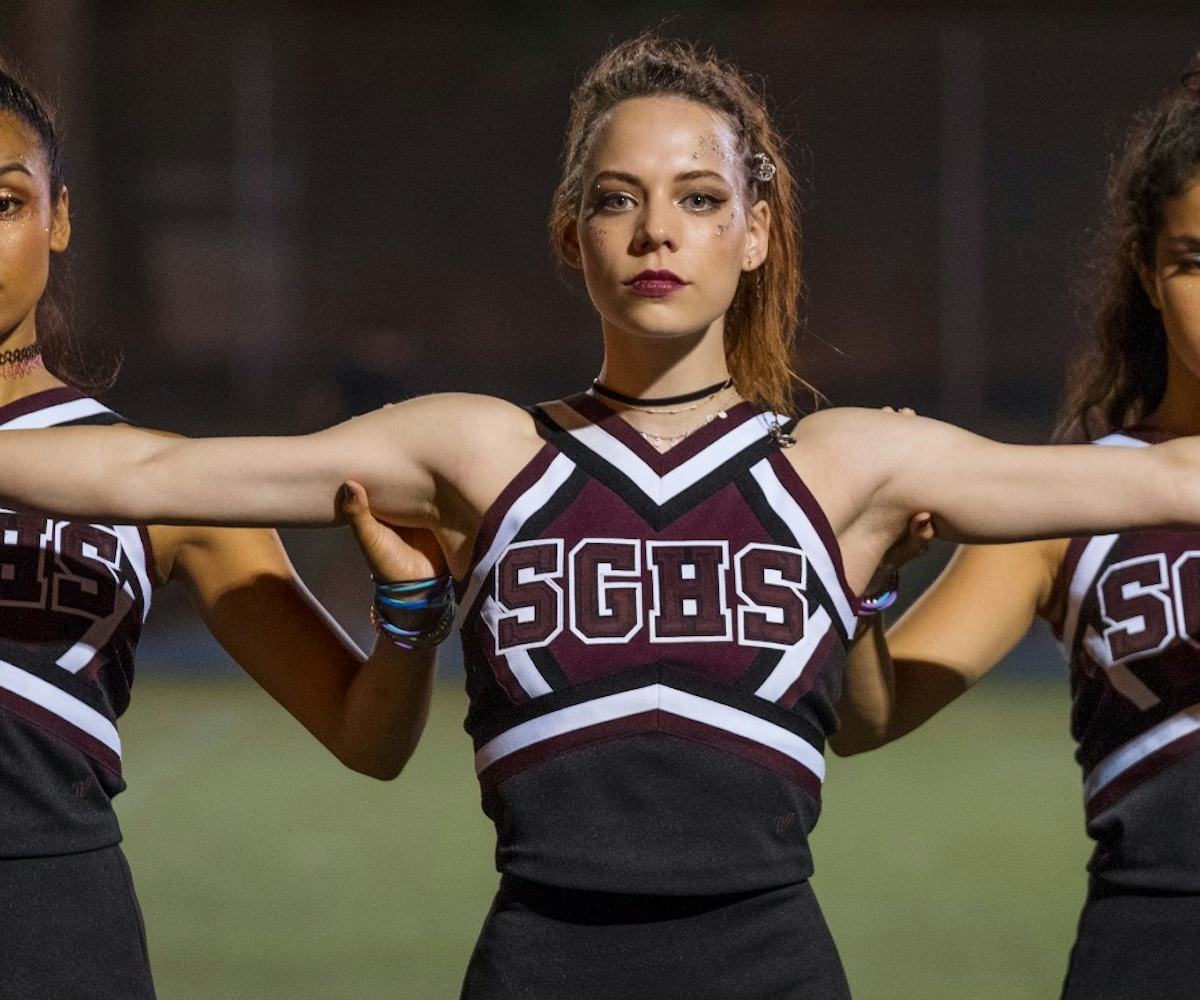 USA
This Dark Cheer Drama Has One of TV's Best Soundtracks
Dare Me's teenage hedonism is backed by tunes from Mitski to Princess Nokia
In the first episode of Dare Me, USA's dark cheerleading drama, Sutton Grove High School's rebellious top girl, Beth, gets fingered by a football jock in the janitor's closet to the crashing movements of Mitski's "A Pearl." It makes for a memorable and compelling moment, not only to hear Mitski in this messy and very teenage context, but to also hear Mitski at all on primetime cable television.
The easiest way to describe Dare Me is as a heady mix of Riverdale and Bring It On — a dark drama centered around the secret (un)doings of a midwestern high school's cheerleading team: a gun, a murder, a teacher-on-teacher secret affair. Based on the novel of the same name by Megan Abbott, it's an ambitious universe and the show's music supervisors, Chris Swanson and Jessica Berndt, unfurl a just as ambitious soundtrack to go along with it.
Both hailing from Secretly Group — the media company that houses the esteemed independent labels of Jagjaguwar, Secretly Canadian, and Dead Oceans, Mitski's label — Swanson and Berndt rooted through the goldmines of their rosters to handpick over 100 songs for the shows first season. The show's every emotional crevice was an opportunity to hyper-dramatize and contemporize. An illicit house party, for example, is thrown to the tune of Saweetie's "My Type," and the pilot alone ambles through Ashnikko, Courtney Barnett, Princess Nokia, and Stella Donnelly. It's a lot, but bringing to life the show's surreal and electric world required the music to match. Here, a chat with Swanson and Berndt on how they made it happen.
How did this journey with Dare Me begin?
Jessica Berndt: We were originally introduced to the Dare Me team through Shani Geva at HBO and she just wrote us and said there had been some interest in Chris and I working on this one. I know that Megan Abbott is a fan of some of the artists on our labels such as Mitski and Angel Olsen. It just felt like there was an instant connection. Oddly enough, a lot of the people on the production team had Midwestern roots like Chris and I do so I think that worked well for the show setting in Sutton Grove, Ohio.
Chris Swanson: They had a really clear kind of perspective [on how they] were wanting to come at it from musically. It just so happened that Jessica and I work on a lot of different projects and we'd been lamenting like, how come we're either working on projects that don't have enough contemporary music that young people are listening to, or if they do want that they can't afford it? [Dare Me] is that perfect nexus of the creators of the show both wanting it, and having enough to support it with the appropriate budget.
What exactly was the vision for the musical direction?
Berndt: Obviously a lot of contemporary artists and really focusing on the two worlds that our mainly female characters live in. We've got the swagger and power, the zone where they can own their power, sexuality and confidence and that's sort of their cheerleading world and when they're running the high school halls. Those are the spots where we get to use the Lizzo or the Princess Nokia, Bali Baby, Junglepussy; the female artists who are really owning their swagger and obviously highlighting how the girls just run this town and run the halls.
And then the other of course, was this darkness and intensity, where the realities of real life start to bog them down. The personal and financial issues these girls are dealing with and things are just heavier and darker and that's where we got to use IDLES and Savages and LA Witch.
What kind of resources did both of you use to find what the youth are listening into? Ashnikko is featured in the first episode — were you both on TikTok or other platforms?
Berndt: I wish, no. This show really didn't allow us to do many reach outs to labels or publishers that we often hit up when we are working on a project. We really just had to pull from our own personal catalogs and get creative on our own with searching which is a little different than things we worked on in the past. The way this show worked was basically we needed to get options over in the next few hours, which is an exciting thing, but definitely made it a bit challenging for sourcing other options for the songs.
Chris and I got really lucky to be working at a label and Chris doing a lot of A&R work. We're really lucky to kind of have our finger on the pulse of what's happening right now. And luckily I think the direction of the music and the show really was similar to our own personal taste so that also helped.
Swanson: There's so much great music, especially in the hip hop space right now that feels very cutting edge and there are a lot of really bold voices. We're not on the teams of these artists, but being able to have the platform of this show to be able to showcase some of the more exciting voices in that space right now is really fun.
Was it an intentional choice to make sure that most of the artists you guys featured were women artists?
Berndt: I think it was definitely something we'd lean toward when we were doing searches for the show, but I think in most cases, the best song landed whether it was a male or female vocal on the track. But in general we were definitely more interested in using female voices here and unique lyrics and vocals that maybe aren't showcased in a lot of other shows. I think the team in general working on the show was female so it was really exciting to keep that up throughout the music.
Swanson: We were leaning towards the strong female voices because of the project, like the actors and the characters, but also there's just so many incredible vibrant women's voices out there right now, and Jessica and I lean toward music that's still kind of in the discovery phase. Listening to bold voices early and it just so happens right now is a golden age for badass ladies with something to say and a new way to say it.
Do either of you have any songs that you felt were placed perfectly in their scenes?
Berndt: I'd say a special one for me was in episode one, the song called, "So My Darling" by the artist Rachel Chinouriri. It's Beth and Addy at home in bed after a party but also debacle; there with a gun and everything. Addy's sort of taking care of Beth after the night and obviously working to repair their relationship. It feels like there's been some cracks that had been created through the episode and I think the audience learns a lot about their relationship that we didn't really know from the beginning. Even though there's fairly minimal dialogue, their body movements and the way they touch and look at each other, I think the song really added to us understanding their relationship a little bit better.
Another one in episode six with Aldous Harding's "Horizon," the first [song] of the episode. It hasn't aired yet, but the cue has to encompass a few different themes and emotions so we really, really had to find the right song that had this power and energy, but again could also mean a lot for basically three different scenes. Those are probably my two highlights from the season of many wonderful songs that I love.
Swanson: When you take a great song and you put it in the right scene, that alchemy is just so...it's pretty profound how both the visual and the audio are able to be elevated when the right pairing happens.
For both of you guys what is your philosophy, or your thoughts on what makes a compelling TV soundtrack?
Swanson: I think for me it's really simple. Am I pulling out my phone to Shazam multiple times in an episode? I've been watching Ramy on Hulu and Rob Lowry did such an amazing job. I Shazam like three, four times an episode. When you can't put your phone away for that reason, that's a good sign.
Berndt
: I think for this one it was kind of really building our world through the soundtrack. I think every song really, you could listen to it alone without the scene and you could still visualize
Dare Me
. I think ours is really honing in on "This is the direction we want. Let's build this world fully." And like Chris said, the right song — just really everything changes for the song and the scene and individuals.