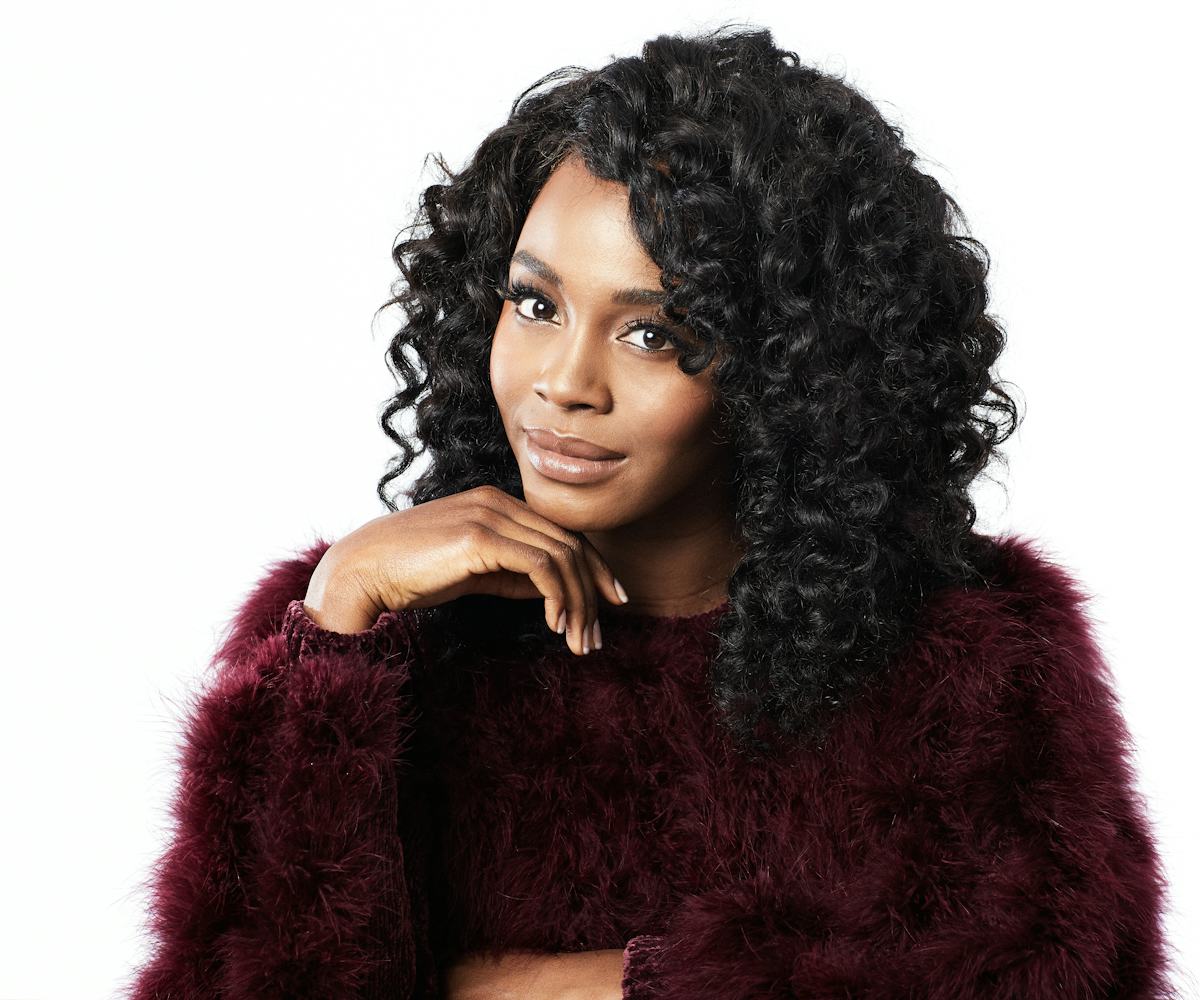 Photo by Leslie Alejandro.
Deborah Ayorinde Has The Range
The actress went from playing an IG side chick to a Harriet Tubman biopic
"I think it's very easy for women of color, for Black women, to be in a box," Deborah Ayorinde tells me about her experience being an actress. But, she has effectively said to hell with all that. In 2017, Ayorinde played a villainous Instagram model and mistress in the biggest movie of the summer: Girls Trip. Though she could have easily been typecast into this kind of role, Ayorinde resisted this, because of her commitment to fight for depictions of diversity among Black women. Never mind that Ayorinde is so stunningly beautiful that even if she stole any partner of mine, I wouldn't even be mad about it. She is so much more than just her looks; Ayorinde is in the fight. Which is why, this year alone, she appeared as the estranged daughter of Mahershala Ali on HBO's True Detective. She is also appearing as Dana in NBC's new NYC-based feel-good drama, The Village. But perhaps most importantly, Ayorinde will play a pivotal part in retelling the life of the slave, revolutionary, and abolitionist Harriet Tubman. After making a very deliberate decision early in her career to never be put in a box, it's all paying off for Ayorinde.
Born in London to Nigerian parents, Ayorinde's family moved to the Bay Area, where she took acting classes and piano lessons. Even as a kid, Ayorinde knew exactly what she wanted to do. "I knew I wanted to be a professional performing artist—obviously I didn't use those words—but knowing that I would be an entertainer when I was growing up was kind of a no-brainer," she tells me. "I was really serious about it." She was so serious that she got an agent in New York while she was still an undergraduate at Howard University in Washington, D.C. "I would go back-and-forth between New York and D.C. for auditions and then come back to class like nothing happened," she says.
This college hustle paid off. Ayorinde played nearly a dozen small roles before she snagged a regular part in Netflix's Luke Cage, where she played alongside two-time Academy award winner Mahershala Ali for the first time. About Ali, Ayorinde says, "He's just so genuine, and he has such a big heart. And you can just tell on set everyone just really truly enjoys working with him and enjoys his energy." But Ali isn't the only accomplished actor she's had the pleasure of working with. In Girls Trip, she was in the company of industry veterans like Regina Hall, Jada Pinkett-Smith, and Queen Latifah, who all let loose behind the scenes in addition to their onscreen shenanigans. Unsurprisingly, it was on this set that Ayorinde learned a valuable lesson about being an actor: Don't take yourself too seriously. "For me to watch these heavy hitters just have such a great time and be so down-to-earth, it really really inspired me, and it's something that I'll never forget," she says. "I've taken it to other jobs that I've done after that one."
I don't think it's hard for Ayorinde to find laughter and joy, though. She openly describes herself as "a chicken," with a laugh. Her personal watch-list includes Sex and the City;Soul Food (the series, not the movie) reminds her of her own sisters, and she appreciates classic Black movies like Coming to America and Harlem Nights. A natural light-heartedness is on full display throughout our conversation, and I find myself wondering how the hell she pulled off a stint on True Detective, known for its really dark undertones, and what it will be like for her to help tell the true story of Harriet Tubman, which is inspirational, of course, but not exactly pleasant.
Though she can't give specific details on the biopic yet, Ayorinde will be playing someone "integral" to Tubman's life who, as far as Ayorinde knows, has never been portrayed on film or television. Looking back on her experience shooting it, she shares: "It made me look at myself, and make sure I'm walking in my purpose, and doing what I'm supposed to do to make the world a better place."