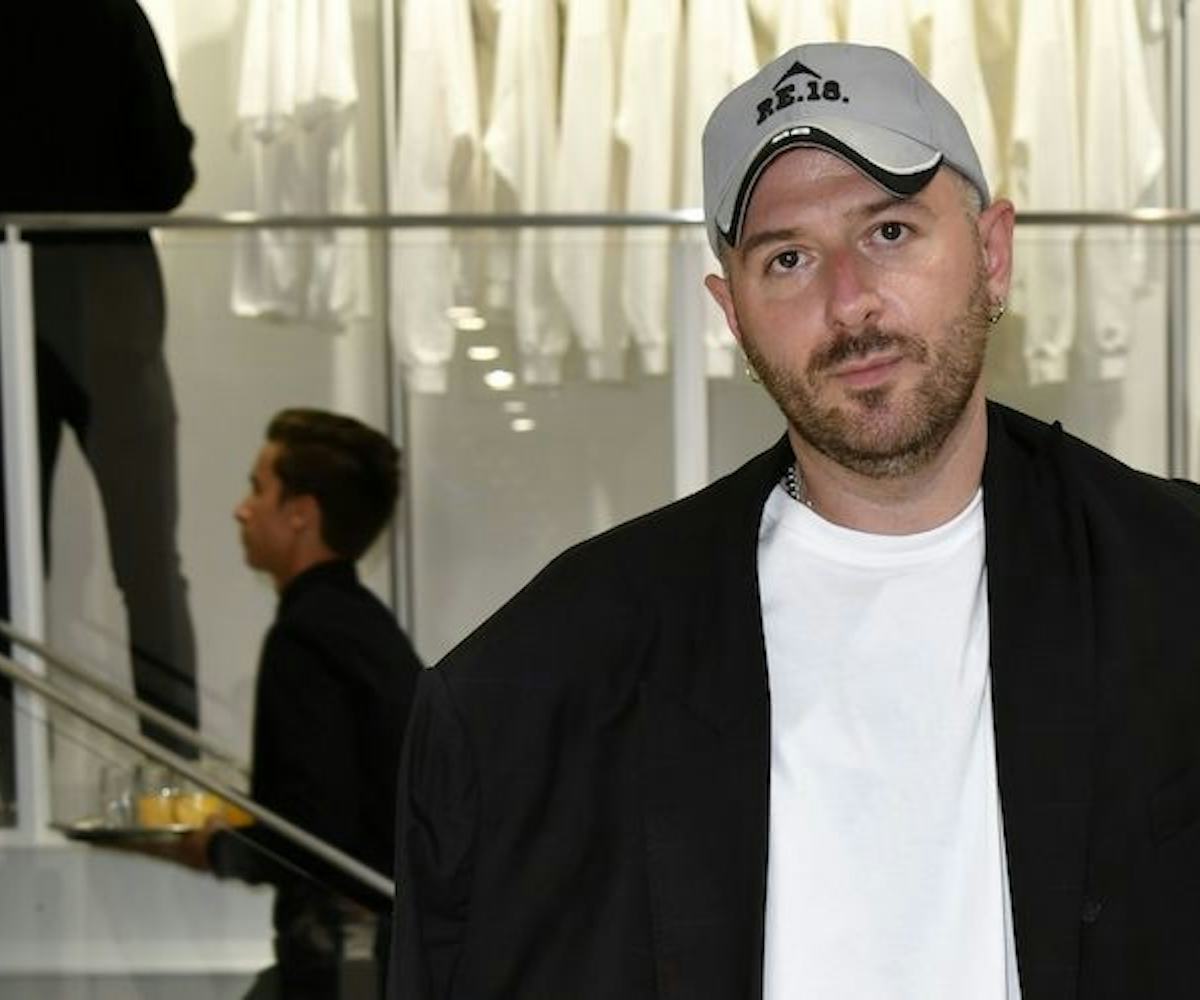 Photo by Dominique Maitre/WWD/Shutterstock
The Most Memorable Looks From Demna Gvasalia's Time At Vetements
Following the announcement of his departure from the label, we take a look back at some of the designer's iconic moments
This morning, the news broke that Georgian fashion designer Demna Gvasalia would be stepping away from Vetements, the boundary-pushing streetwear label known for its pricey hoodies and off-kilter collaborations he began with his brother five years ago.
According to a statement seen by WWD, the designer spoke of his departure by stating that he feels he had accomplished his mission at the label. "I started Vetements because I was bored of fashion and against all odds fashion did change once and forever since Vetements appeared and it also opened a new door for so many. So I feel that I have accomplished my mission of a conceptualist and design innovator at this exceptional brand and Vetements has matured into a company that can evolve its creative heritage into a new chapter on its own."
During these past five years, Gvasalia had shown politically charged and thought-provoking (and, at times, head-scratching) collections, off the typical fashion calendar and often in various unconventional venues, which eventually propelled him to the coveted spot of creative director at Balenciaga. Without a doubt, Gvasalia, who got his start at Maison Margiela and is expected to continue his role at Balenciaga, will go on to do great things within the industry.
As for Vetements? We expect it to continue to push boundaries as it has for the past half-decade. "Vetements has always been a collective of creative minds," said Denma's brother Guram Gvasalia (co-founder and chief executive officer of the brand) in the same statement. "We will continue to push the boundaries even further, respecting codes and the authentic values of the brand, and keep on supporting honest creativity and genuine talent. What Demna has accomplished over the past few years represents a key chapter in the story of Vetements. We are very grateful to Demna for having contributed to the great momentum of the house."
Below, we take a look back at the five most iconic moments of Gvasalia-era Vetements.
The "May The Bridges I Burn Light The Way" hoodie from Fall 2016
This $1,050 hoodie became an instant cult-favorite, but what many people aren't aware of is the fact that this quote came courtesy of Luke Perry's character Dylan McKay on Beverly Hills 90210back in 1994.
That time Céline Dion wore the 'Titanic' hoodie
Not only was 2016's $885 Titanic hoodie the thing of our childhood dreams, but Céline Dion herself wore it to Paris Couture Week in July 2016.
When Vetements brought back Juicy Couture
For his Spring 2017 collection and Paris Couture Week debut, Gvasalia collaborated with 18 different brands for his 55-look collection, including the likes of Champion, Levi's, Dr. Martens, and, most notably, Juicy Couture. While we never thought we'd see the day the Paris Hilton-loved early aughts tracksuit label would be seen at Couture Week, Vetements' take was way more high-fashion: one-sleeved velour catsuits, maxi skirt tracksuits, and more.
The DHL x Vetements capsule collection
Perhaps one of the most perplexing of Vetements collaborations would be its capsule collection with global delivery service DHL. After the wild success of a simple mustard yellow T-shirt bearing the DHL logo back in 2016, the two went on to release a capsule collection in 2018, consisting of two polo shirts and a T-shirt. (Could it also have been the inspiration behind the Forever21 x USPS collab?)
The Final Look Of Spring 2020
For what would become his final collection for Vetements this past June, Gvasalia staged the runway show at French capital's largest McDonalds branch (something only Vetements could get away with, let's be honest). While the collection featured plays on corporate logos, such as Playstation and Internet Explorer, and took stabs at capitalism, while a handful of models donned (terrifying) skeletal makeup, this final, err, bridal (?) look was definitely its most iconic.