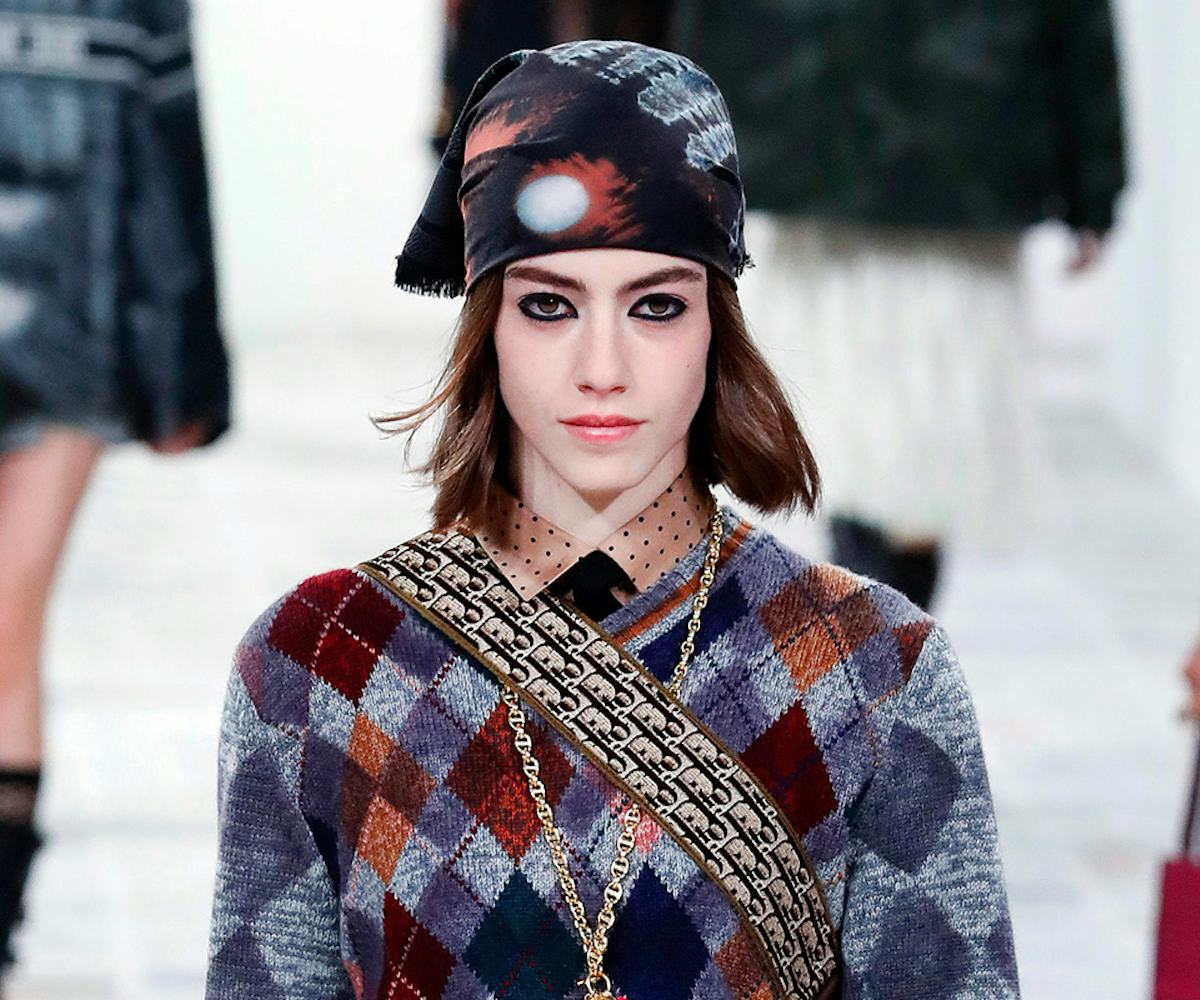 Photo by Estrop/Getty Images
Dior Wants You To Wear Two Eyeliners At Once
Here's how to get the brand's Fall 2020 runway look
Most designers have their signature look down. For Karl Lagerfeld, it was his impeccable suits; for Donatella Versace, it's that long blonde hair; for Alexander Wang, his all black uniform. And for Dior's Maria Grazia Chiuri, it's her dark, kohl eyeliner. So, it was only fitting that at Tuesday's Dior Fall 2020 womenswear show, all of the models wore some variation of the makeup look.
"Maria Grazia first wanted each girl to have their own look, with something black on the eye," said Peter Philips, creative and image director of Christian Dior makeup, backstage before the show began. "But she's a bit of a control freak, so we ended up deciding on three looks." The final looks came down to one totally framed, all the way around liner; an under-eye look; and one focused around the edges "for a droopy look." All of the variations had a slightly slept in, smudged look that was equal parts '60s and punk. "Nothing pointy, nothing on inner corner or outer corner," explained Philips. "Once you make it sharper, it becomes a bit more couture, almost. We wanted to keep it street-cool, like they did it themselves."
So, how do you get the look if you want to do it yourself? The trick is to layer two different liner formulas, Philips explained. "I used a [liquid] eyeliner because its' easier to draw, but I didn't do a full kohl because by the time the show starts, it will all be gone," he said. Instead, to make the kohl smudginess, I used a waterproof pencil on the edges so that there is some movement, but not uncontrollable. There's a rawness to it."
The rest of the look was kept simple, with clean skin, thanks to Dior Backstage foundation and the new Dior Forever Skin Correct concealer. The finishing touch was similarly perfectly un-perfect eyebrows."Eyebrows were made darker, a little more intense. We wanted a little more depth to the face. It is natural, but we filled them in strongly. But it's not a tutorial eyebrow, where they do the whole mathematical eyebrow."
See variations of the look from Dior's Fall 2020 womenswear show, below.