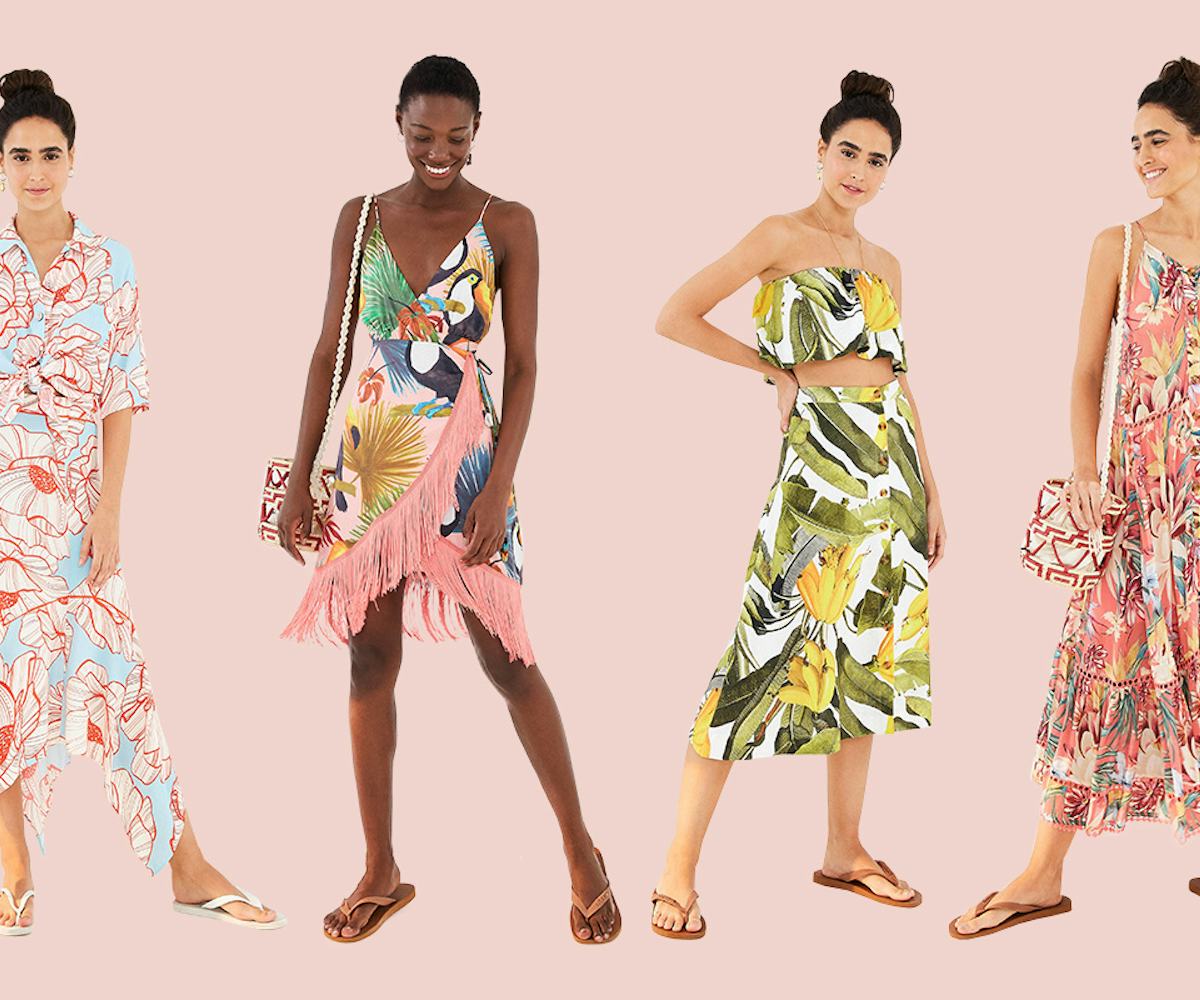 This Brazilian Label Cured My Fear Of Wearing Prints
Farm Rio awakened my inner banana- and toucan-print loving self, and, TBH, I've never been happier
Friends don't let friends miss out on all the cool, under-the-radar things, like which little-known beauty brand is low-key making the best highlighter around. And because we consider our readers to be like friends, we gather together all our best finds in our Don't Sleep On Thisseries. Check in every week to see what we can't wait to share with you.
I've never really been one to wear a lot of prints, let alone loud ones. Sure, you'll find a handful of fall tartans and spring florals scattered about my closet, but for the most part, I'd consider myself more of a solids kinda gal. After all, it's only been about a year since I finally grew out of my "I'm a New Yorker and I have to wear all black, all the time" phase (though, I guess that can partly be attributed to finally dyeing my hair back to basic brown from pink, blue, slime green, and so on). Still, though, it was earth-shattering enough for me to even hop on the current neon train.
With that said, prints remained not much of a thing for me. Anything too loud seemed like it would be too much of a statement that would take away from my (huge) collection of accessories, which are what I consider to be the more exciting aspect of my wardrobe. And, to be honest, sometimes I just don't want to draw too much attention to myself, especially when I'm sleep-riding the subway at 9am on a Monday morning.
But then, I laid eyes on the ever-colorful, tropical, and in-your-face brand Farm Rio, and, well, everything changed.
Farm Rio is a Brazilian label, born in a Rio de Janeiro marketplace back in 1997. And while, yes, the brand has been around for over two decades, it wasn't until recently that its print-heavy offering of breezy jumpsuits, plunging sundresses, and an array of summery separates made major waves in the U.S., when it opened its New York City flagship store back in May.
And when I say print-heavy, I'm not joking—the louder, the better. Co-founders Kátia Barros and Marcello Bastos created their brand based on the vibrant spirit of Rio, which is why you'll find much of Brazil's native flora and fauna colorfully translated into the brand's 90 unique prints per season. (Yes, that's 90 different prints, every single season.)
Never in my life did I think wearing a print could evoke such joy, nor did I ever think I needed a slouchy, oversized jumpsuit covered entirely in neon yellow bananas, but, boy, was I missing out. There's something about wearing a dress covered in fluorescent toucans, palm leaves, and cashew nuts, especially when in a cold or gloomy city setting (or, like, chained to my desk at work), that can pull me out of the deepest slump.
Now, I stand out amongst the all-black-always wearing New York crowd, feeling like I'm on a freakin' vacation and, to be honest, a lot less crankier than everyone else around me. Call it a coincidence, but I'm convinced my new sunny disposition can be credited to Farm Rio's brilliant prints.
But what brings me even more joy than Farm Rio's prints are the brand's blissfully tropical NYC boutique. If you ever find yourself in SoHo, miserable because New York is too cold, too bleak, or too stressful for any particular reason, step inside this welcoming palm tree- and sand pit-filled shop on Prince Street, and just hang out for a little while. I swear, it will cheer you up almost immediately.
You can shop Farm Rio's current offering at FarmRio.com, or get the full Rio de Janeiro experience in its storefront at 113 Prince Street.