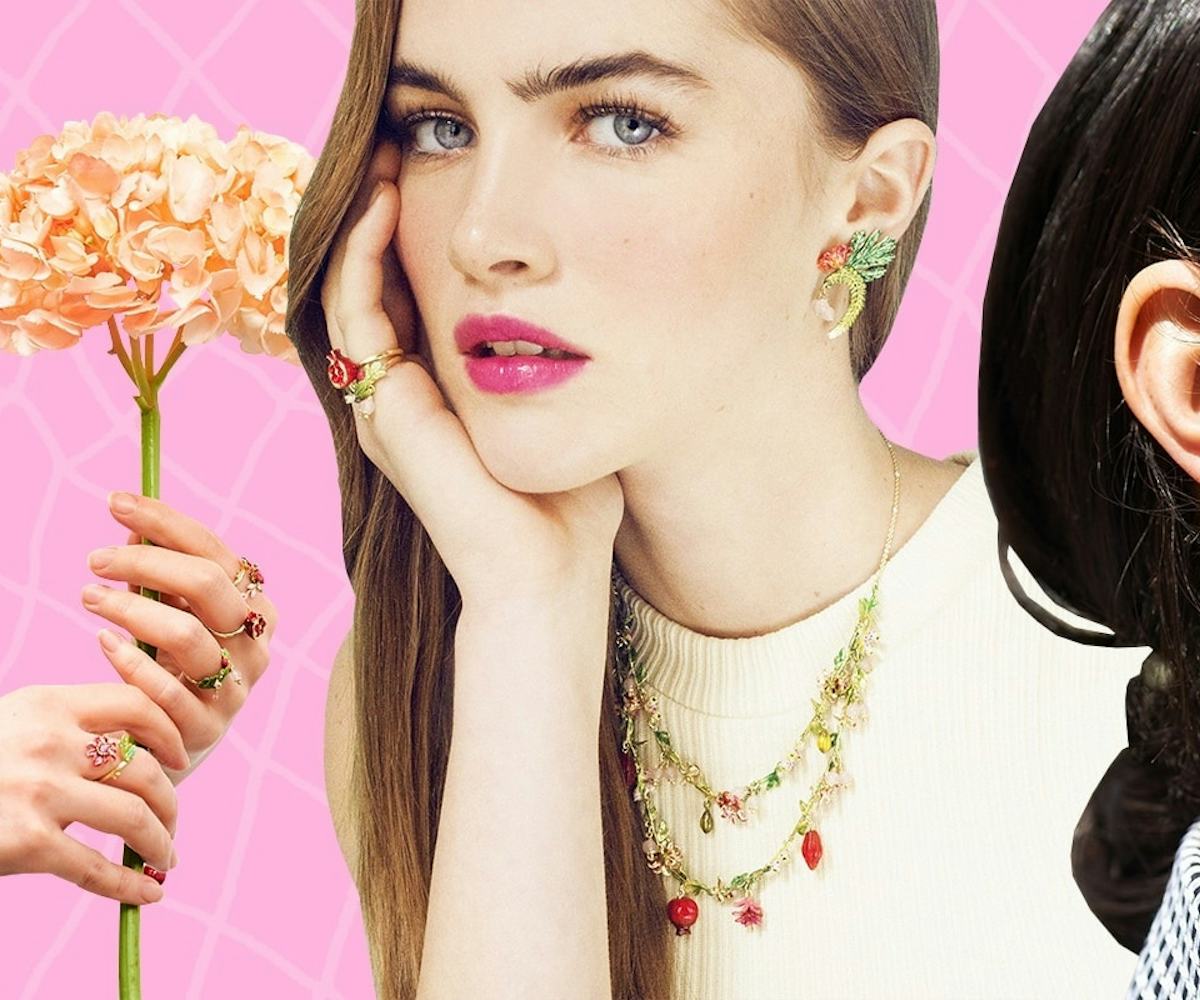 Photos courtesy of Les Néréides
This Quirky Jewelry Brand Turned Me Into A Color Convert
Don't sleep on Les Néréides, or its weiner dog earrings
Friends don't let friends miss out on all the cool, under-the-radar things they know about, like which little-known beauty brand is low-key making the best highlighter around. And because we consider our readers to be like friends, we gather together all our best finds in our Don't Sleep On This series. Check in every week to see what things we can't wait to share with you.
If there's anything you should know about me, it's that there are two things in life that I'm deeply passionate about: pigs and jewelry. For the sake of this piece, we're going to focus on the jewelry part.
My love for jewelry began as a child in the early '90s, playing the board game Pretty Pretty Princess nearly every day, and choosing to never take off the crappy plastic clip-on earrings or colorful "pearl" necklace playing pieces.
However, as I grew older, my taste for jewelry began to err toward minimalism. Don't get me wrong, I'm a true believer of stacking and layering, and I tend to wear all of my favorite pieces at once. But to avoid ever crossing the border into gaudy territory, I tend to keep things on the simpler side. Gold—well, okay, mostly brass—is my metal of choice and anything beyond (save a stone or two and my diamond nameplate from the eighth grade), I considered to be too much. I treated jewelry as a nice addition to an outfit, not something to be the center of it.
And then I discovered Les Néréides and all of its whimsical magic, and I've never looked back.
Les Néréides is a Parisian costume jewelry label offering a vast assortment of earrings, rings, necklaces, and more, boasting intricate enamel details and colorful stones of all sorts. Somehow, the label nails creating pieces that are both "statement" and "dainty," two things that, in the realm of jewelry, would be considered an oxymoron. And they're no newcomers, either. The French family-owned costume jewelry label has been around since 1980, so they're obviously doing something right.
Suddenly, my minimalist-chic assortment of jewelry felt, well, boring. I decided that I needed to now turn my fingers into colorful floral arrangements, and my ears an assortment of fruits and ballerinas and kittens (yes, kittens). My colorful, Pretty Pretty Princess past had been reawakened.
While I have love for all of Les Néréides' many, and very different, collections, there is one glorious like in particular that I think the world needs to know about: the Les Néréides Loves Animals Collection, which stars very cute and small animals like pugs and kittens, amongst other adorable creatures. Does the world need earrings featuring tiny weiner dogs grasping onto tiny glass orbs? Yes, yes it does. More importantly, 15 percent of sales goes to animal shelters and organizations working to help abandoned, endangered, or sick animals. (So, please, take all of my money.) All they need to do is create a pig piece, and my life will truly be complete.
But what makes Les Néréides my new favorite brand is the fact that it's actually affordable, even though it looks expensive. Sure, a selection of pieces can reach an upwards of $700, but the vast majority fall under the $150 mark, with plenty of cute (and equally as intricate) under $100 options.
Whimsical, colorful designs, weiner dogs, and affordable price points—what more could one possibly want out of a jewelry brand?
You can shop Les Néréides latest offering at LesNereides-Usa.com.