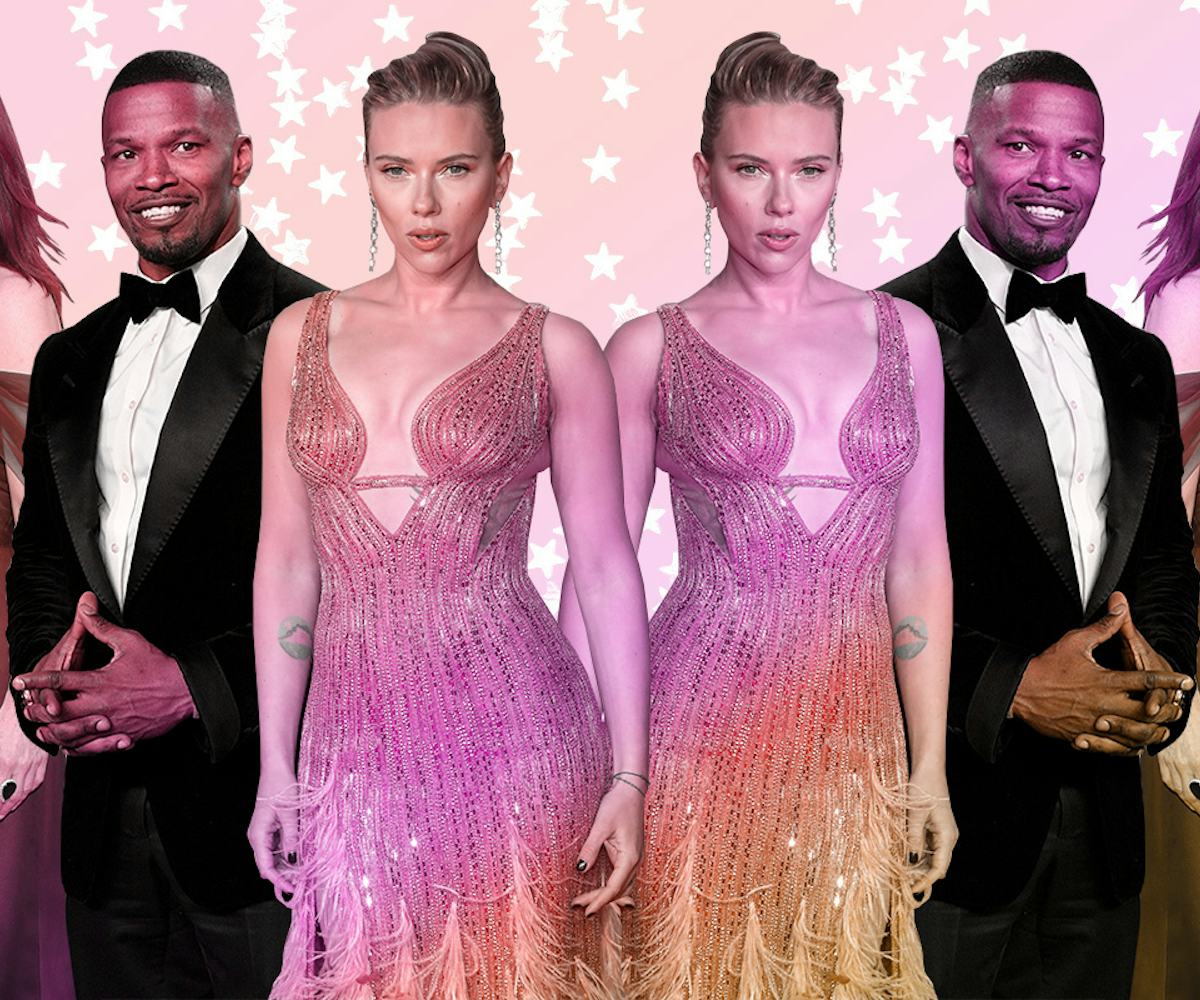 Photos from Getty Images
A History Of Double Nominated Oscars Actors — And Their Performances, Ranked
Ahead of the Academy Awards and Scarlett Johansson's two nominations
Though actress Scarlett Johansson is not expected to win an Oscar this Sunday, Feb. 9, she has already joined an elite club last month when the 92nd Academy Awards nominations were announced. Nominated for both Noah Baumbach's Marriage Story (in which she plays an actress and mother going through a divorce to a character played by Adam Driver) and Taika Waititi's Jojo Rabbit (in which she also plays a mother — this time, one hiding a Jewish girl from the Nazis in her attic), she's only the 12th performer to receive two acting nominations in the same year — and, after a spate of double nominees in the '90s and '00s, including the likes of Al Pacino, Cate Blanchett, Julianne Moore, and Jamie Foxx, the first actor to double up in 12 years.
It's difficult, of course, to get two nominations for two similar performances, which makes for some fascinating comparison points in the careers of actors in question. What follows is a quick primer on the dozen double nominees — most of them women! — starting with the first nomination in 1938, and analysis of which performances properly embody the nominee's career, and which really deserve to be remembered.
View them all, ahead.
1938: Fay Bainter
Nominated for Best Actress, White Banners
Won Best Supporting Actress, Jezebel
The first-ever double acting nominee established an early tradition: a supporting player simultaneously winning a supporting prize while losing to their co-star in the leading category. Fay Bainter plays the aunt of Jezebel's strong-willed heroine Julie (Bette Davis), providing steady support in William Wyler's melodramatic humbling tale. Davis, of course, is indelible. Though it was probably inconceivable that Bainter could beat her co-star in the leading category, the older actress does give a more interesting performance in White Banners, one of many older films that's been lost in the home-video shuffle. Bainter plays a peddler who happens upon a poor family and offers her services as a cook and gently advice-dispensing busybody. The movie isn't as lavish or famous as Jezebel, but it's an engaging little family drama that better shows off Bainter's talent, outside the shadow of an icon like Davis.
1942: Teresa Wright
Nominated for Best Actress, The Pride of the Yankees
Won Best Supporting Actress, Mrs. Miniver
Four years later, Teresa Wright repeated Bainter's trick — under the same director, no less. William Wyler's Mrs. Miniver gives Wright a classic love-the-character, love-the-actress role, as she plays the idealistic daughter-in-law of Kay Miniver (Greer Garson), a well-to-do English housewife whose life is changed by the approach of World War II. Wright enlivens the vaguely saintly part, just as she does playing Eleanor Gehrig, wife of ballplayer Lou Gehrig, in The Pride of the Yankees. As much snap and vigor as she brings to a potentially standard loyal-spouse role, her Miniver performance was correctly rewarded. Wright is even better in Hitchcock's Shadow of a Doubt, released the following year, and she reunited with Wyler for The Best Years of Our Lives a few years after that.
1944: Barry Fitzgerald
Nominated for Best Actor, Going My Way
Won Best Supporting Actor, Going My Way
This is not a misprint or a bravura double role; in a there's-no-rule-that-says-a-dog-can't-play-basketball-style loophole, there was initially no Oscar rule stating that the same person couldn't be nominated in two different categories for the same performance. As frustrating as it is today when studios or other handlers decide to "run" an actor in whatever category they seem most likely to win, regardless of screen time or importance to a story, it sure beats the double-nomination confusion. Fitzgerald's accidental double act has him playing Father Fitzgibbon, an elderly priest who chafes at the arrival of a new, younger colleague Father O'Malley (Bing Crosby), who does hip and casual stuff like play golf. It's a major role, but it's understandable that he prevailed in the supporting category, while losing to his co-star in Best Actor — that is, if you can accept the premise that the Academy found this charming, mild, and episodic little rambler (not quite a comedy, not quite a drama, not quite a musical) worthy of so many nominations and wins in the first place.
1982: Jessica Lange
Nominated for Best Actress, Frances
Won Best Supporting Actress, Tootsie
Jessica Lange is the only double nominee who played an actress in both of her nominated performances: real-life Hollywood star Frances Farmer in Frances, and made-up soap actress Julie Nichols, who unwittingly falls in love with drag-disguised Dustin Hoffman in Tootsie. Frances checks a lot of Oscar boxes: It's a biopic, it's about Hollywood, and it gives Lange a lot of showy scenes as Farmer, a Hollywood iconoclast who battled mental illness (and various institutions that robbed her of agency and basic civil rights for much of her adult life). The tragic circumstances of Farmer's life prevent it from indulging in tired a rise/fall/rise/fall narrative, and Lange has plenty of striking scenes, like one that cuts together a noisy scene in a mental hospital with a calm attempt to convince authorities that she's ready to leave. But the Academy probably made the right call by honoring her for Tootsie, where she creates a complex character from scratch, and has to play notes of farce, romance, and soul-searching drama without big pyrotechnics. (Interestingly, Lange's eventual leading-actress win was for the little-seen melodrama Blue Sky, which, like Frances, deals with mental illness.)
1988: Sigourney Weaver
Nominated for Best Actress, Gorillas in the Mist
Nominated for Best Supporting Actress, Working Girl
Following her well-deserved Best Actress nomination for Aliens, Sigourney Weaver went two for two on her follow-up projects. Her three nods in a row were accompanied by a more dubious honor: She was the first double nominee not to win in either of her categories. The meatier part is primate researcher Dian Fossey in Gorillas in the Mist, an okay biopic that seemingly no one has watched in 20 years. Weaver plays Fossey's self-made obsession well, but the movie doesn't fully dramatize her journey from amateur enthusiast to humanity-shunning expert and animal-rights advocate. Working Girl is her 1988 movie to see, though not particularly for Weaver; she doesn't really imbue her not-so-secret villain with much inner life. Amazingly, these two movies also rep the last time Weaver was nominated for any Oscars. The most likely scenario at this point is that she receives an honorary Oscar for the fullness of her career — though maybe James Cameron can come to the rescue and get her back in there for another sequel when Avatar 2 drops in 2021.
1992: Al Pacino
Nominated for Best Supporting Actor, Glengarry Glen Ross
Won Best Actor, Scent of a Woman
Al Pacino is nominated this year for Best Supporting Actor in The Irishman — his first Oscar nomination since the he's-due narrative drove him to a win for Scent of a Woman. Pacino's hambone tendencies have actually aged pretty well; what once seemed like shtick now plays more like his signature moves. In The Irishman, his outbursts and tics, especially well-modulated with quieter scenes, feel like a kind of old-school classicism. But while his (un-nominated) hamminess in a movie like Heat has aged like a delicious cured meat, Scent of a Woman is still probably his worst nominated performance, so it's dispiriting that he won for it. Compare the showcase scenes in each: In Scent of a Woman, he grandstands in front of an on-screen crowd. In Glengarry Glen Ross, he chats quietly with real-estate customer Jonathan Pryce. They're both scenes where he lays out a worldview, but in Glengarry, there's a sneaky sales pitch underneath the philosophizing. Later in the movie, he gets to do some patented Pacino hollering, and it's still satisfying; like his exemplary work in The Irishman, the modulation makes his performance sing.
1993: Holly Hunter
Nominated for Best Supporting Actress, The Firm
Won Best Actress, The Piano
At first glance, Holly Hunter's nomination for playing a chain-smoking secretary in The Firm feels like a little extra pat on the back in the year she dominated awards season with her powerhouse mute performance in Jane Campion's The Piano. And it probably is that, at least in part. But her character in The Firm is more of a typical Holly Hunter role, and it's also a genuine supporting part, the likes of which are often overlooked in favor of unequivocal co-leads. This all makes her nod for The Firm a satisfying one, even though it's not one of her most shaded performances. The Piano, on the other hand, is a counterintuitive showcase for Hunter, silencing her distinctive twang for Campion's lyrical sort-of love story. If that's the hook needed to help voters acknowledge a lady-directed movie that gives off (by awards standards) pretty strange vibes, then so be it. Really, giving Hunter an award is rarely the wrong move.
1993: Emma Thompson
Nominated for Best Supporting Actress, In the Name of the Father
Nominated for Best Actress, The Remains of the Day
To date, 1993 remains the only year that managed two different double-acting nominees, with Emma Thompson having nearly as good a year as Holly Hunter. Thompson had just won Best Actress the previous year for Howards End, and would go on to win a screenplay Oscar for adapting Sense and Sensibility two years later, so it's no real tragedy that she went zero-for-two. That said, her work as a housekeeper who develops romantic feelings for her repressed co-worker in The Remains of the Day is some of her most affecting, and well worth seeking out (the movie is currently streaming on Crackle). In the Name of the Father is also worthwhile, but Daniel Day-Lewis and Pete Postlethwaite are the real show there.
2002: Julianne Moore
Nominated for Best Supporting Actress, The Hours
Nominated for Best Actress, Far From Heaven
In a Golden Age throwback, Moore lost Best Actress to her co-star in her other nominated movie when Nicole Kidman won for The Hours. But unlike Bainter or Wright, Moore didn't triumph for the same movie; she would get a she's-due win years later for the little-seen Still Alice. To be honest, neither of these Moore performances are among my favorites; they're more dour and less live-wire than her best work. I'd honor her supporting turns in Magnolia or Boogie Nights, or her leading role in Safe, also directed by Heaven's Todd Haynes.
​2004: Jamie Foxx
Nominated for Best Supporting Actor, Collateral
Won Best Actor, Ray
Jamie Foxx's full-bodied impersonation of Ray Charles is exactly the kind of mimicry the Academy loves, and it's exactly as tedious as that sounds. His you-had-a-good-year nomination for his "supporting" work in Collateral is the better performance, as he creates a compelling character out of a soft-spoken cab driver forced to act as a partner in crime to hitman Tom Cruise. Of course, it's not a supporting performance at all; much of the movie is from Foxx's point of view, and he has more scenes without Cruise than Cruise has without him. It seems pretty unlikely he would have been nominated for Collateral without Ray calling attention to his breakout movie year — so that's one thing Ray has going for it, at least.
2007: Cate Blanchett
Nominated for Best Actress, Elizabeth: The Golden Age
Nominated for Best Supporting Actress, I'm Not There
The Golden Age nod feels particularly like a bonus nomination celebrating the fullness of Blanchett's career; it's for a little-liked sequel to her also-nominated (and much better-regarded) Elizabeth, from 1998. So it's not especially fair to compare it to her brilliant gender-flipped turn as a young Bob Dylan in I'm Not There, the rare "gimmick" performance that works as easily and naturally as anything else in the actor's body of work.
2019: Scarlett Johansson
Nominated for Best Supporting Actress, Jojo Rabbit
Nominated for Best Actress, Marriage Story
Johansson is another actress nominated against her co-star in one of her categories; Laura Dern is widely expected to win Best Supporting Actress for her monologuing lawyer in Marriage Story. But Johansson is not particularly expected to win for her leading role as the woman who hires Dern to manage her divorce, either, and it's a shame — she deserves it. Her work in Jojo Rabbit is a puzzler of a nod; Johansson is sweetly charming in it, but she's playing a symbol as much as a person. In Marriage Story, though, she embraces the messy humanity she's often kept at a savvy, evocative distance in movies like Under the Skin or Lucy. In a category that otherwise features three impersonations and one much-adapted literary character, Johansson helps create a full, believable person — especially in contrast with the wife-and-mom characters who turn up so often in the early group of double nominees. But look at it this way: There are dozens of Best Actress winners, and only 11 other double nominees.