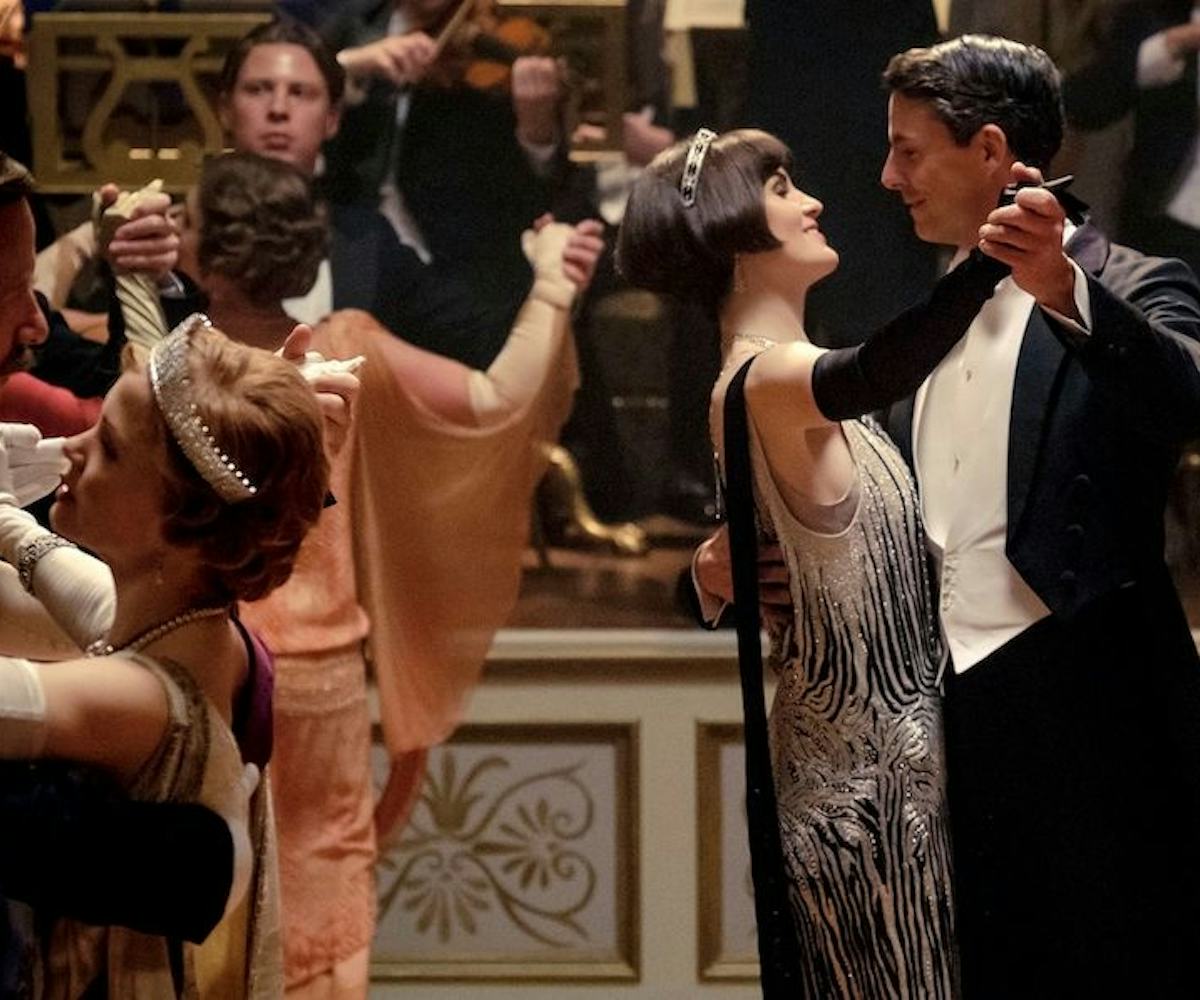 Photograph by Jaap Buitendijk/Focus/Kobal/Shutterstock.
Let's Take A Closer Look At The Jaw-Dropping Jewelry Of 'Downton Abbey'
We spoke with the film's costume designer about her favorite pieces
Most of the Downtown Abbey film takes place over the course of just a few days—but that doesn't mean there's a shortage of life-altering events for the Crawleys, an aristocratic family living in the titular Yorkshire estate during the early 20th century. Film-viewers have gotten to know the Crawleys from the TV show of the same name, which follows the family and their extensive staff as they go about their day-to-day lives. The movie, though, takes us into Downton Abbey as everyone sets about preparing for and hosting a royal visit from King George V, Queen Mary, and Princess Mary. As things take a turn for the dramatic and culminate in a lavish ball, the costumes likewise reflect that escalation, with dresses and jewelry becoming more embellished and statement-making as the film goes on.
"It was lovely to be able to slowly and gradually increase the glamor. There's always a kind of a level of, not restraint, but it's a very refined and beautiful period, and it's a very refined, beautiful family. But with the ball, there was definitely the sense that more is more," says Anna Robbins, the costume designer behind the film (and seasons 5 and 6 of the show), who adds that shooting in a "relatively" chronological way helped achieve that effect. "By the end of it, I was able to kind of let go of it. We didn't really hold back when it came to layering up the diamond necklaces on our ladies. But I think when you see them moving around the dance floor, with the lighting and the kind of glitter and captivation that that gives you, it was the right level."
That necklace layering is present on all the main women of the house—Lady Mary, Lady Edith, Cora Crawley, and Violet Crawley—making for looks that seem apt not only for the late-1920s, but also today (there is also the mixing of silver and gold jewelry that feels currently on-trend). "Fashions are very cyclical, so it won't be long before something that was invented in one decade is re-invented in another. And that's what is useful about it. There are definitely pieces that feel very relevant today, and then I also always say that, as a designer, I am curating looks from the past," she says. "I am sort of editing a huge fashion collection with a modern eye. So, I think it's only natural that I'm creating a world that's so accessible and covetable by a modern audience. The historical accuracy is high, but that doesn't mean that you can't then make choices that make it feel tangible to the modern viewer."
In order to achieve that accuracy, Robbins borrowed authentic vintage pieces, notably tiaras, from Bentley & Skinner, a London-based jeweler that specializes in fine antique jewelry. She also worked with model-makers to make replicas of recognizable royal jewels and collaborated with jewelers on pieces that she wanted to add to the specific patterns or cuts on the dresses. "I work with a jeweler called Sophie Millard. She's incredible, because she either has the exact thing you're looking for, or makes it. So I was able to then commission pieces to get the look I am after," she says. "Like with a lot of the multi-stranded necklaces, I want the three layers to sit at a very specific height on the dress to complement the neckline. So, I'll be able to specify, down to the nearest centimeter, how long I want that necklace to be."
Ahead, Robbins breaks down her favorite pieces of jewelry from the film.
Lady Mary
"Lady Mary wore a Prussian blue, fitted gown for the royal dinner. The tiara she paired with it is made of diamonds and pearls, and it has a lovely delicacy to it and is quite linear on Michelle [Dockery] and Lady Mary's hair. The dress itself has little Murano glass beads that are sewn down the side seams and creates definition there, and the idea was that the jewelry sort of emulates that. The very delicate multi-strands and crystalline glass-and-beaded necklace wrap around a couple times to give dramatic effect without the look feeling overpowering with such delicate fabric. And then, I wanted to find a necklace that sat at the perfect height with a pendant drop and that filled in the line of V of the dress. For this look, it's all about working with the shape of the dress and mirroring the accents within the dress in the jewelry."
Lady Edith
"In the church, Lady Edith wore a beaded original dress that was entirely covered with tiny brass bugle beads and had sunburst floral decoration across the front and back. The idea there was just to complement the proportions and sort of star-like burst pattern on the dress. I worked with a jeweler to put together a diamond tiara that was a starburst in itself. It's very modern and fresh and isn't as traditional as tiaras you might see on the older generation, but it felt like it fitted Edith perfectly.
"The strands of necklace link the jewelry into the clothing and are just a nice way of blending and not having everything looking so separate. I chose a necklace that had three kinds of elements to it, to quietly mirror and reflect the stars in her hair with the shape on the dress. It was about creating balance; I didn't want anything to feel too overpowering because the dress itself is very decorated and beaded all over."
Cora Crawley
"Cora wore an original tiara from Bentley & Skinner to the ball. It's a Georgian tiara with brilliant-cut, eight-carat diamonds circa 1900. It was very very delicate and had a kind of fluidity to it, which is definitely how Cora's costumes tend to evolve, with lots of chiffon draped sleeves. And the dress itself was lilac with silver leaves, which was mirrored in the tiara."
Violet Crawley and Lady Mary
"This was a really important moment for Lady Mary and Violet, and I wanted to connect them. So, there's sort of little mirrors across the two costumes. There's this V-neck and the V at the back; it's done in different ways, but there are similarities across this.
"Lady Mary has delicate black beading with crystals, with a beaded necklace that's wrapped around two or three times, and it's mirrored in the height of the necklace that Violet wears, which is just some diamonds and black-beaded necklace. Mary also has a bandeau tiara, which is quite graphic in its nature, which was a great reference for how graphic and monochromatic the dress is; the dress is very black and white. And the diamonds against Lady Mary's hair also kind of have that monochromatic quality.
"Violet is wearing an original Victorian tiara, and it really suited Violet and the way her hair was dressed around it. I think it's all about celebrating the hand-cut diamonds on the feature; it's about 16 and a half carats. Kind of [circa] 1880, and you can just imagine it being this heirloom piece that Violet hasn't quite passed onto her granddaughter. And it's still quite a joy for her. That was just a real sort of balance to the beautiful silver embroidery on the two sleeves and skirts of her dress. For this, it was about balancing the delicacy of the tiara with the many layers of chiffons and silks and jewelry and broaches. So that it all comes together to be quite a complex piece but isn't weighed down at all."
Lady Edith 
"Edith's dress at the ball was designed around stenciled velvet, which we commissioned for the film. It's golden and beautifully light-reflective, and yet it's still very decorated. We went with a quite simple multi-stranded necklace, just because the bodice is too delicate. But the real showcase is the tiara, which is an original diamond tiara that we were loaned by Bentley & Skinner and is from 1890 approximately. It's got about 15 carats, and it has this combination of the diamond set in silver that then sits on a yellow-gold mount. So that was a lovely blend of the silver and gold tones within the dress."
Downton Abbey is out in theaters now.