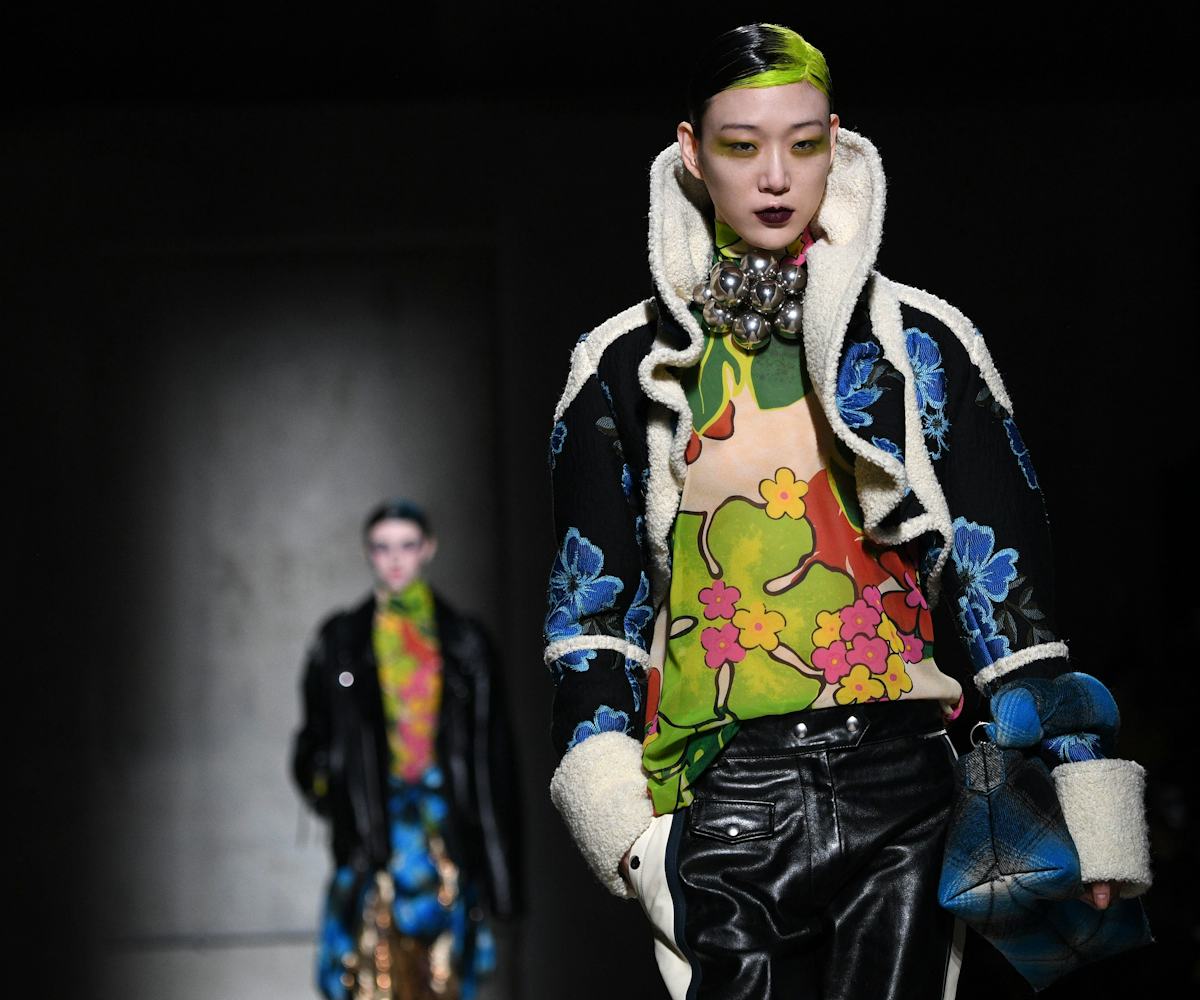 Photo by ANNE-CHRISTINE POUJOULAT/AFP via Getty Images
Billie Eilish Hair Was All Over Dries Van Noten's Paris Fashion Week Show
Models took the runway with the singer's signature neon green roots
There's simply no denying the influence of Billie Eilish. Along with permanently altering the world of pop music, the Grammy-award winning singer has put her mark on everything from fashion to beauty — and her impact has seemingly made it all the way to Paris Fashion Week, too. At the Dries Van Noten Fall 2020 womenswear show, models were spotted with a very familiar hairstyle.
For the Wednesday runway show, hairstylist Sam McKnight sent models down the catwalk with a variety of neon-colored roots. On Instagram, McKnight explained that the look was actually inspired by images of Serge Lutens in the '70s, though the similarity to the pop star's signature slime-green style was impossible to ignore.
McKnight shared that the look was achieved by hair-spraying feathers of different sizes and colors into the models' hair. A close-up photo of one model showed the eye-catching contrast of a blonde and neon-red style. Products used in ensuring there were no feather flyaways included Hair By Sam McKnight's Modern Hairspray and L'Oréal's Tecniart Full Volume Mousse.
The decision to use feathers certainly helped the stylist complete a quick dye job of sorts, but If your current haircare offerings don't include any spare crafting accessories, you could always try a temporary color. L'Oréal's Colorista collection has a Eilish-inspired shade of neon green available, as does oVertone and Good Dye Young.
Below, get a look at how Eilish-inspired hair was incorporated in the show.