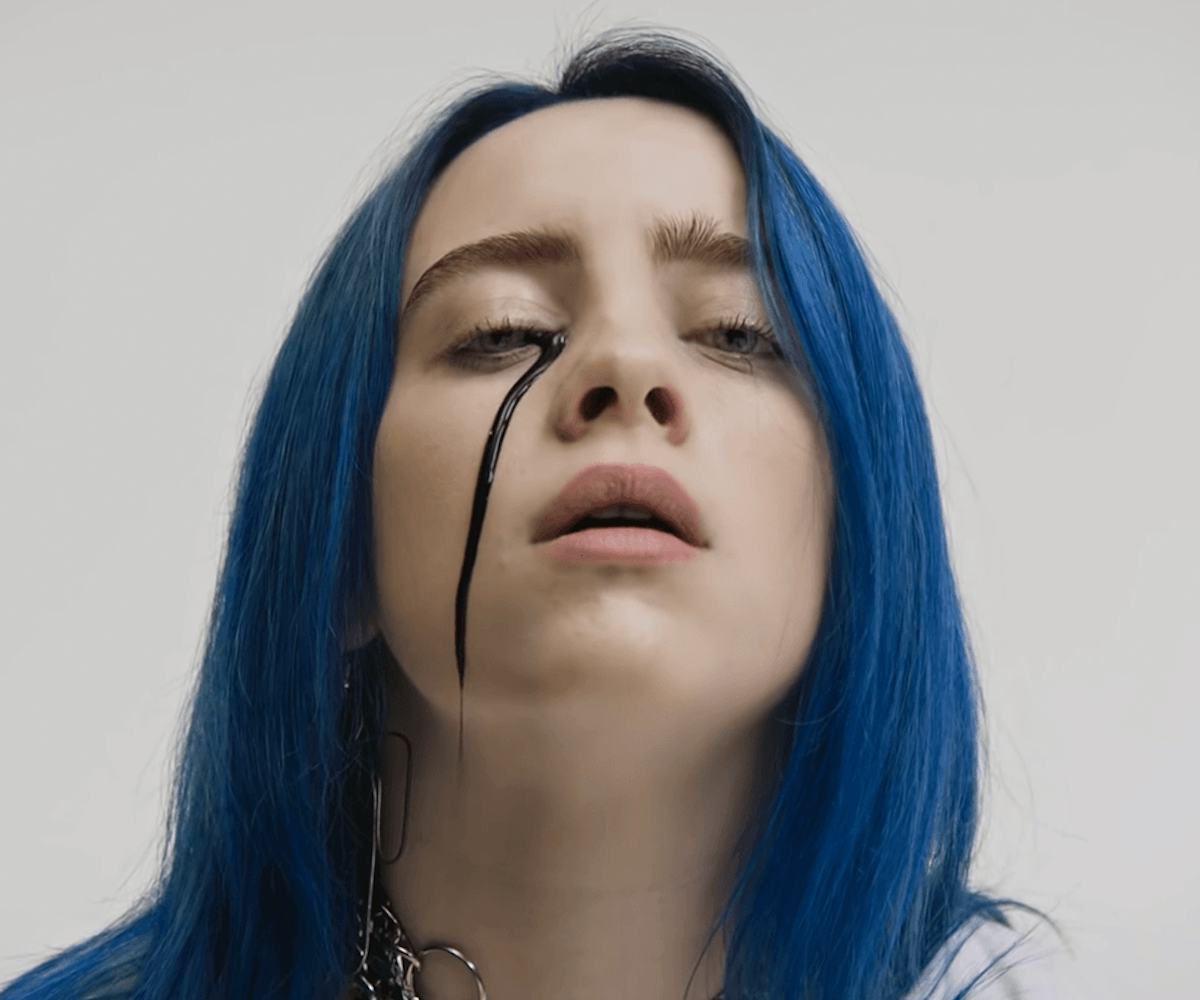 Screenshot via Youtube
Why Are All Of Our Eyes So Empty?
How the "Dull Eyes" phenomenon has captured Millennials and Gen Z, alike
Don't you know too much already?
I'll only hurt you if you let me
-"when the party's over," Billie Eilish
Billie Eilish's eyes bleed black in the music video for her song "when the party's over." It's hard to watch as the bleak substance sputters and gushes from her eyes. It's too vulnerable, gory, sad. Images of Eilish have littered magazines in the months since the release of her newest album, WHEN WE ALL FALL ASLEEP, WHERE DO WE GO?, and in almost all of them there's a restrained version of the eye-bleeding: Eilish gazes at the camera, completely disaffected, hooded lids drooping over her gray eyes. I call it "dull eyes."
I think about all the issues of Vogue I've flipped through in nail salons and airports, filled with women who have the same Xanned-out gaze, and all the Instagram models and influencers on my Discover page, hand to their lips, disengaged. I think of all the selfies I've sent to friends, conveying a candid, rough-around-the-edges type of seduction through my stare. I think of Gigi Hadid, posing for Marc Jacobs' grunge collection for Perry Ellis that was released this fall; she looks at the viewer, eyes rimmed with a sleepless rosy pink, hair tousled. And I think of Rihanna, in a Fenty beauty campaign, staring out over her shoulder directly into the camera as if in a fog, blue lipstick blaring. The familiar look conveys both power and nonchalance, sensuality and resistance—but what is its cultural cachet? And what does its importance say about our culture?
The past few years have been undeniably rough, and it shows in the art we produce. As Craig Jenkins wrote for Vulture last summer in his article, "Why Are All The Songs of the Summer So Sad?": "The expanding racial, class, and political divide of the past decade has set off a boom in self-care records... which urge listeners to get in touch with their emotions." Self-care, however, requires an acknowledgment and an open portrayal of the depths of our sadness and numbness.
Artists are incorporating their struggles with mental health and prescription abuse into their work openly and with the proof that this inclusion creates chart-toppers. There's also the underlying fact that teen Xanax abuse is rising and we're still in the throes of an opioid epidemic. Chicago rapper Juice WRLD, Demi Lovato, Selena Gomez, and the late Mac Miller have all confronted anxiety, depression, or sobriety in their lyrics. And this extends to the way they present themselves on their social platforms and photographs in magazines. The respective lanes of fame have merged with the creation of social media: A musician is an influencer is a fashion mogul. Juicewrld999 is dull eyescentral. But do you actually have to be on Xanax anymore, or just look like you are?
Dull eyes lends itself particularly well to selfies. To achieve the gaze, you can't look directly into the camera. And many of the platforms through which selfies are transmitted (Snapchat, Instagram DMs) imply a certain casualness or ease embodied by dull eyes. Like, I didn't think about this too much, but here's a picture of me, off the cuff. Quick, easy, and non-serious.
Dawnn-Karen, a fashion psychologist and professor, coined a theory called "mood illustration dress," that in its simplified form means "identifying and articulating one's emotions through dress." Considering gaze as a form of dress, Karen likened what's happening in society to a "fashion show." Explaining that the dull eyes trend may increase as the pressure increases, "You're a celebrity, you're an influencer," she said. "You probably have the weight of the world where you're just trying to stay above it and maybe the dull eyes is the way you can have control." She cited Jordyn Woods and Anna Delvey as examples; two women who wear a digital scarlet letter for their respective, entirely different transgressions.
Many of artist Sarah Bahbah's pieces feature the dull eyes look. With 934,000 Instagram followers and collaborations with Gucci, Bahbah has tapped into a digital appetite for longing and distress. On her site, she describes her work as giving voice to "the paradox of wanting intimacy but craving isolation." Her subtitled and whimsical images feature the likes of heartthrobs Noah Centineo and Dylan Sprouse. In one post, a model looks at the camera from above, smoking a cigarette accompanied by "Fuck Drama. Let's Party" in subtitles. In another, Centineo, dappled with sunlight lies on a pillow, lids heavy. The subtitle reads: "I dreamt we were in love then I woke up." Her work reminds me of evenings spent scrolling Tumblr as an adolescent, trying to make sense of my own outsized emotions and finding solace in the romanticized, and dramatic, posts about heartbreak, crushes, and depression.
I asked Bahbah what she thought about dull eyes. She views it as an opposition to traditional power poses, a way to slice through the vapidity of feed culture, regain control and get at a personal truth. "With everyone looking at you, how do you want to look at them?" she asked me. She sees dull eyes as a way to create boundaries between influencers/celebrities and their viewers. The feeling of being obligated to post but knowing you must hold on to a sliver of privacy to "survive the digital world."
Carolyn Mair, Ph.D. and professor of fashion psychology, offered an academic take that complements Bahbah's romanticism: "... such a look is reminiscent of the 'stoned' look." Research in 2014, she told me, found that some risk-taking behaviors were perceived as attractive to potential partners. "If the observer considers the person with dull eyes to be a risk-taker, she might wonder if they would take risks with them." This can present an attractive proposition to someone in the throes of a budding romance, deciding which song to play next on Spotify or which perfume to buy.
In the same way that risk-takers and bad boys (or girls) will always be hot and intriguing, dull eyes isn't entirely new. Evidenced by the rampant Birkenstocks and tattered silk dresses on the New York summer streets, the '90s grunge aesthetic—a big moment for dull eyes—cycles in and out of fashion. Marc Jacobs 1993 grunge collection inspired from Rolling Stones concert footage was a critical flop and, according to Jacobs in an interview with the Cut, "exposed fear." Fear of the immaculate, of women having the ability to be two things at once: dirty and put-together, virginal and slutty. And dull eyes plays a part in this. They say, You can look at me, but you're not seeing the whole picture.
Dull eyes even make an appearance in art history. In Manet's "Olympia" from 1890, Olympia gazes out but not directly at us in what appears to be classic dull eyes. As Lisa Moore puts it in her scholarly article, "Sexual Agency in Manet's 'Olympia,'" "… the painting forestalls the viewer's traditional role as the initiator of meaning, desire and consumption with regard to the work and endows the figures of the women—Olympia herself and the black maidservant—with that agency." The painting, at the time, unsettled a set of artistic and social conventions, just as dull eyes continues to do.
Dull eyes might not be new—see also: Twiggy in the 1960s and, of course, Kate Moss in the '90s—but perhaps their current ubiquity is enhanced by a need to both preserve some privacy in an online world and underscore the loneliness that comes with it. Maybe, we are trying to reclaim some agency as avatars who are farmed for our data.
I offer dull eyes to boys across bar counters. I dull eyes-ed in high school math classes. I find myself doing it for many reasons: to intrigue, to seduce, to reject, or to convey a bottomless existential paralysis.
In an essay describing her newfound fame after her story "Cat Person" went viral, Kristen Roupenian wrote, "The problem is not that other people think about us but that their thoughts are so flattening, so reductive in comparison to our own complicated view of ourselves. Here I am, having this irreducible and mysterious set of human experiences, and all you think when you encounter me is, Her hair is weird…" She concludes, "We are simply not meant to see ourselves as others see us."
It's possible dull eyes are just this: a kind of turtle shell, in which we protect ourselves from the onslaught of external judgments and projections, a holding-on to a piece of our dark inner selves.
Want to see more stories like this? Sign up for our wellness newsletter.