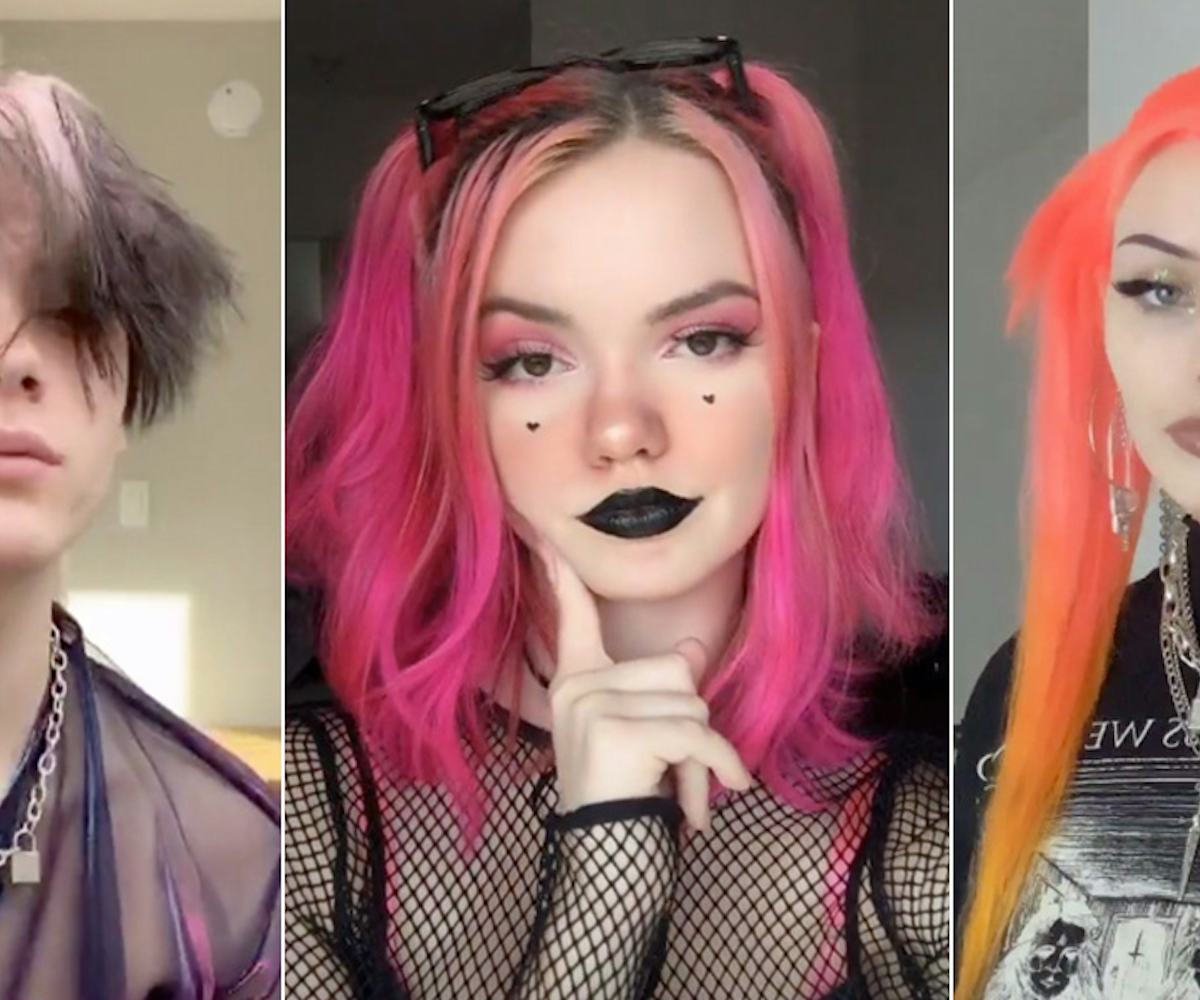 Screenshots via @noeneubanks, @aylaprince, @xowiejones on TikTok
E-Girl & E-Boy Style Were Google's Top Trending Searches In 2019
Behold, TikTok's influence on fashion
Google released its annual Year in Search recap for 2019 on Wednesday, and it looks like TikTok has made quite the impact on fashion queries. Compared to last year, e-girl and e-boy style, as well as outfit ideas, were among the top trending searches on the major online platform.
Other hot topics in the fashion realm include a few other TikTok mainstays, such as VSCO girls — notably recognized for wearing scrunchies, an oversized T-shirt, shell necklaces, and Birkenstocks, along with a metal straw or Hydro Flask in tow in an effort to save the turtles —and soft girls, who generally have a penchant for pastel colors, pretty hair clips, and all things springtime (aka "soft szn").
But back to the e-girls and e-boys of the internet. When it comes to their signature style, it usually involves such beauty choices as boldly colored hair, winged eyeliner, pink blush (a lot of it), and tiny hearts drawn underneath their eyes (all of which is exemplified in the TikTok trend of "E-Girl Factory" videos). For an outfit, it usually consists of silver chains, a long-sleeve striped top layered underneath a vintage T-shirt, and a pleated mini skirt — all of which were either picked up at Dolls Kill, Depop, or their local thrift store. If VSCO girls are considered the new basic b*tches, then e-girls are modern-day scene queens. Real Myspace heads know!
"There will be little bits of skate culture, hip-hop, anime, cosplay, BDSM, and goth that will jump out, if you can spot them," says Vox in a timely explainer. "In short, e-girls and e-boys are what would happen if you shot a teenager through the internet and they came out the other side."
Should you feel inclined to channel (or figure out) e-girl or e-boy fashion going into 2020, rest assured that you are certainly not alone.
See the rest of the Google's 2019 Year in Search for outfit ideas and fashion/style, below.
Outfit Ideas
E-Girl outfit
E-Boy outfi
Soft girl outfit
Biker shorts outfit
VSCO girl outfit
Dickies outfit
White jeans outfit
Fila outfit
Champion outfit
Leather pants outfit
Fashion and Style
Camp style
E-Girl style
E-Boy style
Steampunk style
Harajuku style
Preppy style
Yankii style
Vintage style
VSCO girl style
Emo style