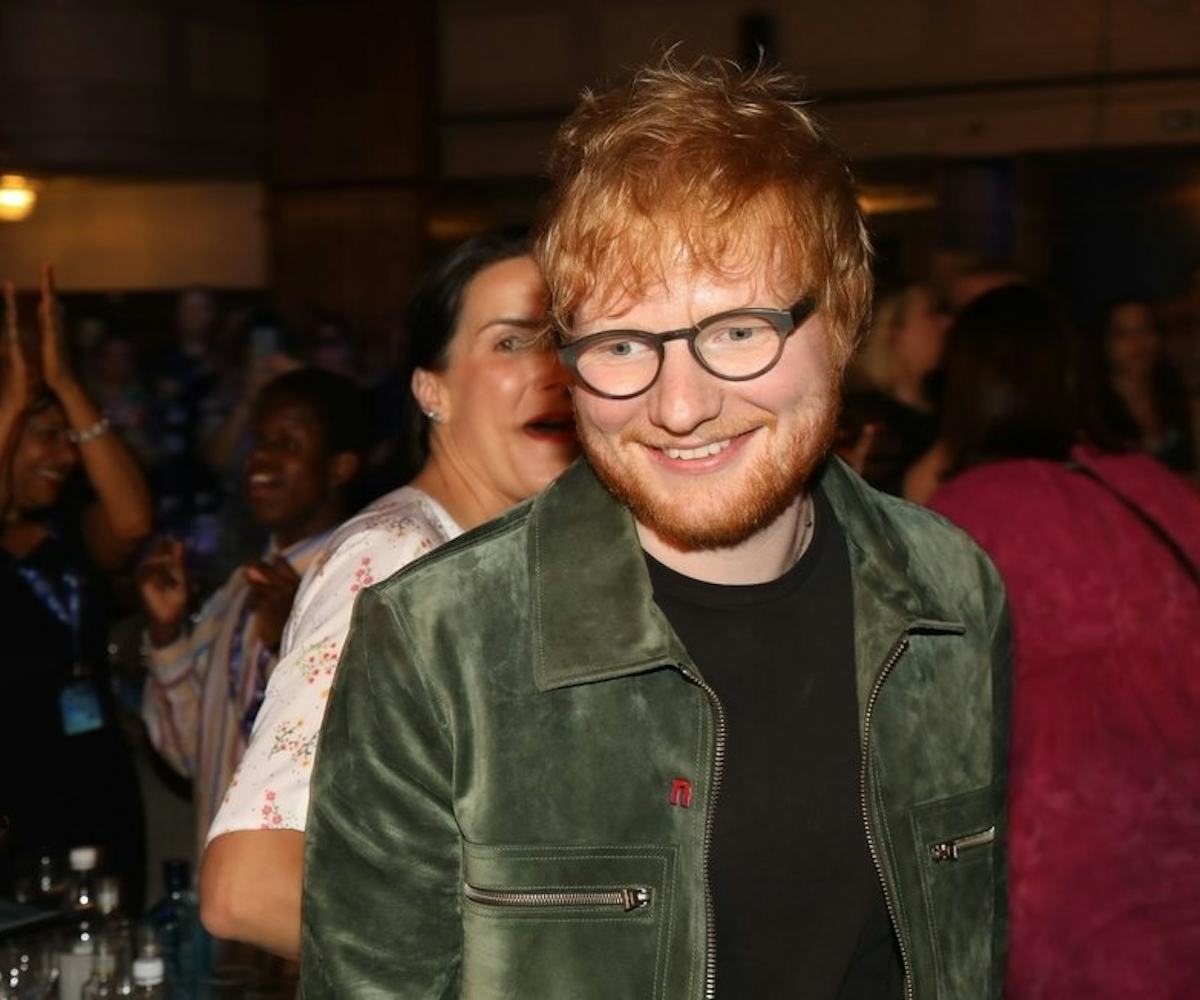 Photo by JM Enternational/Shutterstock.
So, Ed Sheeran's 'No. 6 Collaborations Project' Is Actually Really Cute
Even if things did get weird for me when Sheeran started rapping
Last night, Ed Sheeran dropped his full No. 6 Collaborations Project, the one that houses "I Don't Care" with Justin Bieber; "Cross Me" with Chance the Rapper and PnB Rock; and "Beautiful People" featuring Khalid. If you haven't caught on by now, this album is a collaborations project that sees Sheeran crossing borders and genres with each track.
I'm typically wary of these kind of crossover efforts, especially when they involved well-established white artists dipping their toes into hip-hop. In addition to Chance and PnB, the tracklist for No. 6 also includes 50 Cent, Eminem, Young Thug, Meek Mill, Stormzy, Cardi B, A Boogie Wit da Hoodie, and Travis Scott. The opportunities for cultural appropriation and vulturing are endless. And yet, I was pleasantly surprised with the results.
Sheeran avoided common, problematic traps by staying true to his own voice and craft throughout most of the album, and by allowing his collaborators to do the same. It became clear about halfway through that the British singer was interested in partnering sounds and vibes, not borrowing them. For example "South of the Border," with Cardi and Camila Cabello, is a club-ready bop that offers up a dash of Latin flavor, and could just as easily appear on one of Cabello's projects. Ella Mai, the singer who has made a name for herself "Trippin" over lovers, helps Sheeran lust after his boo on "Put It All On Me." Then, "Take Me Back To London" is very much a nod to the British hip-hop genre, grime, and makes perfect sense with Stormzy's deep voice. Sheeran has created a body of work that is cohesive and easy to listen to; it's fun, but not really gimmicky. It's very much an invitation to enjoy the music that Sheeran himself likes, not an opportunity for him to merely emulate, let alone exploit, those artists.
Well, there is one exception, though: the songs where Sheeran decided to spit a few rhymes. Let me clear: Ed Sheeran isn't a terrible rapper. He's a songwriter, so putting together some decent bars probably comes naturally to him. Still, it tripped me up every time.
On "1000 Nights," the song with Meek Mill and Boogie, I couldn't tell if Sheeran was trying to rap or just singing really really fast. The same applies to "Antisocial" where his verse cadence was somehow faster than his collaborator's, Travis Scott. But I actively cringed on "Remember The Name," which was already made corny by enlisting two dad rappers: 50 Cent and Eminem. Lyrics like "my wife wears red, but looks better without the lipstick" would probably sound much better in a ballad, but instead Sheeran rapped them, right before saying, "I'm a private guy and you know nothing 'bout my business/ and if I had my fifteen minutes I must have missed it."
Ed, go home, you're drunk.
His rapping is a forgivable transgression, though, in the context of the entire album. He's set an amazing example for how huge pop stars can engage urban artists and rappers without imposing their privilege, or presuming to do their genres as good as them. Miley, take notes.