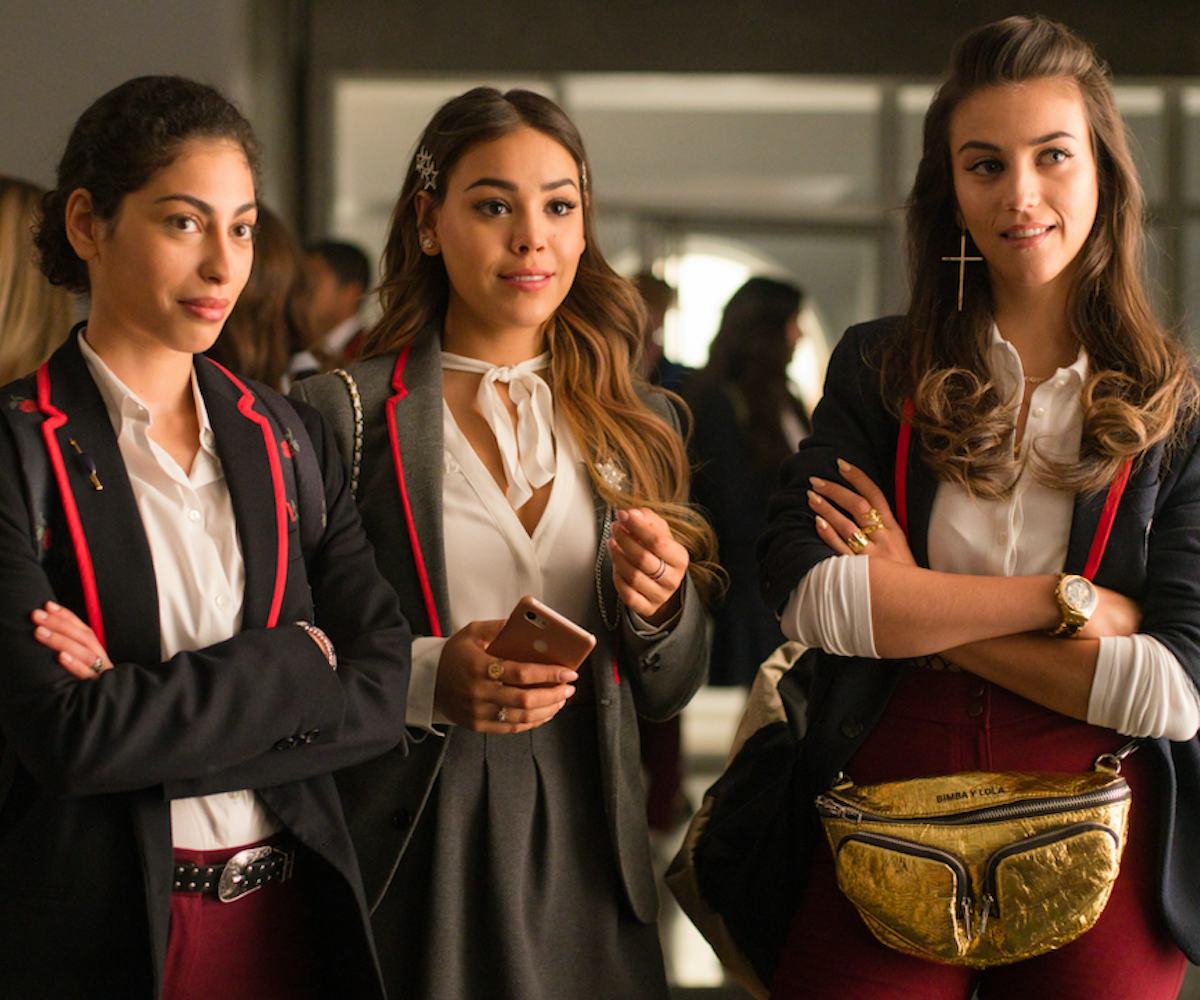 Manuel Fernandez-Valdes for Netflix
In Netflix's 'Elite', Beauty Is The Ultimate Differentiator
The show's makeup artists talks individuality in school uniforms, no-makeup-makeup, and season three
The mystery and drama surrounding Elite continues, with the Netflix series returning for yet another season. As fans continue to contemplate every clue that awaits them in Elite season three, the show's head makeup artist went ahead and solved one major mystery for you — the secret to the show's beauty routines.
Patricia López, head of makeup at Elite, explained to NYLON that every look on the series is intentional — no matter how subtle or natural some characters may look — with the makeup department working in tandem with the show's cast and crew to create individual character looks that are defined by what happens in each episode. According to López, the makeup sometimes sends a more subtle message as to what might happen to the character, but whether they're adding dark circles from a sleepless night of scheming, or a bruised face that occurs after an unexpected brawl, every element is purposeful.
Although López remained tight-lipped on what fans can expect of season three, which premiered on March 13, she did divulge what brand of product the makeup department relies on, how she handled the beauty transition of one of the show's main characters, and how the epic Halloween party from season two came together.
How did you determine the signature beauty style of each character?
The look of the actors is directly related to the character and their emotional side.The writers of the series give them qualities and attitudes about life that mark their way of being, of behaving, of relating, as shown outwards, so that when the viewer sees them, they know how they are. We, both with makeup and hairstyling, transform the actors into those characters.
For instance, Lu is an eye-catching person, extroverted, confident, loves fashion, is rich, wears the latest and the best, the coolest, the most exaggerated and daring, as her character is all that and more. Whereas Carla is elegant, sophisticated, contained, more introverted, more subtle, although she is also cool and rich, but has another type of personality which does not risk as much or draw much attention to what she wears. Carla has had a great evolution from the first season to the second, and in the third there is also a major change.
Everything is very defined from the script and has a direct relationship with the story; everything helps the story. Normally, outside of high school, they tend to be a little more made up, especially the girls, and that's always a good reason to change them a little or a lot if the script allows us.
What role does makeup and hair play in the series, considering the characters are often dressed in school uniforms?
The makeup and the hairstyles are elements in the series which accompany the characters at all times, and take center stage in some scenes such as parties. The parties are where we can really enjoy making modern, risky, and different looks. All the parties have been very fun and enriching for us, and we're always looking for new trends to go a little further and make innovative looks.
What are some of the makeup and products you use on the show?
We used Sisley a lot, due to its philosophy that is based on Phyto cosmetology. We've practically used the entire brand: bases, blushes, lipsticks, I love all the color in general. I also find it very important to take care of the skin before and after the makeup with specific products for each type of skin. That helps make the skin healthier and more beautiful, and the makeup lasts longer, as our days are very long. For the guys, I usually use a very natural Make Up For Ever base. At the end of the day, we use a good cleansing, so the next day they will be more luminous and healthy, without imperfections and ready for a new day.
Nadia has gone through quite the makeup transformation on the series. What was the process like, and how did you decide what she would look like without her Hijab?
Nadia has a very important personal evolution. She begins as a teenager who discovers a new world, and gains more and more security on a personal level, and as a woman who discovers her outer beauty and enjoys makeup for parties and specific moments. Removing the Hijab was a way to break a little from her tradition and family world, and allows her to delve into a new universe that waits for her full of surprises. With makeup and loose hair, we enhanced her natural beauty, as she has beautiful eyes and lips and it's a way to play seduction by freeing herself from her limitations.
Was there an episode that really sticks out for you in terms of beauty?
The Halloween party was really fun. We tested with the actors, and used a lot of imagination, using ultraviolet lights to see the fluorescence of elements which we incorporated into the makeup and hairstyling so that it would stand out when they were near that kind of light.
What can we expect from beauty and hairstyles in this new season?
In the new season there are also very cool parties, but I can't reveal anything to you. And there are changes in the makeup that will surprise you, everything is very thought out. I hope you like it.
This interview has been edited and condensed.