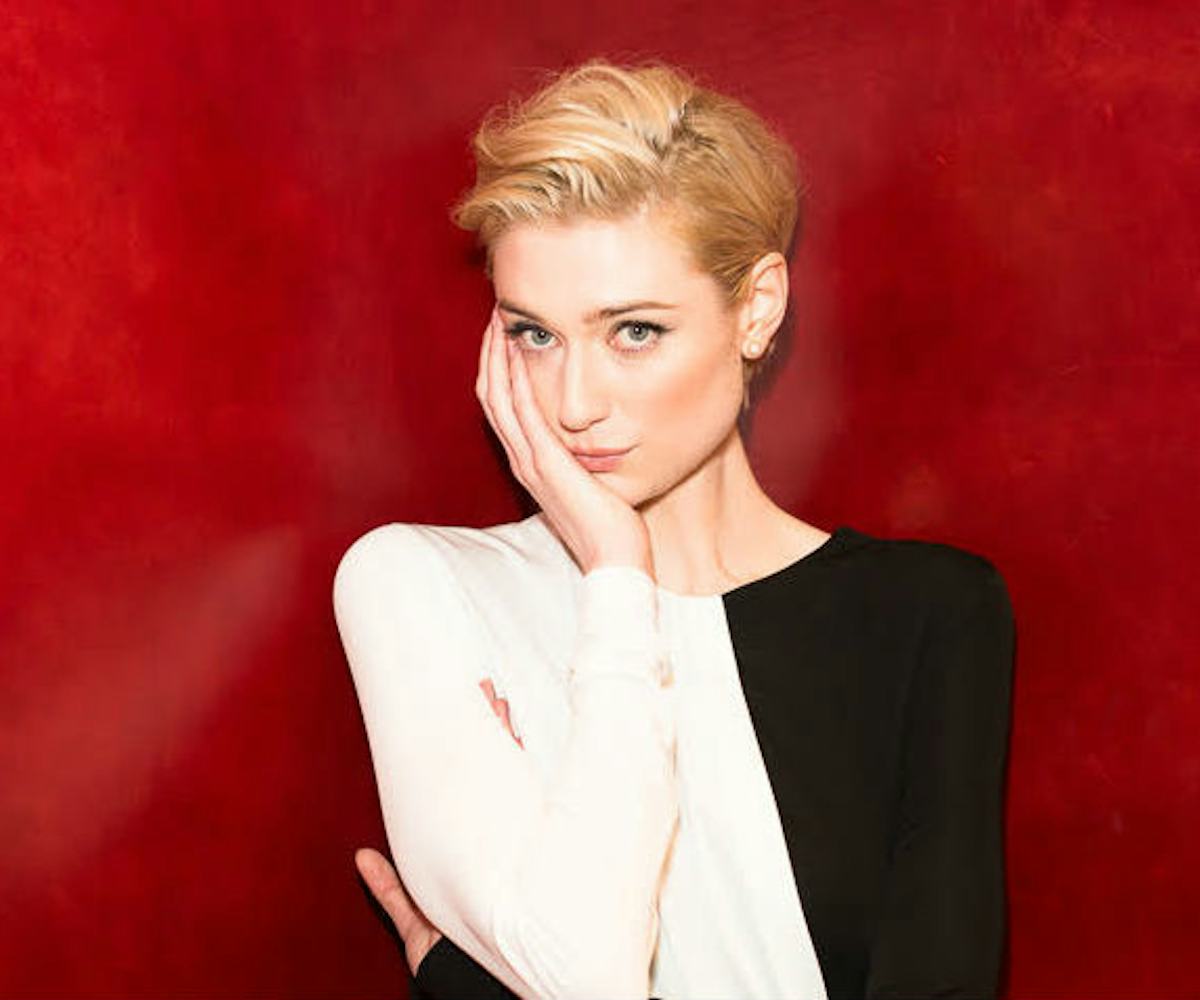 Photo by Myles Pettengill III
Yes, Elizabeth Debicki Is Very Tall—And A Very Good Actor
Talking with the 'Widows' standout
There are dueling narratives about Elizabeth Debicki's performance in Widows, Steve McQueen's crowd-pleasing, feminist heist thriller. The first is her height. In some of the promotional images that have been circulating online, she towers over costars Viola Davis, Michelle Rodriguez, and Cynthia Evro. Many—especially those who missed the statuesque Aussie in films like The Great Gatsby, The Man From U.N.K.L.E., and Guardians of the Galaxy—took notice. And having interviewed her on the eve of the film's world premiere at the Toronto International Film Festival, I can confirm that, yes, Debicki is tall. Very tall.
The second is that, as Alice, a Polish-born domestic violence survivor-turned-bank robber, she delivers the film's breakout performance. In a movie about a group of women striking back at the oppressive force of male power, Alice's awakening is perhaps the most drastic and hardest to pull off. And having seen the film the following night, I can also confirm that Debicki is good. Very good. Here, Debicki explains what sets McQueen apart, why she fell in love with Chicago, and how she landed the role of a lifetime.
How does a script like this land on your desk?
It hit my inbox, but I did audition for Steve. I became completely obsessive. I was a horrible person to be around for about a week. I read it, I sent a tape to him, and a day and a half later I was in L.A. I read for him in person, and then I got the job pretty quickly after that.
How quickly?
It was within the hour. But Steve's like that. He's very instinctive. I think the way he's cast this film is so fascinating. Even casting Colin Farrell was brilliant, because what a soulful, intelligent human being to play this incredibly corrupt politician and yet you empathize with him. All of these characters, even the ones that are scraping the underbelly of society, you somehow understand why they're doing it.
This is a commercial film, but because it's Steve McQueen it also has something important to say. Is that part of what appealed to you?
Yeah, it did. It's a ride. You do not come up for air, and he doesn't let you take a breath. You go under, and then you come up at the end of it. But the storyline was my priority in terms of what I knew I had to contribute to the story, which is in itself an enormous political statement. We were making a film about the four women who appear onscreen and don't just talk about the men in their lives. We passed the Bechdel test with flying colors, and that's incredibly rare. I've never seen that before.
The fact that it's a story about four women who come together in order to survive and empower themselves, that's a pretty great political statement. We made a film that's fascinating and wonderful and about women, and guess what?! People really want to see it.
And then, Chicago is so fascinating, and I fell completely in love with the city. I loved Chicagoans so much. I had so many incredible conversations while there. It was such a fabulous place to be. But if you cut through that city, you get this cross-section of really vivid socio-economic political diversity. There's a huge amount of corruption, there's a huge amount of police brutality. Statistically, we know that Chicago has an insane amount of gun violence, and we were aware of that when we were making it, and some of the places we were shooting in the middle of the night on the South Side of Chicago at 3am, I saw things that I remember clocking and thinking, My gosh.
It's a funny thing as an actor when you gain access to parts of life that you would never be able to see, whether it's something incredibly grand like being under a mountain or on the street corner of the South Side of Chicago at 3am and you experience the city in a different way. Some days would start in a spa on the North Side of Chicago in a ritzy hotel, and by 4am we were on the street corner in a car or in a beat-up house.
What struck you most about Steve during the time you spent working with him?
The kindness and the generosity. I don't know if I've ever met such a truly compassionate person, though it's more than just compassion. The goodness of the man is unbelievable—how much he cares and wants to know everything. It's almost like he holds up a mirror you've never really seen yourself in before. It's all about truth and about being here, in the present moment. Whether its a conversation at the tea trolley on set or the scene you're working on or watching the film back—there's something mirroring about him. He wants to hold it up in odd places.
It's interesting hearing him described like this because his films can sometimes feel brutal and cold.
I've often found that with directors. I worked with Susanne Bier on The Night Manager, and her work can be so dark, and I was sort of terrified to meet her. But she's brilliant and light and funny, and I think this set in itself was a sort of metaphor for balance in the light and the darkness. We were shooting the heist, and it was really dark. It was action-based, super-adrenalized, and scary, and when you're really inside the headspace of these women, there's a high chance that they might die doing this. And when you get in there, and it's the middle of the night and you've been shooting for four nights and you're in this swampy place, reality gets quite blurred, which is actually a lovely place to be as an actor. But then we would grab Michelle's speaker and start dancing.
So there was still some levity on set.
Massive levity, because Steve's hilarious. And there's a fluidity with which he navigates the terrain of the scene as a director but also from a human landscape. You find yourself with him, having an incredibly poignant conversation about something in your life, then all of a sudden you're chatting about the food on your plate and also your mother. He's incredibly inquisitive. He wants to know. Steve wants to know. And I love people like that. I'm also like that. I want to know, "Why is it like that?" And, "How did you feel?" and Steve is really like that. But also, because of his kindness and his heart, you tell him everything. And then you tell him everything as the character too, and that's the sign of a really great director.
When I watched the film, I was surprised by how often the audience responded with laughter, sometimes in the oddest places.
There's that scene where Alice was with her mother, and she's taught that she's an object and that she should use her sexuality in a pretty savage way; it's extremely repressive and kind of horrific. But it's pretty commonplace, tragically. You play that scene for the truth of it, but I understand why there was this sort of awkward laugh that rippled through the audience. It's not about humor, it's recognition. And also I think people were uncomfortable and that's a really interesting thing to experience as an actor. Uncomfortable laughter is often the most powerful because it means you've gotten under someone's skin
The film has been closely linked to the rise of #MeToo. Is that something you're comfortable with?
People can call it whatever they want to call it. I think they'll identify with the sections of it that they want to. But what's really interesting about the film is that it's an incredibly inclusive piece of cinema in the sense that whatever you ask in the audience, there's going to be some character or some storyline that you identify or empathize with to some degree. Even Daniel Kaluuya who plays a psychopath, there's something about him that breaks my heart at the end, and I think that's a testament to Steve's filmmaking: He'll boldly take a swipe at the state of humanity and say something about it, and there's nothing surface-level about it.
How do you feel about the narrative that this is your "breakout role"?
We all need labels to help people guide our opinions about things. At the end of the day, I'm just trying to find material that interests me and work with people who challenge me and I can challenge myself. The joy is that you never know what's around the corner. People often say, "What do you want to play next?" And apart from random specifics you just don't know. When I got this movie with Steve, I was living in Australia and had just finished doing a play in London's West End.
And you were happy.
No, I wasn't! I was plunged back into unemployment, going, "I'll never work again!" And I got off the plane and it literally landed in my inbox, and I went, "Well, there you go!"