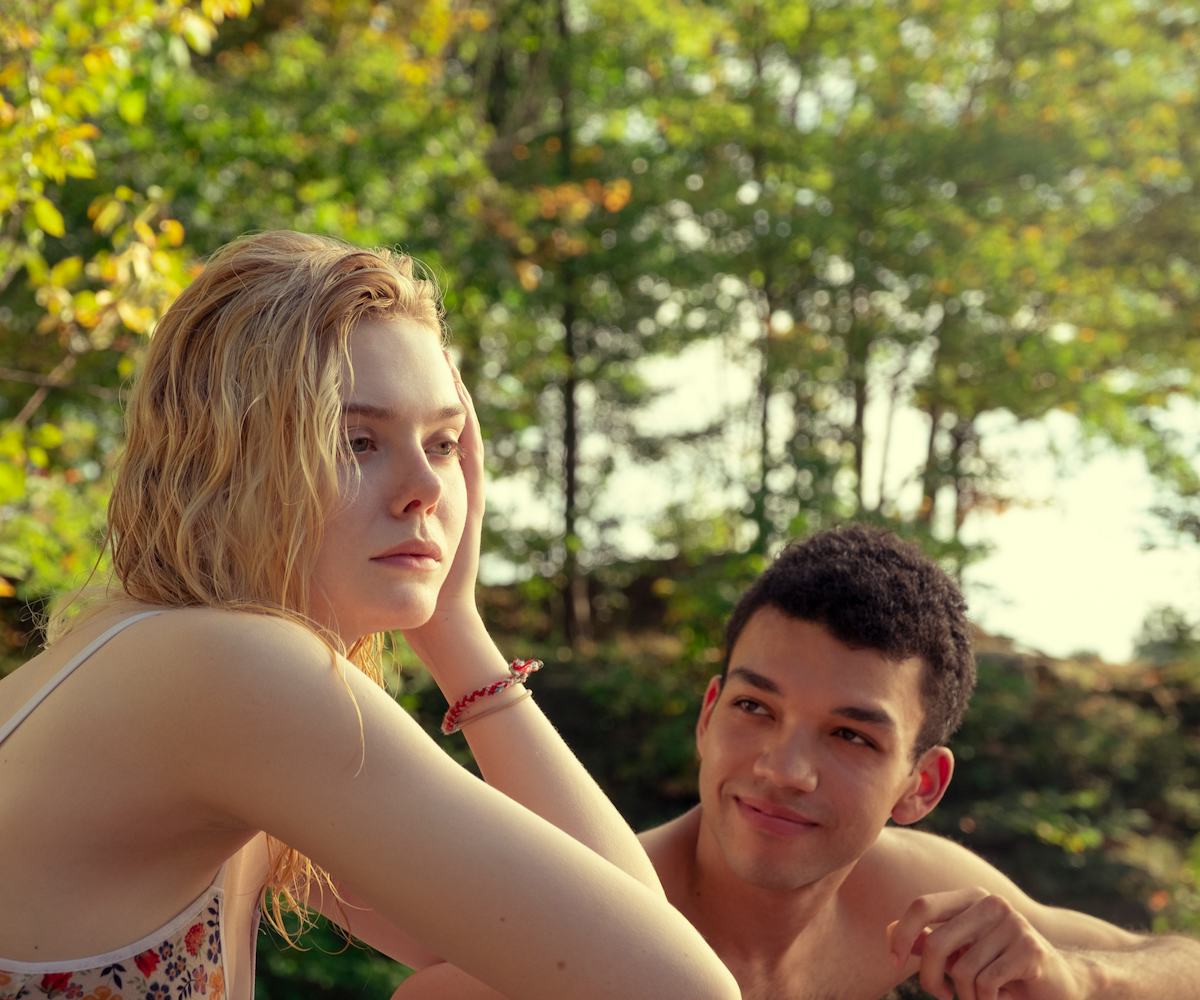 Image courtesy of Netflix
Elle Fanning Talks Playing A Troubled Teen In 'All The Bright Places'
The YA adaptation is dropping on Netflix this Friday
Despite being born in 1998 — before Amazon, MP3 players, and the World Wide Web — Elle Fanning is far from your typical Gen Zer. The precocious actress was just shy of three years old when she starred in her first film (I Am Sam, playing the younger version of her sister, Dakota) and has 61 acting credits to her name, so it's no surprise that the now 21-year-old became involved with her latest project at the ripe age of 14.
In All the Bright Places, a coming-of-age romance based on the book of the same name by Jennifer Niven, dropping on Netflix Friday, February 28, Fanning stars as Violet Markey, a popular teen who's been quietly dealing with survivor's guilt after her sister, Eleanor, dies in a car crash. She meets her troubled counterpart in Theodore Finch (Justice Smith), a social outcast battling undiagnosed bipolar disorder and contemplating suicide, when he finds her attempting to take her own life at the scene of the accident. It's a classic love story with dark undertones: boy meets girl, boy falls in love with girl, boy turns out to be struggling even more than she is.
Fanning was the first person to read the book seven years ago, when Niven sent her an advance copy before it was released to the public. "Jennifer always had this dream of turning it into a film," Fanning said recently over the phone. "I was in high school at the time, so I really related to the story — I was experiencing all of the same emotions [as Violet]. I was dealing with my first love. When you're a teenager, that's a pretty big moment in your life."
An aspiring writer who shies away from socializing with the in-crowd, Violet is a basket of contradictions: she passes on her schoolwork, ignores her parents, and refuses to set foot in a car, effectively barring herself from experiencing anything at all. Only when she partners with Finch on a school project to discover the "natural wonders" of their state of Indiana does she really open up and reveal her true self: a bubbly, laughing girl with a taste for adventure. Perhaps that's why Finch gives her the loving nickname "Ultraviolet" — because she's "all the colors in one, at full brightness". Swoon.
"The movie explores this beautiful nuance between love and mental health and not knowing who might become your ally in life," Fanning said, referring to the star-crossed coupling of Violet and Finch. "Compassion and understanding can come from unlikely people. Open up and you never know who can really change you or make an impact on your life for the better."
Here, more from Fanning on her new role, teen angst, and the importance of destigmatizing mental health.
You've been acting from a young age, but you also went to Campbell Hall Episcopal High School in L.A. What were you like as a teenager?
I feel lucky that I got to experience high school. I was homeschooled until I was nine, then I went to a regular school and got to go to my proms and all of that. High school was a very fun time for me, but there are people that can be pretty mean as well. It's a harsh place. I would say it's one of the harshest places in the world.
In the movie, your character is grieving over her sister's untimely death. Did you and Dakota discuss the plot at all?
I didn't discuss anything with her. We try to keep our work separate — we're funny in that way. But I do think having an older sister who I'm very close with made the tragedy of Violet losing her sister very real for me. I can't even imagine what it would be like if my sister wasn't here anymore. The bond between sisters is a very unique bond.
Before the end credits, there's a dedication to those who have been impacted by mental health concerns, suicide, or grief. Other teen dramas like 13 Reasons Why have been accused of glamorizing suicide. Is there a lesson to be learned here?
Mental health is not talked about enough. We can't shy away from it and we can't make it uncommon. Society wants to make it weird and taboo, but it's extremely common. I think stories like this are important to break down the stigma. Mental health should be treated just the same as physical health: If someone breaks their arm or gets the flu, people are so quick to treat that, but mental health is something no one wants to talk about. I hope this film sparks an honest conversation. It's a delicate subject that you want to handle with care, but for Jennifer [Nevin], it's a true story that's close to her heart — it's not fiction. I don't think we need to talk down to teenagers. A lot of them are going through this.
Finch poses an interesting question in the movie: Where would you go if you could go anywhere?
I imagine a huge field in the middle of nowhere to dance and run and be free.
The soundtrack is great. I love the scene where Finch is rocking out to "Too Young To Burn" by Sonny and the Sunsets. And I noticed the Tennis poster in Eleanor's bedroom, too.
That's very much thanks to our director, Brett Haley — he's a huge music nerd. He sends out a Spotify playlist to everyone with his top favorite songs of the year. We blasted that song a lot in the dance scenes. It's very much aligned with my taste. I love Lewis Capaldi, Mitski… I listen to Paul Simon a lot, too.
Did you have a hand in the wardrobe at all? Violet's style is very '70s, with oversized glasses and chunky knit sweaters.
We wanted to stay true to some aspects of the book. A big part of Violet is that she wears glasses, and I wear glasses in real life as well — I got them when I was 7, and I've never played a character who's worn them. Getting the right frames was essential. The knit sweaters were extremely itchy. I'm allergic to wool, but they looked good, so...
Given that you're now part of the Netflix family, what are you binge-watching right now?
I watched Friends from beginning to end when it was on Netflix. Now the reunion is coming up, which is very exciting. I don't know what that's going to be. Are they going to do a show or are they just going to sit and talk about it? I need to know now.
What's next for you? I saw you co-produced this movie, are you hoping to do more behind the camera?
Definitely. I just finished a show for Hulu called The Great that I produced as well. I'm also about to do a movie with my sister where we play sisters. We've never done a movie together before. It's called The Nightingale, based on the book [by Kristin Hannah]. Mélanie Laurent is directing. It's a beautiful sister story.
This interview has been edited and condensed for clarity.