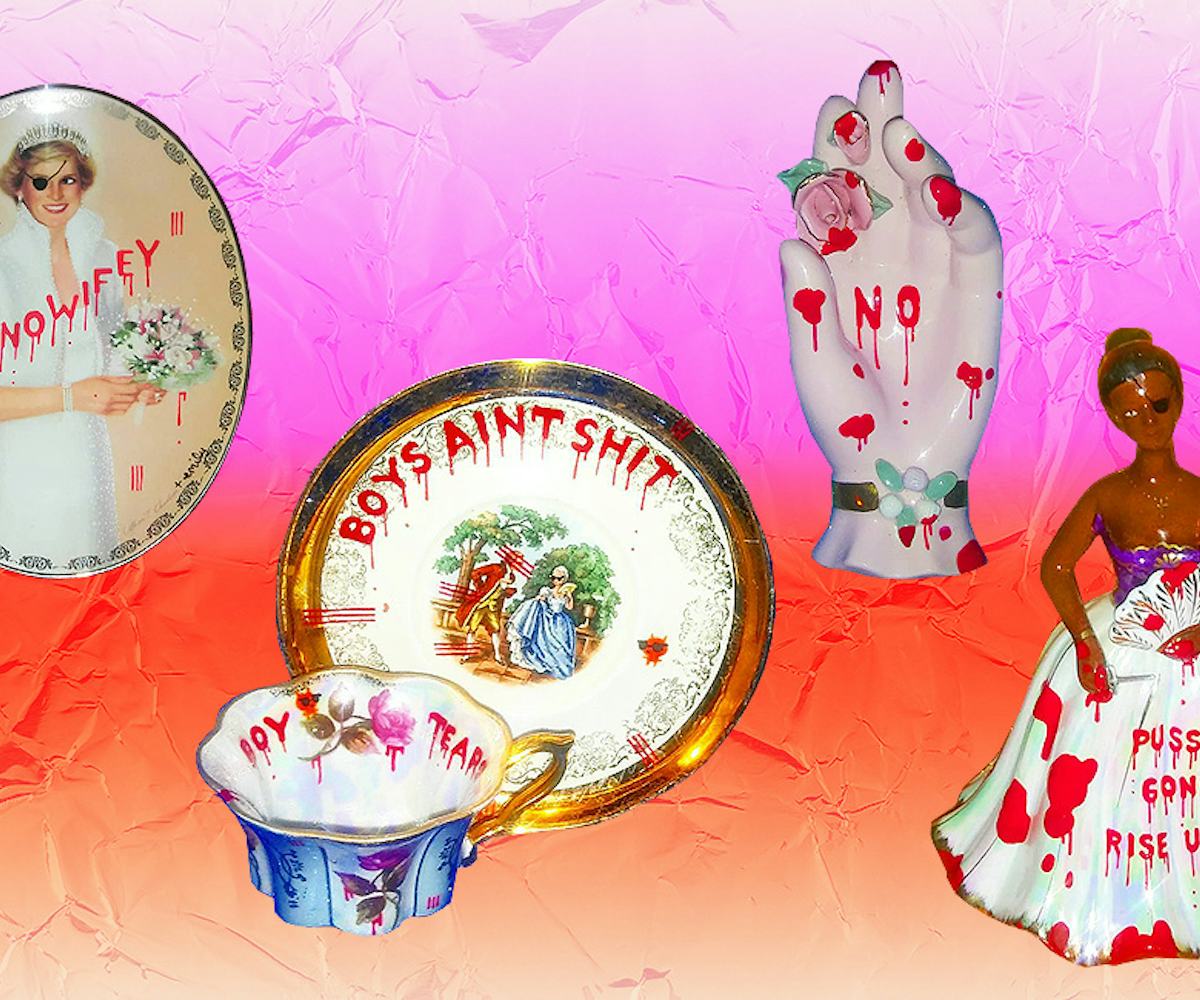 Photos from instagram.com/boytearsllc
This L.A. Artist's Ceramic Pieces Are A Reminder That "Boys Ain't Shit"
Emily Hillburg ain't no wifey
"I'm kind of the last stop before destruction," says Emily Hillburg, whose pieces wreak havoc on the idea that caring for china is women's work. Sourcing subjects from vintage and thrift stores, the 39-year-old L.A. artist uses blood-red paint to upcycle porcelain figurines and ceramics, turning the featured damsels of our past into modern femmes who say things like, "Boys ain't shit," "Don't fuck with me," and, simply, "No."
Hillburg grew up in Long Beach, California, during the G-funk era, feeding her spirit with riot grrl music and consciousness-raising zines. She first started drawing at age four when the need to illustrate her love for Bingo, her first puppy, became essential. "I leaned into my creative feelings at that point," the artist recalls. "Later on, CalArts really helped me hone that."
In addition to citing the six-year-old L.A. Zine Fest as a continual source of inspiration and support, Hillburg is quick to reference two "badass art lady friends": Chynna Jenkins, a textile designer and Hillburg's "art wife," and graffiti artist Mel One. Including Hillburg, these three formed a zine-producing art collective called BBHM$ (BITCH BETTA HAVE MY $) in 2015. Their mission is to "be a haven for all forms of bad bitchery," and they are currently working to get artists involved in promoting their work at local zine fests and art events.
"I'm also really inspired by Louise Bourgeois' work ethic," the painter says, referring to the late, prolific sculptor and installation artist. "She made art every day of her life. Now that I'm older, I totally feel that. It's like an addiction for me. I mean, what the fuck else you gonna do?"
Though many retailers-turned-friends discovered Hillburg through Instagram (@boytearsllc) and have helped her career take off, her industry experiences haven't always been positive. "There is something I want to talk about because it happens far too often to artists, and they need to be warned that awful people like this exist." She goes on to explain that a Highland Park gallery owner once swindled her and several of her friends.
"The owner suddenly closed the gallery, gaslit artists about payments owed, and stole art from many Los Angeles artists," Hillburg continues. Afterward, the "gallery owner" went on vacation and left everyone in the lurch. "For starving artists, [the amount of money] was a lot. The loss of artwork was really painful." Inspired by these shitty circumstances, Hillburg began creating pieces that declare, "I see you fake bitches."
Though she will always draw and paint, upcycling has introduced (and re-introduced) itself as a significant part of Hillburg's artistic addiction. She recalls her first project of this nature: cutting up sexist teen magazines and, along with bits of a broken mirror, decoupaging them onto a Long Beach Unified School District classroom chair. "A little ham-fisted, but not bad for a 15-year-old," she says. Hillburg later returned to upcycling when she couldn't fight the impulse to paint on her home decor—most of which she snagged from nearby swap meets. Following these instincts, Emily researched paint that would remain permanent when fired and "went from there."
She has since amassed a collection of pottery that, some might say, has seen better days. Hillburg counters that assumption, saying that the best is yet to come: "I love finding porcelain ladies with an arm or something missing who are destined for the dustbin. I can glue a tiny knife in its place, and I'm like, 'Now you a bad bitch. You got this. You're ready to battle the patriarchy.'" This is liberating not only for Hillburg and her characters but for the femmes out there who also want to be unbreakable.
In addition to physically transforming her porcelain ladies, Hillburg also gives them a personality adjustment that disrupts the glorification of outdated gender roles. Rather than asserting that women should be delicate and feminine and subservient and quiet, Hillburg paints her pieces to send the message that women can be anything they want to be—loud, sensual, in-your-face. "I'm actually fascinated by the history of the objects themselves as performances of femininity," she says. "Seeing all these old china sets with 45 different pieces that all had to be set properly and hand-washed [by women]. It was such a pointless ritual of oppression... Subverting that is really therapeutic."
A corseted woman holding a pitcher on her shoulder (who seems as vanilla as the color of her skin) gains an eyepatch as she touts the Vince Staples lyric, "Bitch, you thirsty, please grab a Sprite." Then there's a Cinderella type who resides on a plate when, at the stroke of midnight, her gentleman companion's face disappears behind three red lines. She gains a pair of sunglasses and a matching teacup that simply reads, "Boy tears." These damsels no longer host expectations—they are now ready for battle.
Hillburg asserts that her work represents exactly what women have to do in a world where they are hated and oppressed (this world). "Women maneuver through this world, and we just keep fighting," she says. "I want to paint [my subjects] in a way where it looks like they've been through some shit and have come out the other side stronger. This is the moment they realize that."
If she ever lacks inspiration—though there seems to be plenty in this political atmosphere—Hillburg can seek stimuli in a secondhand store. After finding the china figure who speaks to her, she can use her work to amplify their voice. "A couple days after the election, I found a plate with a girl training kittens, and I was like, 'Yes! Pussy gonna rise up!'" says Hillburg. "It was life- and art-affirming, like the goddesses got my back or something."
Contrary to the upcycling Zeitgeist both environmentalists and Pinterest users are experiencing, in one of her Instagram posts, the artist mentioned that she sometimes faces guilt when using an antique, hand-painted piece as her canvas. However…"Sometimes I do things to collector plates I'm sure the original artist would not be into—like painting 'bitch' on Ronald Reagan's forehead. But fuck that guy for thinking that monster deserved a collector plate in the first place!" And again, Hillburg is often the last stop before destruction for unloved and off-base ceramics.
When discussing her current home, Los Angeles proper, Hillburg speaks of two different places: "I genuinely love Los Angeles. Not the thirsty, Instagram-y, 'industry' side, but the real L.A." It is the latter that pulses with inspiration for the artist, who is motivated by the diversity she sees in her neighbors and in those she rides the bus with. The same goes for her fellow swap meet hunters. "There's this wonderful, laid-back, warm vibe that people here have in spades," Hillburg continues. "On the flip side, I feel like I'm watching a lot of this city's character erode as it becomes unaffordable for anyone but the 1 percent."
As for Hillburg's audience, the painter aims to ignite a fire that's akin to the blaze she nurtures within her ceramic women. "I want my work to make you feel like YOU GOT THIS," she explains. "And also makes you laugh at this dumpster fire world."
When she's not searching for treasure in Los Angeles, maintaining her position as the No.1 dog mom in the world, or working at Stories, a beloved Echo Park bookstore-cafe, Hillburg spends her time hoarding items for future exhibits with BBHM$ collective, which she hopes will one day become a distribution source for other zines and artists. Queen for Dinner, Pygmy Hippo Shoppe, and the Los Angeles County Store are just a few of the shops that currently sell her work. On Etsy, you can find Hillburg under the name boytearsllc.
Hillburg has also begun designing knives for women: "I feel really strongly that all girls deserve to feel safe, so I wanted to make something tough, beautiful, and functional."
Her ultimate dream is that, after she's long gone, one of her pieces will end up on the PBS program Antiques Roadshow. Hillburg likes to imagine that "the appraiser has to explain to the little old lady that, before the Terminator Wars, there was this amazing place called L.A. that was chock-full of bad bitches."