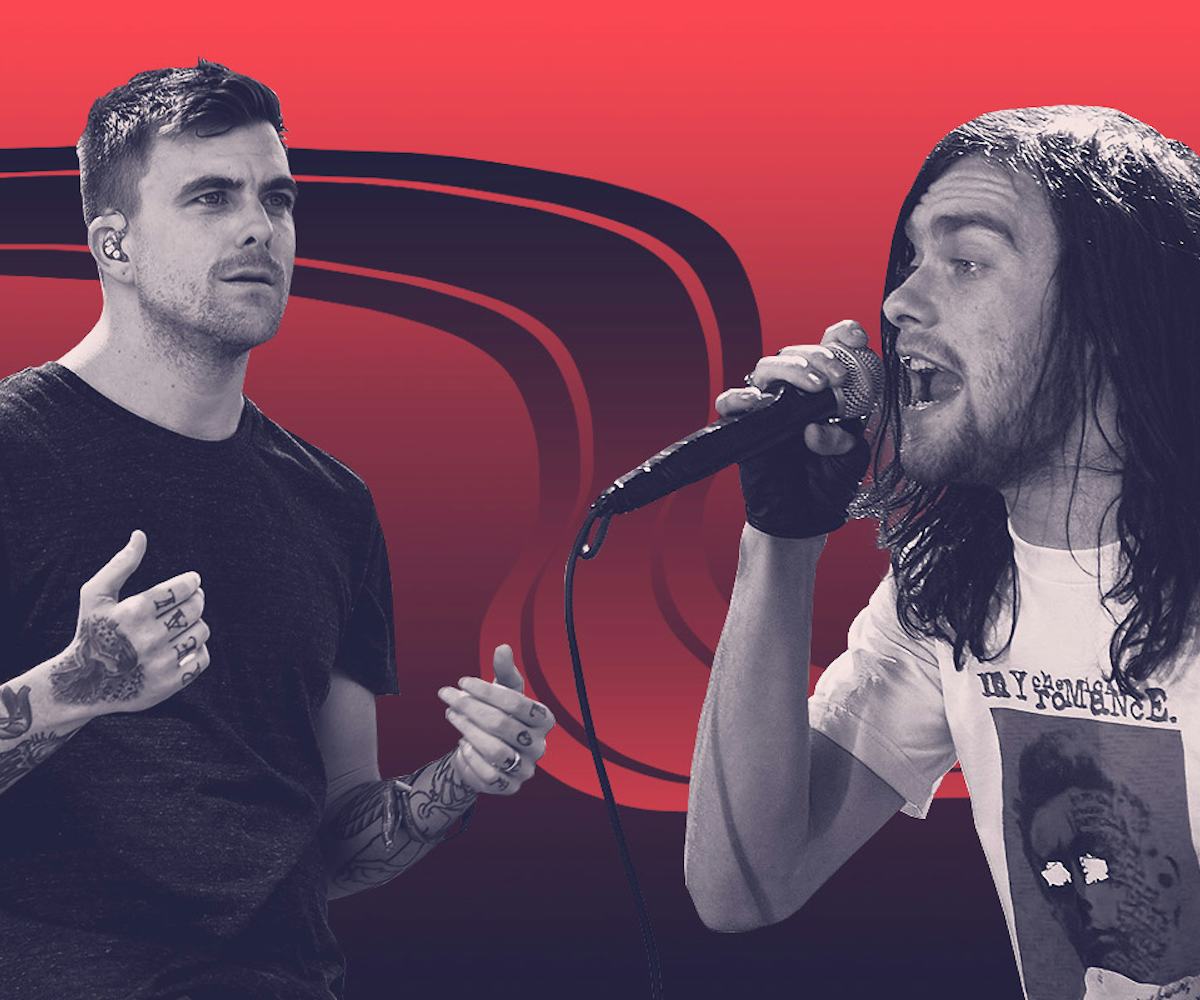 Photos by Kevin Winter/Getty Images & Scott Gries/Getty Images
Your Favorite Emo Artists Want To Talk About Mental Health
How The Used's Bert McCracken and Circa Survive's Anthony Green keep things in check
The emo icons of the 2000s are still here and still rocking, but instead of partying hard on their time off, they're... doing yoga and barre? Talented as ever, Bert McCracken of The Used and Anthony Green of Circa Survive will be playing for audiences across the country during the Rockstar Energy Drink DISRUPT Festival.
The Used and Circa Survive are two of the main headliners of the first DISRUPT Festival, which kicks off Friday, June 21, in Dallas, Texas, and ends July 28 in Albuquerque, New Mexico. The festival will also feature other longtime fan favorites Thrice and Sum 41, as well as bands slightly newer to the scene (but no stranger to the Warped Tour scene), like The Story So Far, Four Year Strong, and Sleeping With Sirens.
We caught up with McCracken and Green ahead of the festival to discuss what they're most excited for about DISRUPT, the resurgence of emo music, and keeping mental health in check while touring.
"There's been a lot of talk about what could maybe take the place of Warped Tour and replace that spirit and that energy, and I think this might be it—maybe even a stepped-up version of what Warped Tour was before," McCracken says of DISRUPT. "There are so many cool bands on it, and all of us know each other from so far back."
"That's my favorite thing about it so far—thinking about getting to see your friends that you don't get to see that often," Green adds. "When I watch my friends play that I admire, I'm inspired. It makes me want to play better. It's just going to be this ball of energy, everybody just feeding off each other."
With both bands' origins dating back to over 15 years ago, McCracken and Green share extreme gratitude that they still get to do what they love to do and that they get to be a part of this emo resurgence. Of the latter, McCracken says, "We all saw it coming. I think there's a moment now where people are ready for people to be honest again. Humans have an opportunity now to remember what it feels like to connect with other humans on this new level."
Green adds, "The way I was raised, it was very difficult to connect with my emotions. I was taught to shut my emotions down a lot and not connect with them. So to have this thing [emo music] to celebrate that's, like, you're feeling angry, you're feeling sad, you're feeling happy, and it's an overabundance of that, to me it's just... oh man. I feel so grateful for that. And that's part of our job... to give praise to our emotions, to our feelings. To say it's okay to have these feelings, and I love that."
The emo revival goes hand-in-hand with this point of time, when it's finally acceptable for us to be open about our mental health, to share the struggles we go through, and hopefully not be scrutinized harshly.
McCracken and Green have both been very open about their own mental health and addiction struggles in the past, and continue to be so. They share the importance of keeping their mental health in check, and how they plan to continue to do so while touring. Green says, "We talk about tour in the sense of, 'How do we keep our mental health and our physical health up so that we can do this and honor this job?'" The plan they have in place? The same simple advice endorsed by doctors everywhere, and now, emo musicians. As per McCracken: "I've found that the one thing that makes me feel better than anything else is—it's almost funny how obvious it is—eating healthy and doing a bit of exercise."
Green and McCracken both cite exercise as a healthy habit that helped them get over their bad ones. Green got into fitness as a means of dealing with his withdrawals when overcoming addiction, and then it became a regular part of his self-care rituals. "It became a thing where I felt good about myself afterward... and I hadn't felt good about myself in a real natural way [prior]." He adds, "You're in the moment when you're exercising, whether you're doing yoga or kickboxing. I did a barre class! It was so fun! You're focusing yourself in a positive way and trying to get your mind and body connected. Making time to do that for myself helps me."
McCracken adds, "I struggled with depression before I sunk deep into addiction and that's the one thing I found—if I'm working hard, if I'm sweating, I'm not depressed. It's almost magic."
"Music is one of those things that, like, whether someone's going through struggles with addiction or depression or whatever, it's always been that thing for people to go to to find unity or a community," Green says.
If you or anyone you know are feeling symptoms of depression or other mental illness, seek help from a mental health professional.