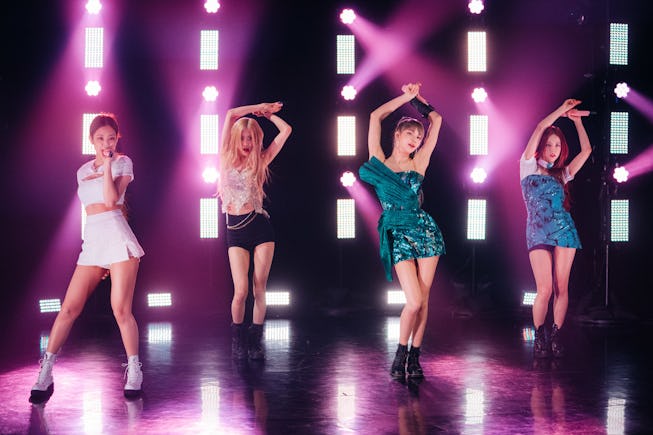 The Late Late Show with James Corden airing Thursday, April 18, 2019, with guests Lake Bell, Andrew Garfield, and musical guest Blackpink. Photo: Terence Patrick/CBS ©2019 CBS Broadcasting, Inc. All Rights Reserved
Blackpink, Lizzo & Jack Harlow To Perform At The VMAs
They join Nicki Minaj, Maneskin, Panic! At The Disco and more.
The VMAs are always a night to remember. From Britney Spears' snake-bearing "Slave 4 U" performance to Kanye West interrupting Taylor Swift's acceptance speech, Beyonce's first baby announcement, Lady Gaga's meat dress, and everything in between — the MTV-sponsored event never seems to disappoint.
This year, the iconic ceremony is returning to celebrate the best music videos of the year. The award show is currently in its planning stage, but event organizers are already promising "show-stopping surprises" and "epic performances." Look no further for everything you need to know about the 2022 VMAs, below:
Nicki Minaj will perform and receive the Vanguard Award.
Minaj will receive MTV's Michael Jackson Video Vanguard Award, and will perform at the VMAs for the first time since 2018. The 17-time nominated and 5-time winner took home her first VMA in 2011 for Best Hip Hop Video. This year, she's nominated for Best Hip Hop.
Typically, Vanguard Award winners perform a career-spanning medley of their biggest and most memorable hits. Recent winners have included Missy Elliott, Jennifer Lopez, Pink and Rihanna.
Who else will perform at the VMAs?
The VMAs performers were announced on Friday, August 5th and include: Panic! At The Disco, Anitta, Marshmello x Khalid and J Balvin.
Nine time VMA nominee Panic! At The Disco will be returning to the stage for the first time since 2018 and hoping to take home a win for "Alternative Video." NYLON cover star Anitta will make her VMAs debut to perform her latest single, "Envolver" (she's also the first Brazilian artist to be nominated for a VMA). Colombian superstar J Balvin will return for the world premiere of "Nivel de Perrero" with Ryan Castro. And Marshmello and Khalid will perform their new duet, "Numb."
When are the 2022 VMAs?
MTV's video music award show is set for Sunday, August 28th.
Where will the 2022 VMAs take place?
New Jersey's Prudential Center will host the ceremony this year. The large arena has plenty of space for celebrity performances, guest presenters, press, and of course, additional seating where fans can watch the night unfold.
Bruce Gillmer, the President of Music, Music Talent, Programming & Events at Paramount+ said, "We are thrilled to be back in New Jersey for this year's VMAs live from Prudential Center. Our 2019 show in Newark was undoubtedly one of our biggest and most successful shows yet and we're excited to bring back the incredible fan energy for one of music's most anticipated and iconic nights."
Jake Reynolds, the president of the Prudential Center, expressed his excitement to host the show in a separate statement. "We're extremely proud MTV has chosen Prudential Center to once again host its marquee showcase," he said. "Prudential Center has enjoyed our long-standing partnership with MTV which highlights our world-class venue as a must-play destination for acts of all genres. We could not be more excited to host one of the entertainment industry's most celebrated award shows and recognize the industry's brightest stars while adding to the rich history of music in New Jersey."
How do I watch the 2022 VMAs?
This year the award show will air live in more than 170 countries around the globe. Viewers at home can watch the event on Paramount+. As the date approaches, check with your streaming services to see if they have access to the awards show as well.
Who was nominated for a 2022 VMA?
Lil Nas X, Jack Harlow and Kendrick Lamar lead the nominees this year. For the full list of nominations, head here.