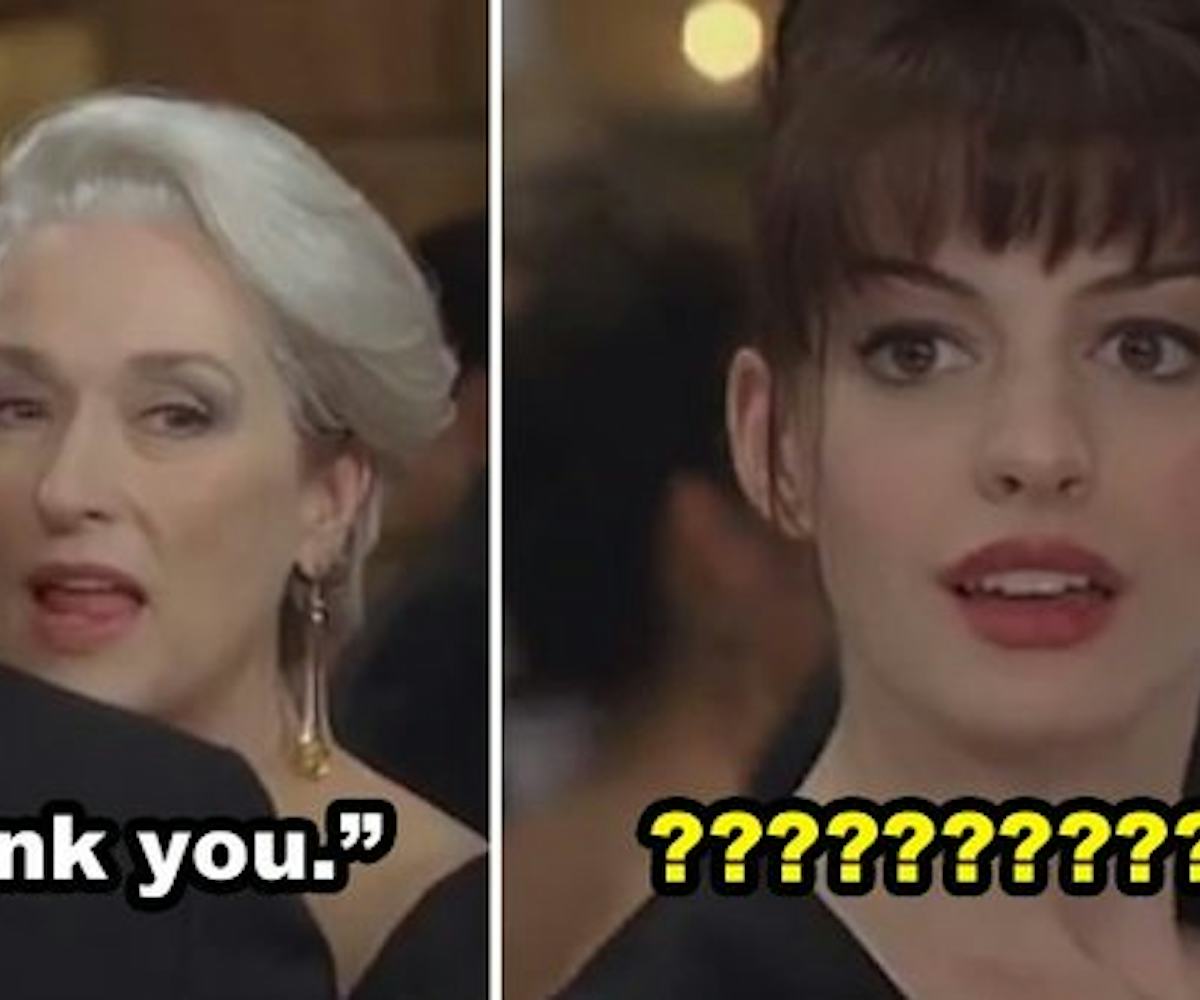 Photo via twitter.com/SpencerAlthouse
8@8: Your Morning Scoop
This deleted scene from 'The Devil Wears Prada' will ruin the whole movie for you
Today is...
National Food Bank Day!
News of the Day:
+ A deleted scene from The Devil Wears Prada will change the way you see Meryl Streep's character, Miranda Priestly, forever. The scene gained attention after BuzzFeed community manager Spencer Althouse tweeted a link which showcases a scene where Priestly graciously thanks Anne Hathaway's character, Andy, for swooping in and saving the day after an awkward encounter with her husband during a work event. Check out the clip, below, and decide for yourself if the film should have included it or not.
+ Just when we thought Charli XCX's "Boys" couldn't get any better, she goes and drops an acoustic cover perfect for all those chill nights in. Stream the stripped-down version of the original bubbly track, below.
+ Healthy (well, healthier) Cheetos, Doritos, Ruffles, and more could be heading your way soon. According to Food & Wine, Frito-Lay will soon be introducing its Simply line to Whole Foods, which is made of all-natural ingredients. The new line won't be enough to replace a serving of veggies, but it will result in healthier chip consumption.
+ Wildfang just announced a new Wild Feminist line. The collection includes The Wild Feminist Floral Tee, The Wild Feminist Floral Patch Bomber, and a versatile and cozy gray crew-neck sweatshirt adorned with the Wild Feminist patch. Last year, the company gave back $25,000 from sales to charity. This year's collection ranges from $40 to $98. Get your hands on it here. 
+ If you didn't score tickets to this year's Made In America festival, don't worry, because TIDAL will be livestreaming star-studded performances from Jay Z, J.Cole, Solange, Migos, Kaskade, and more all weekend long! The livestream begins at 1:30pm EST on Saturday and Sunday. Stream the festival here.
Deal of the Day:
If you were looking to get your hands on some new lingerie, look no further than The Great Eros, whose online store just launched today! Shop Brooklyn, New York-based brand's minimal lingerie, clothing, fragrance, fine jewelry, art, and literature here.  
Advice of the Day: 
"Let's practice motivation and love, not discrimination and hate." — Zendaya 
Gif of the Day: