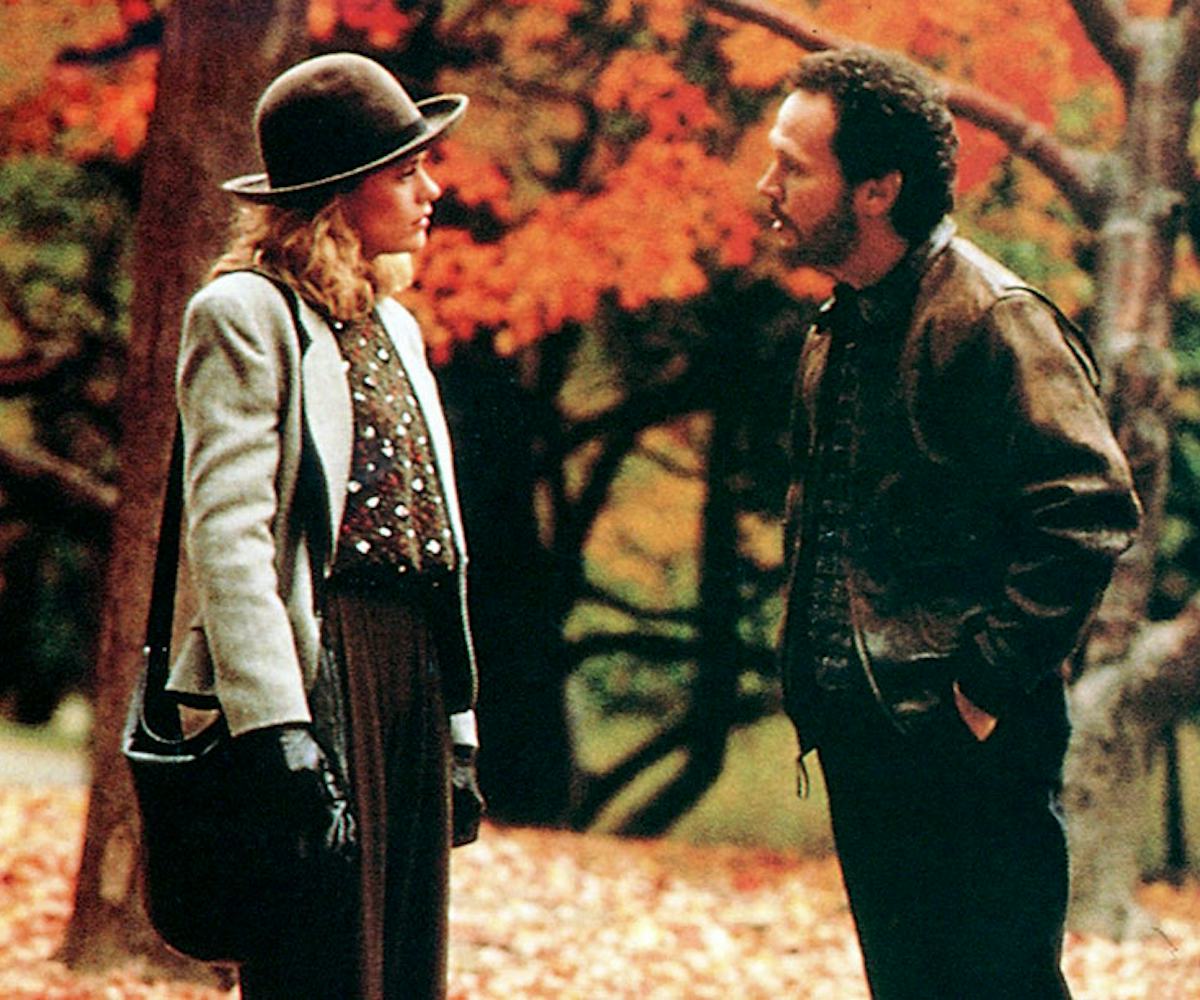 Photo via Castle Rock Entertainment
8 of the most romantic fall movies
leaves fall, love blossoms
When it comes to relationships, fall can be a perfect time for transition. You may wonder: Does this summer fling have potential for true romance, or is it time to move on to something real? Can this relationship sustain the chill of winter, or is it time to trade in for something new? As temperatures dip and the sun begins to hide earlier each day, we long for someone to cozy up with before hibernating in the coming months. Of course, one of the greatest pleasures is curling up with that someone and enjoying a good movie, but if you're single, it can also be a time to reflect and indulge in the fantasy of your favorite love stories.
From autumnal Woody Allen dramas to Nora Ephron romantic comedies, there are so many great sentimental and lovelorn films that pair perfectly with the season. Click through and check out eight of our favorite romantic fall films.
When Harry Met Sally
Deconstructing the age-old question of whether men and women can really just be friends, Rob Reiner's When Harry Met Sally continues to be one of the most influential movies of the last 30 years. Kicking off Meg Ryan's '90s status as the go-to rom-com female lead, the film follows her, alongside Billy Crystal, as two friends who come in and out of each other's lives over the course of a decade. Throughout their respective relationships and romantic woes, the two become platonic companions, before eventually realizing they're the love of each other's lives. Giving in to the ultimate fantasy of finding love right under your nose, When Harry Met Sally makes you want to look around and see if your own soulmate might just be closer than you think.
Hannah and Her Sisters
For all of Woody Allen's classic New York movies, Hannah and Her Sisters might just be his most tender. With an all-star cast including Michael Caine, Barbara Hershey, Mia Farrow, Dianne Wiest, Allen himself, and Max von Sydow, the relationship drama centers on the intertwined love lives of three sisters: Hannah (Farrow), Lee (Hershey), and Holly (Weist). Elliot (Caine) and Hannah are married, but Elliot begins to unravel as he falls helplessly in love with her sister, Lee, who's in her own pained partnership with Frederick (von Sydow). Meanwhile, Hannah's ex-husband Mickey (Allen), reconnects with a past enemy, Hannah's other sister Holly, and the two realize their latent love for one another. By far Allen's best film of the 1980s, Hannah and Her Sisters is rich with human insight and delicate reminders of the startling truth that the love that finds us is not always the love we seek.
Eternal Sunshine of the Spotless Mind
When in the emotional trenches of a breakup, everyone fantasizes about what it would be like to wake up without the memory of the one we love (or onc loved), and without the pain of knowing they're no longer in our lives. But that's where Michel Gondry's Kate Winslet and Jim Carrey-led Eternal Sunshine of the Spotless Mind steps in—to remind us that perhaps those memories are worth savoring, and that love can transcend the traps our minds set for us. Eternal Sunshine charts the past and present relationship of a lonesome introvert and a plucky, restless woman who've had the memory of one another erased, but fortuitously find each other again. Cutting back and forth between their intimate collections and their present struggles, we're given a fantastical and heartbreaking examination of fragmented moments that make up the people that never truly leave us.
Wings of Desire
Director Wim Wenders spent the better half of the 1980s attempting to translate the complexities of love onto the screen, exploring the division between men and women and the pleasure we all one day hope to find. Following up his first masterpiece, Paris, Texas, Wenders' next poetic endeavor, Wings of Desire, acts as a stunning meditation on love, fear, loneliness, and yearning, told through the eyes of an angel living in Berlin. Able to hear the thoughts and passions of those around him, he falls in love with a romantic trapeze artist and is forced to choose between his desire for her and his immortality. One of the most extraordinary and profound films of the last century, Wings of Desire never fails to make your heart ache for a life-altering romance of your own.
Laurence Anyways
As Xavier Dolan's most ambitious and emotionally epic film to date, Laurence Anyways will break your heart a thousand times over. Following the decade-spanning love story between a man transitioning into a woman and his female partner, the film covers the harrowing and heartbreaking ways in which the two become pulled apart and thrown back together again over the course of ten years. Starring the sensational Melvil Poupaud and Suzanne Clément, the film examines both the judging eye the two lovers feel from society, as well as the painful questions that rest between them. And as Dolan's films are wont to be, Laurence Anyways' heightened sense of emotion and passion is echoed in his stunning eye for production design and the aesthetic sensibility of the world on screen.
You've Got Mail
In today's dating world of dating apps and instant hook ups, there's something quaint and nostalgic about the genuine friendship that slowly builds to romance in Nora Ephron's You've Got Mail. Starring peak adorable Meg Ryan and Tom Hanks, the 1998 online romance centers on what happens when two people in loveless relationships meet on the Internet and spark up an intimate rapport. The anonymity of the pre-millennium AOL world allows them to hide behind their screen names and carry on blissfully unaware that they're the owners of rival book businesses—hers a familial labor of love and his a money-hungry corporation. Their individual relationships fall apart, seasons change, and eventually the identities of ShopGirl and NY152 are revealed, and love blossoms for the two lonely hearts.
Good Will Hunting
Set in the foliage-filled New England fall, the Matt Damon and Ben Affleck-penned Good Will Hunting is a seasonal staple that never gets old. Starring Damon as Will, a self-taught genius who solves advanced mathematical equations in his off-time as a janitor at MIT, Good Will Hunting isn't a conventional love story, but through its portrait of one young man's struggle to accept his past and emotionally mature, we're given a wealth of insight into the matters of the heart. After being court-ordered to see a therapist (played by Robin Williams), Will also begins dating Skylar (Minnie Driver), a British medical student at Harvard. As more issues with his past begin to surface and the present pressure to put his intelligence to use begins to mount, he lets his fear get in the way and throws away what might be the best opportunities of his life and the woman who loves him no matter where he comes from.
Harold and Maude
Hal Ashby's strange and wonderful May-December romance has been a cult classic since its debut in 1971. Starring Bud Cort and Ruth Gordon, the film focuses on the relationship between its title characters, a morose young man living with his wealthy mother, and an extraordinary 79-year-old woman. Plagued by his boredom with the living and his unhealthy fascination with death, the dark comedy picks up when Harold meets Maude at a funeral and the two strike up an unlikely friendship. And once that friendship turns to romance, Harold begins to understand what it's like to really be alive and see the beauty lurking behind his pessimistic view of the world. She turns him onto her whimsical outlook, but soon reveals that she herself may not be long for this earth. Harold and Maude warms the soul and makes us yearn for a connection that will shake us from our selves and allow us to be free.