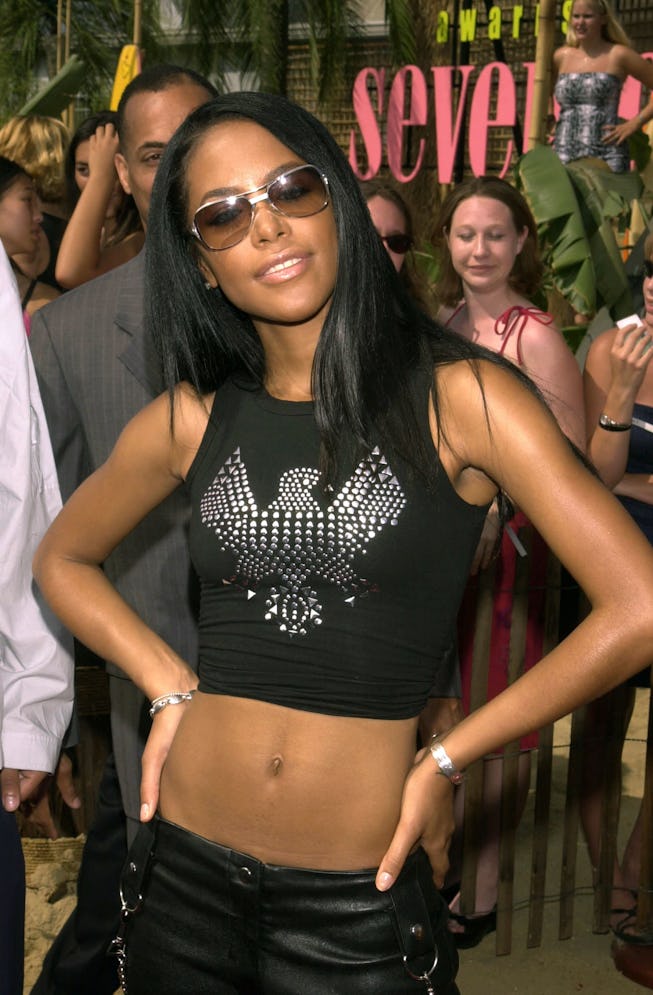 Frank Trapper/Corbis Entertainment/Getty Images
R. Kelly Forced Aaliyah to Sign NDA Following their Marriage Annulment
Haunting revelations from the new R. Kelly docuseries shed light on his illegal marriage to the late singer.
Surviving R. Kelly, the Lifetime docuseries that premiered four years ago, aired its final two segments on January 2 and 3, unveiling new and disturbing details about the singer's relationship with Aaliyah when she was a teenager.
It was revealed that Jane Doe #1 in the 2022 R. Kelly trial was actually Aaliyah, the late singer who married Kelly when she was just 15 years old in 1994. It was previously reported that Aaliyah had to sign an NDA following the marriage, but it wasn't a revelation that received widespread coverage. The docuseries interviews many of the people who were there at the time, though Aaliyah's family declined to be interviewed.
Kelly was 27 when the two tied the knot; on the marriage certificate, Aaliyah's age was falsified to be 18 years old. The marriage was annulled by her parents in 1995. This was all after Kelly produced and wrote Aaliyah's debut "Age Ain't Nothing But A Number."
"We have had a lot of conversations about how to tell Aaliyah's story every time because we really want to be respectful of her legacy," executive producer Jesse Daniels told Variety, adding that the team hoped to highlight the abuse she endured. "But what she went through, we can't turn our backs on."
Many of the revelations come from first-hand accounts from the people who were there.
"Her dad didn't want her anywhere near him," R. Kelly's childhood friend and former security guard Gem Pratt says in the docuseries, of Aaliyah's father. Pratt also said that Aaliyah's family had a contractual arrangement with R. Kelly that stated they wouldn't press charges against him for the illegal marriage if Kelly sold them the rights to his first three albums. Others said the marriage was a way for Kelly to avoid jail time for statutory rape of a minor.
The docuseries also interviewed Jim DeRogatis, the journalist who first uncovered the NDA.
"It's a harrowing document," he said. "A non-disclosure agreement on both her part and Kelly's, vowing not to pursue further legal claims for physical abuse. So, it wasn't just an underage sexual relationship, he hit her, allegedly, according to that court document."
You can watch the trailer for the final two segments of Surviving R. Kelly, below.