AG Club Is L.A.'s Next Big Music Collective
Whether through music, videography, viral social media moments, or design projects, the group's sheer exuberance and passion for their craft is palpable.
Photographs by Juan Veloz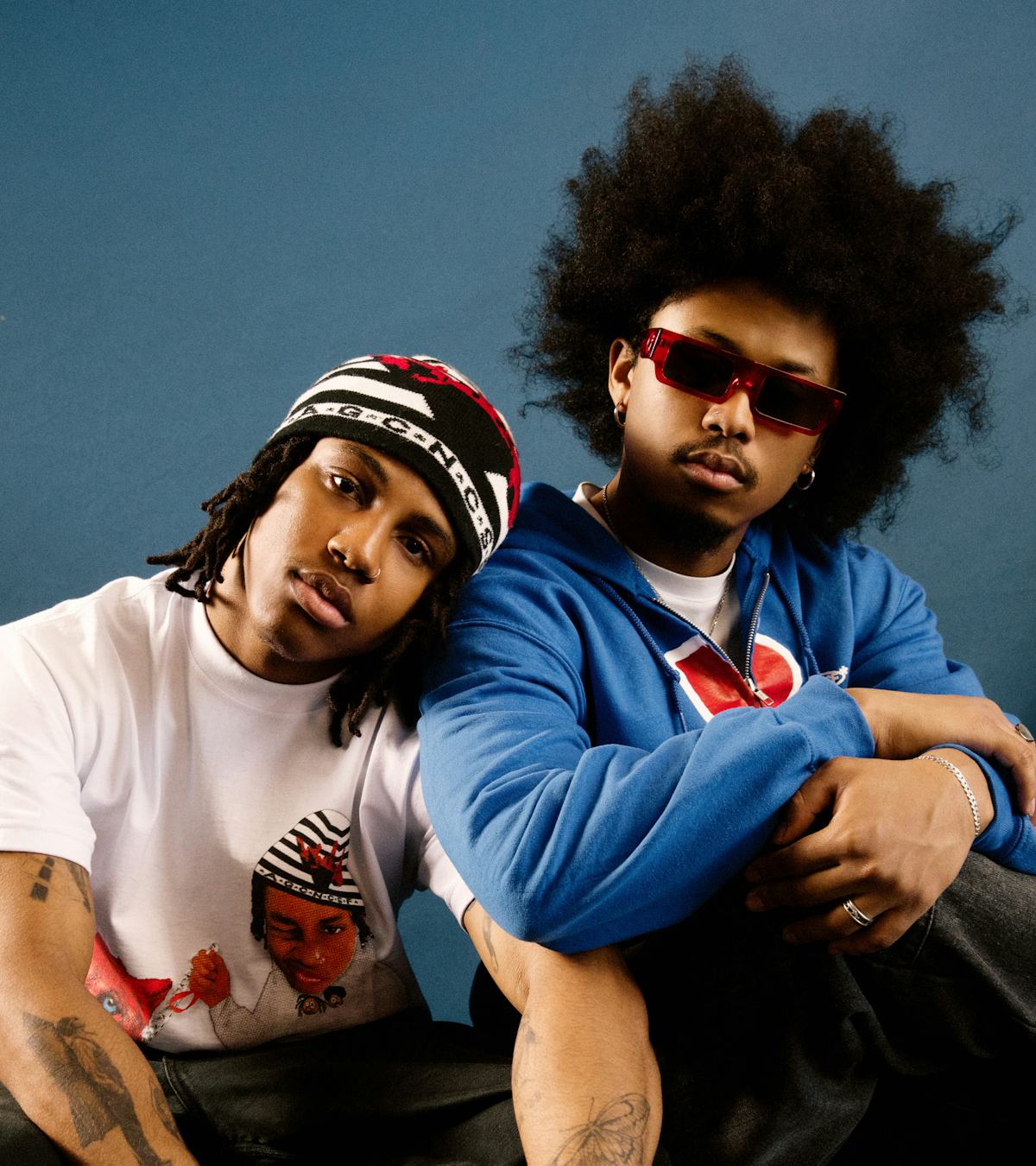 When I hop on a call with AG Club's Baby Boy one recent afternoon, he casually mentions he's been working out at the gym to Adele.
"I've been listening to sad-ass music because I'm going through it right now; I don't know why," he explains, speaking from a used car dealership in Los Angeles. He totaled his car not long ago — he assures me he's "all good" — and is now hunting for a replacement.
"Everything Adele makes is f*cking amazing," he continues, gushing about the British megastar. He admits it's not your conventional exercise soundtrack, "but she talks about some things that really let me do my last two reps. I don't know, it's weird."
For a group that routinely calls themselves "genreless" in interviews, the members of AG Club — or Avant Garde Club — may actually live up to that Gen Z-favored label. Over the last several years, the LA-based music collective has courted millions of listeners through several viral hits, including 2020's YouTube breakout "Memphis," a twinkly schoolyard chant — and its NLE Choppa and A$AP Ferg-featuring follow-up, "Memphis 2." AG Club has supplemented that with a grab bag of sounds that warps what a layman would consider to be hip-hop into bright new shapes. They rap over iridescent trap beats, but they also sing over lazy guitar, woozy lo-fi rhythms, and hazy undefined melodies. There's liberal use of voice memos, spoken interludes, and out-of-the-box cinematic sound mixing — like one wacky track that acts out what it might sound like if Zane Lowe were abducted by aliens. Open the AG Club door, and you'll find an accurate approximation of what you would get sticking a bunch of creative wunderkinds in a classroom together after school.
"We're trying to stretch ourselves as thinly as possible just to see, throwing darts at the board and seeing where we want to land with our sound," says Baby Boy about the group's chameleonic sonic universe. Come April, that dart-throwing will land them on one of the biggest stages in the country: at Coachella, as they make their festival debut.
AG Club is a collective — of videographers, clothing designers, graphic designers, and more — with as many as 14 people cited as official members at one point or another. But membership is loose and largely dependent on helping in any capacity with the brand, and if they happen to swing by their shared LA house, where they watch movies like Portrait of a Lady On Fire, eat, sleep, and create. "Everybody's in the club; that's what we like to say," says Baby Boy.
This Scooby-Doo-like setup has yielded them tons of comparisons to the sprawling, eclectic collectives of Brockhampton and Odd Future. But AG Club is a bit different: When it comes to the music, it's just Baby Boy, real name Johan, and Jody Fontaine, aged 22 and 25, respectively, who are at the helm.
The two friends grew up in different cities in the Bay Area and first met at church after seeing one another on social media. Then, in 2017, a mutual friend suggested they all have a studio session. "We made three or four songs that day, and we just knew from the jump, 'OK, we got to make this a thing, we have to do this for real,'" Baby Boy says. "That was the birth of AG Club, essentially."
Fast-forward six years and AG Club has made prolific progress. They've released four full albums, scored multiple hits, and opened for Pusha T on tour. They've also crafted a dense, visual lore with their music videos; their action-packed 2021 visual for "COLUMBIA" shows the gaggle of teens stumbling upon a crash-landed alien that they quickly befriend and, later, have to rescue from Men in Black agents.
"[Music videos are] another thing that we really like to go crazy with, because that's literally the lens that people have to see where we're at," Baby Boy says. "When we first started the AG Club, we really tried to get that going crazy. And that's how 'Memphis' came about because we [thought], we might as well just shoot the song that we have, get it out to the world, and see what happens."
That may as well be the unofficial motto of AG Club. These days, they're shooting content constantly, and whether it's planned or unplanned, their sheer exuberance and passion for the craft is palpable. Their on-the-fly, spontaneous demeanor is a large part of how they're connecting with their audience largely via YouTube and Instagram and sold-out shows along the West Coast. And if that dynamic has people considering them the second-coming of Odd Future, Baby Boy welcomes it: "I love the comparisons because those are the people that we looked up to; we listened to them when we were kids."
In just a few days, the group will finally get to meet one of AG Club's biggest, original heroes: Frank Ocean, former member of Odd Future who's headlining Sunday night of the festival. "I can't even begin to express how life-changing that's going to be," Baby Boy says with a note of reverence in his voice. "It's going to be one of those moments for sure. Full circle."
Photographs by Juan Veloz
Set Designer: Carlos Lopez
Talent Bookings: Special Projects
Video Director: Kyle Hartman
Photo Director: Alex Pollack
SVP Fashion: Tiffany Reid
SVP Creative: Karen Hibbert