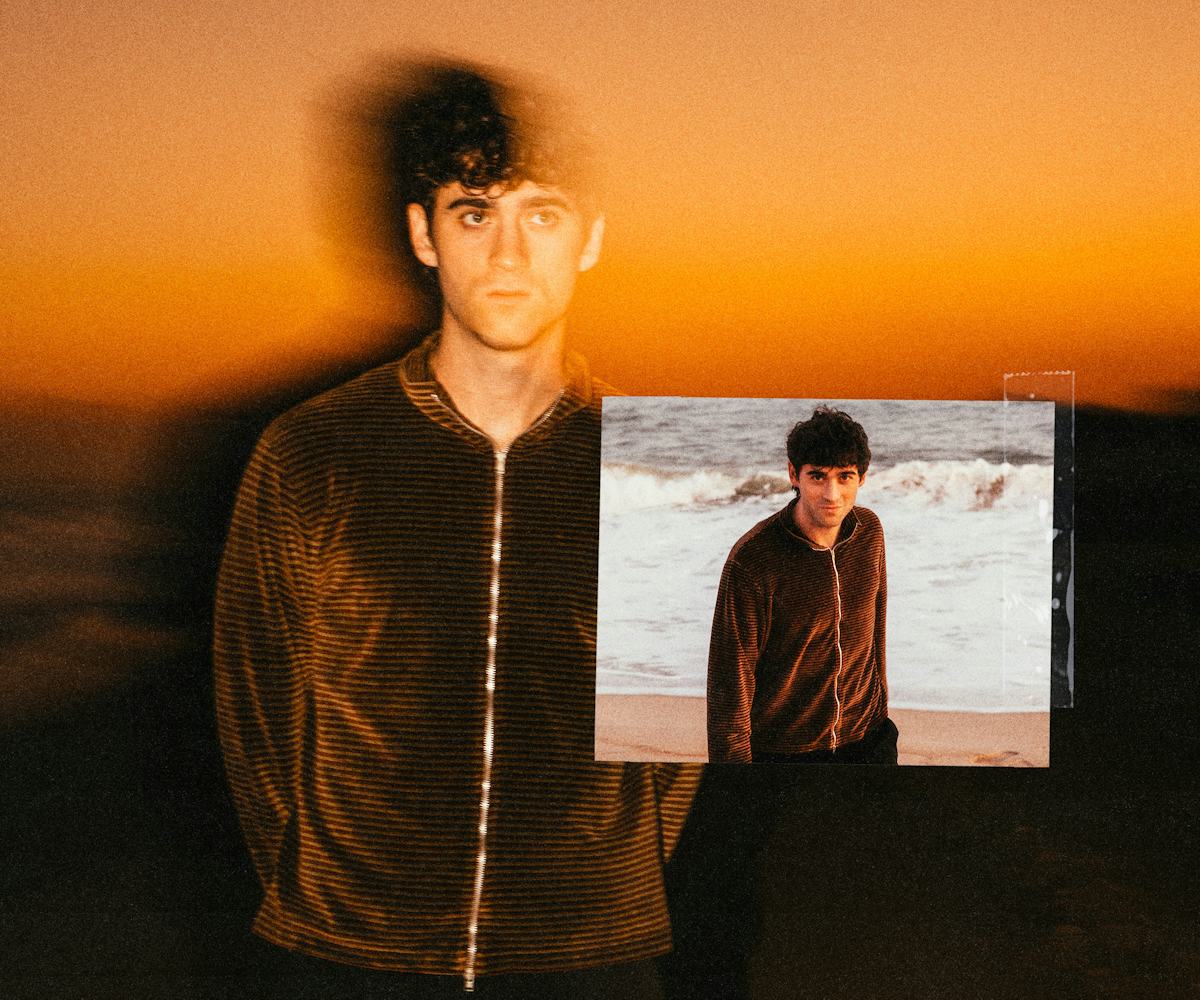 Nylon; Hunter Moreno
How Alexander 23 Won The Hearts Of Gen Z's Premiere Pop Girls
The pop producer and songwriter is the secret weapon to stars like Reneé Rapp and Olivia Rodrigo. Now, he's ready to find his own voice.
Alexander 23 is surprised that the cashier at La Bonbonniere remembers him. He used to live four blocks away from the Manhattan diner and institution, and even had a first date with an ex-girlfriend here. They became regulars, and he never had to order. The staff saw him and knew: corned beef hash, sunny-side-up eggs, rice, and beans. Although he moved to Los Angeles in 2018, he's returned to La Bonbonniere for lunch on this crisp and sunny Monday afternoon, eight hours before taking the Terminal 5 stage as the opener of Reneé Rapp's Snow Hard Feelings Tour in support of Rapp's stellar debut album, Snow Angel, on which Alexander 23 was the primary producer and co-songwriter. Sure, this afternoon he had to order but the cashier still remembered him — a friendly face, after all these years. "I just try to be a nice, welcoming person," says the 28-year-old pop producer, singer, and songwriter born Alexander Glantz, shrugging.
Over the past few years, Alexander 23's warm demeanor has won more than the hearts of NYC cashiers. He's also won over Gen Z's premiere pop girlies as the trusted collaborator and right-hand man to stars like Rapp, Olivia Rodrigo, Addison Rae, Chelsea Cutler, and Tate McRae. Later that night, at Terminal 5, when Alexander 23 closes his set with his 2020 platinum-certified song, "IDK You Yet," singing, "They're selling me for parts/ And I don't wanna be modern art/ But I only got half a heart/ To give to you," it strikes me as an unintentional fib. Because Alexander 23 has given his whole heart, and every part of himself, to the art of creating visceral pop songs.
"I'm a big believer that a great song changes your life," he says back at La Bonbonniere. "In a session, I'm always pushing for something great, and sometimes that comes at the expense of getting nothing, but I'd much rather be in pursuit of something that could change our lives. Whatever the most romantic path is, that's the right path to take because you have to feel like it matters."
Alexander 23 has been a relentless romantic for his entire life. Or, at least since he was 10, when the Chicago Bears Hall Of Fame linebacker Brian Urlacher unexpectedly dropped in on his family's Thanksgiving. "I got to watch football with him!" he remembers, still giddy about the memory nearly two decades later. "I was like, He's saying things as fact that I've only said as rumor or fiction about people I idolize." He catches himself, and pauses. "Maybe that's how people feel when they talk to me about the artists I work with."
He's not wrong. There is a larger-than-life quality to his musical orbit. Over the phone, Rapp calls her bond with Alexander 23 "one of the most important relationships in my life right now." "The whole album wouldn't exist without him," she says of Snow Angel. "The nature of the jobs we've chosen, we're subjecting ourselves to constant judgment, so I really value people who respect me enough to tell me no but also respect me enough to listen to me. He was the first person who really cared about what I had to say."
Tate McRae expresses the same sentiment over email a few days later. Alexander 23 co-produced and co-wrote "boy x" and "what would you do?" — songs from McRae's 2022 debut album, i used to think i could fly. The 20-year-old loved the experience, calling him "one of my close friends [who] is so unbelievably talented," she says. "Since he's both an artist himself and a wiz of a producer, he has such a unique perspective that I value."
The most meaningful words of praise come from his first-ever fan and sister Olivia Glantz, who looked up to her brother before anyone else. At Terminal 5, Olivia joins their grandparents to watch Alexander, a lifelong ritual. "Every time he performs, I get the same feeling that I did when I was 8 years old watching him," she says. "I could have been in elementary school watching him in his middle school talent show, and to me, that was the coolest thing in the world. It hasn't changed."
Alexander 23 goes by Alexander 23 because he was born on Jan. 23 and grew up in Deerfield, Illinois, as a devotee of Michael Jordan, who made the No. 23 famous. Jordan's mansion with "23"-branded iron gates was an eight-minute drive from the Glantzes, and as a preteen Alexander often ran basketball drills alone in his driveway hoping MJ would drive by and notice him.
Inspired by his father who liked to play the guitar, Alexander 23 picked up the instrument at 8 years old. He soon started his first band with his friends and kept playing in bands throughout his adolescence, but music didn't dethrone his passion for basketball until high school, when he realized he would never make it to the NBA. "I had to sit myself down and ask, 'What is it going to take for me to feel fulfilled?'" he recalls. "Music was what it was going to take, for better or worse."
At the University of Pennsylvania, Alexander briefly studied engineering and joined a band called The Heydaze, though they broke up by late 2017. He continued to write and produce for other people with the goal of making "enough money to finance my own artist project." By 2019, Alexander 23 released his debut EP, I'm Sorry I Love You, and quickly followed that up with his second EP, Oh No, Not Again!, in 2021. That same year, he helped produce "good 4 u" for Olivia Rodrigo's record-breaking debut album SOUR alongside their mutual friend Dan Nigro. (They developed such a strong friendship that Nigro later asked Alexander to co-produce "get him back!" for GUTS.)
To repay the favor, Rodrigo helped write "Hate Me If It Helps," an earnest yet scathing track from Alexander 23's 2022 debut album, Aftershock, also co-produced by Nigro. It capped a banner year for the then-emerging singer and songwriter who'd just opened on John Mayer's Sob Rock Tour, a stint that, to him, felt like finally getting noticed by Michael Jordan.
"In a session, I'm always pushing for something great, and sometimes that comes at the expense of getting nothing, but I'd much rather be in pursuit of something that could change our lives."
Alexander credits his sister for helping him foster some of his most cherished collaborative relationships. "All of these artists I'm working with, she knew about them before me," he says. "She knew Tate from [So You Think You Can Dance]. She knew Reneé from Mean Girls. Before [Rodrigo] was even signed, one of my really good friends played me the very first demos of 'drivers license' and 'deja vu,' and I was like, 'What is this? Who made this?' I didn't know who Olivia was, but I called my sister, and she was like, 'Oh, my God. I love her.'"
One could say it's his close relationship with his sister that's a large part of why so many of Gen Z's young female pop stars gravitate to working with him. He likens collaborating with McRae, Rapp, and Rodrigo to "going to school for how to be an older brother." "[My relationship with my sister] taught me how to hear [women] in a way that let them know I was actually listening," he says. Put simply, Alexander takes them seriously.
During his second studio session with Rapp, which took place the day before her 23rd birthday, they wrote "23," a reflective ballad. "I remember being in that session thinking, I can't let this happen. I can't be part of a song called '23,'" he recalls. "But I've learned not to get in my own way." By following Rapp's lead, Alexander empowered her to lay all of her vulnerabilities bare.
"Just by nature of meeting any guy in general, but also male producers, sometimes, I feel like they don't listen to me in the way that I would like to be listened to," Rapp says. "[Alexander's] willingness to listen, to help, and to be there for me regardless of whether we got a good song [is why] I think we're bonded for life."
At Terminal 5, that bond reveals itself during "I Wish," a song they wrote together during "stolen nights away in the studio" while Rapp was filming Mean Girls. When they performed the acoustic track during a previous show at The Greek Theatre in Los Angeles, Alexander, who never cries, teared up. Tonight, he isn't as outwardly emotional but so much is unspoken between them now. He walks out on stage with a plastic plant for Rapp — he brings her a random object every night, one of their many inside jokes — and strums his guitar while Rapp sings about watching her father grieve his father. "It sounds cliche, but I mean it," says Alexander 23. "When you have success with your friends, it's unparalleled."
Alexander 23 hopes to have a life littered with what he calls "movie moments," like touring with Rapp, FaceTiming with Nigro and Rodrigo when "good 4 u" hit No. 1, and playing guitar on the bench outside his old house with McRae to workshop what became "boy x." "How do I find those moments?" he wonders aloud. "The truth is, I guess, they find you."
Five days after the Snow Hard Feelings Tour ends, he calls in from the Hamptons where he's decompressing and starting work on his sophomore album. "I think one more day of that tour would've ended me," he says. But it also opened his eyes to the endless possibilities awaiting him.
"I could see a whole album that I worked religiously on for six months straight, played every single night to people who scream every single word," he says. "It reinvigorated my desire for that being my reality as an artist as well." After giving so much of himself to others, he's now planning to go away and focus on what he has to say. And when he returns, like the La Bonbonniere cashier, his friends will welcome him with open arms.