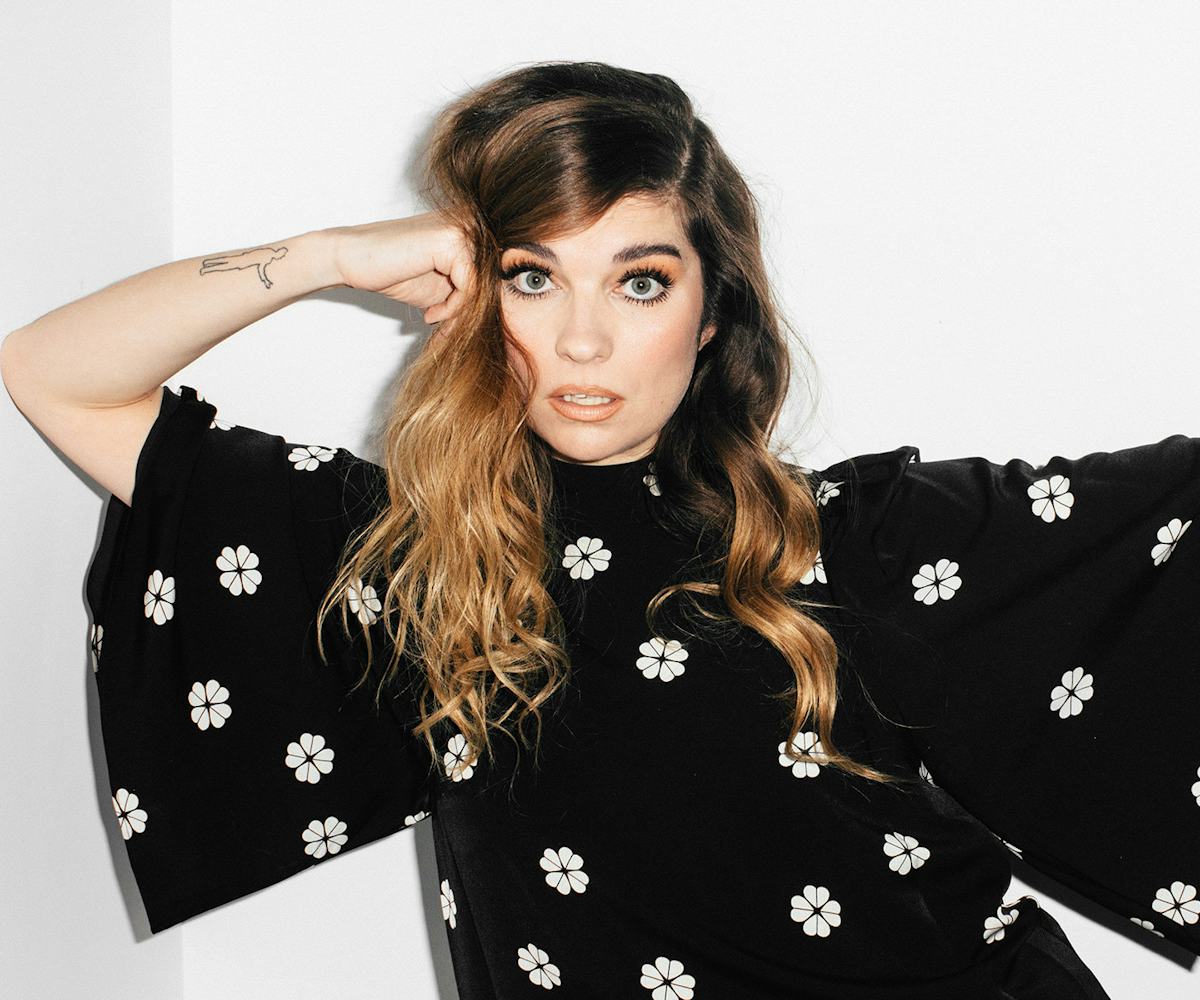 Photo by Ben Ritter
Annie Murphy Leaves the Creek
The actress behind Schitt's Creek's lovable Alexis Rose opens up about saying goodbye
Two days before the 2020 SAG Awards — for which she's nominated as part of the Best Ensemble In a Comedy Series with the cast of Schitt's Creek — Annie Murphy doesn't have a dress. "Not quite," she clarifies. "I saw a picture of something I love, and it's just a matter of whether I can pull it off."
It's all very anti-Alexis Rose, who can certainly pull off any dress she so pleases (or, at least, has the overconfidence to think she can) and, after all, is the only daughter of Moira "What Is Your Favorite Season? Awards." Rose. By now, plenty has been said about how Murphy, the 33-year-old actress who portrays the rich girl-out-of-water, is nothing like Alexis in real life. But if you look closely, a few similarities are still there.
For one, there's — obviously — the physical likeness. Murphy arrives for her NYLON shoot dressed in a printed black mini-dress and Brigitte Bardot-esque makeup, her green eyes made even brighter by a heavy layer of liner. She has the same drawl to her voice, which speeds up when she's excited. Then there's the endearing aspect of Alexis, where you can't help but be charmed by her inherent empathy. That part is all Murphy.
After six seasons of playing the beloved character, it would be nearly impossible not to have some lines be blurred, which is made easier by the fact that over the past half a decade, the character of Alexis has evolved from Paris Hilton Lite to a full-fledged fan favorite. "She was goddamn nightmare," Murphy says. "On paper, Alexis was borderline unlikeable, so deeply selfish and self-absorbed. Flighty, ditzy, socialite, very superficial. But, at the very end of the character breakdown, it said: 'She's a young Goldie Hawn.' To me, a young Goldie Hawn is fun and frivolous, giggly, light and bright and ethereal, but she's also smart and charming and good. And kind."
"Kind" isn't perhaps the first word to come to mind when we first met Alexis, but over the course of the show's arc, we've seen her grow well beyond what could have been a shallow caricature of a rich girl. In the show's final season, currently airing on POPTV, we see her grappling with a long-distance relationship with the lovable local veterinarian, Ted, and find her place in wedding planning for her brother, David, played by show co-creator Dan Levy. "It was really really important to me to play Alexis as a human being who has many different sides to her personality," Murphy explains. "She grew up in this superficial world depending on boys and money and inanimate objects. You take her out of that and put her into Schitt's Creek, and she's able to shed those superficial layers and start growing the parts that were there all along but she didn't have access to. It turns out that she is kind and selfish but also selfless. She is smart, she is driven and she is independent. I'm so grateful to the writers for [creating] such an awesome arc for a female character."
The show will come to a conclusion in April, and Murphy, who wrapped the series back in June, is feeling content with the end of Alexis's journey. "It didn't end how I expected it to, but it ended how it should end," she says. "I'm really excited to see what people think."
Like Alexis, Schitt's Creek has had an interesting journey of its own, starting as a little-known Canadian show in 2015, and eventually blossoming into a critical and Internet darling. "Canada kind of embraced us right out of the gate," Murphy, an Ottawa native, notes. "We had to really come knocking in the States, and then when we got added to Netflix it was great… None of us knew that it would be what it is. I think so much of it is timing. I think this show came along just as the world really started to burn, politically and literally. People needed a safe, happy, joyful, accepting, loving place to go. And the show was like 'Hi, welcome, come on over.' I really think that's why it took off. I really do. This show is so special, and the cast is so talented. But I think, had things gone differently a few years ago, it wouldn't be the phenomenon that it is."
Expectedly, when Levy announced it's sixth season would be the show's last, fans were heartbroken — and they weren't alone. "That last day on set was very wet with tears," Murphy says. "And much to Dan's great pleasure, because leading up to it, I was shockingly stoic in front of everybody. I had my moments, in the privacy of my own closet, or bathtub, but my last scene was my last scene in the show. It was with the fam, and it was...Dan got what he was looking for. I was a real disgusting swamp monster."
Rest assured, like the characters, the cast themselves had a proper send-off: a karaoke party unofficially catered by McDonald's. The song? "Any time that the Backstreet Boys come on, I'm up there, whether or not it's my song. I can do 'Super Bass' by Nicki Minaj, but I've never been able to slay it with a few drinks in me. It's a mouthful, so it gets very complicated."
This tidbit certainly begs the question, especially after Murphy notes that she kept a certain purple velvet minidress from set: Did anyone break out the seminal hit "A Little Bit Alexis," as first seen in season five and forevermore cherished on YouTube? "I don't think it's [available] on karaoke," Murphy says — but she does have one very Alexis Rose-esque related story to tell.
"I was in New York a few weeks ago, and I was meeting a friend at a drag bar," she begins. "One of the queens came over to me, and she said, 'Just so you know, 'A Little Bit Alexis' is in my set, and I'm not gonna not do it, but I just wanted to let you know in case you wanted to leave.' So, she started doing and the whole drag club is dancing, and just then, my friend that I was meeting walks in. I was like, 'I swear to God, I did not slip anyone any money. This just happened.' And it was fantastic. Much better than the original."
Photographs by Ben Ritter; hair by Ana Sorys; makeup by Lucky B.