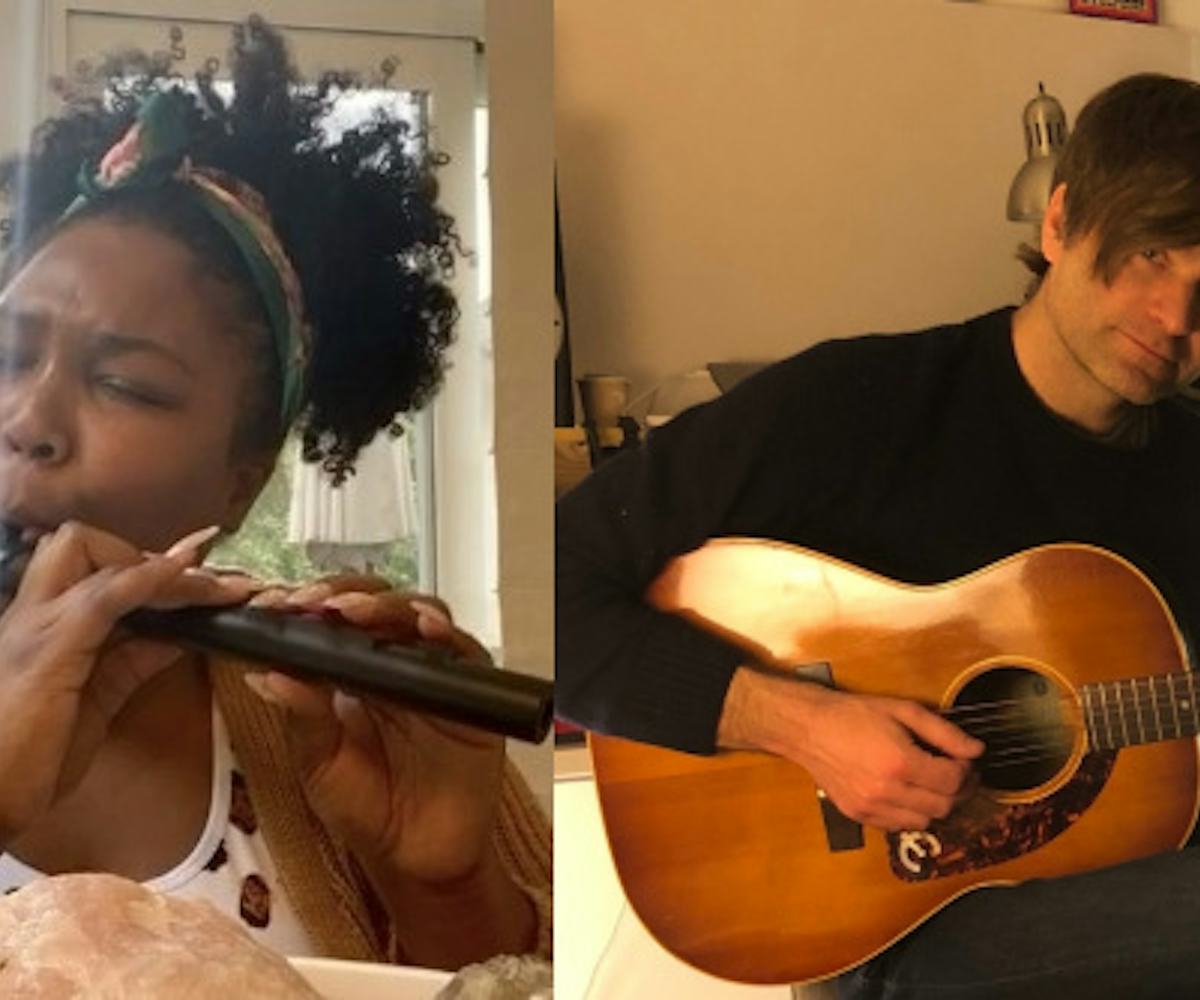 L: IG @lizzobeeating; R: Twitter @dcfc
Here Are All The Musicians And Comedians Live-Streaming Shows Right Now
It's a (virtual) party in the U.S.A.
As the world copes with the new normal — elbow bumps instead of handshakes, social distancing in place of typical get-togethers — the globe's most creative are looking at new ways to commiserate together. Musicians, comedians, and drag queens alike are turning to live-streaming in the wake of cancellations and postponements in the entertainment industry, affecting tours from Green Day, Tove Lo, to Avril Lavigne. Though it may be tempting to stay offline, now more than ever social media channels are being utilized to provide musical, comical, and conversational relief amid discouraging headlines.
Below, find a list of past and upcoming livestreams from Coldplay's Chris Martin to NYC's favorite comedian Catherine Cohen to a digital drag show hosted by RuPaul alumni. Even if the outside world is at a standstill, who said there can't be a party online?
Daily Streams
Miley Cyrus
After cancelling her appearance at the World Tour Bushfire Benefit Concert, Cyrus has been staying active on Twitter, encouraging best hand washing practices and condemning panic buying and hoarding all through nostalgic Hannah Montana references. The artist is taking her platform a step further by hosting a series of live shows that she's calling #BrightMinds. They will "NOT be political, or even about the illness - it is purely for HOPE and escapism," she says. Episodes will occur Monday through Friday, and each day will feature a new guest. Follow her Instagram for updates.
Charli XCX
Charli XCX has launched "Self-Isolation IG Livestream," a daily show that will feature guests from Diplo to Rita Ora in the hopes of "providing support to those currently self-isolating due to the COVID-19 pandemic." Keep up with the pop vanguard by tuning in every day at 12pm EST on her IG.
Christine and the Queens
The French pop auteur announced that she will be performing nightly shows on Instagram at 6pm CET, "guests and weird concepts included." Charli XCX is set to be the guest of the day on March 18, and it will surely be as iconic as "Gone." Follow her Instagram for more info.
Death Cab For Cutie's Ben Gibbard
The frontman of Death Cab For Cutie will be playing songs everyday from his home studio at 4pm PST, the band's Twitter announced on Monday. He might even have a guest or two stop by digitally, they wrote. Committing to a livestream every day sounds like a big feat, but for Gibbard and his fans, it sounds like there'll be some catharsis to be had. Get more info here.
Niia
The R&B singer recently announced that she will be performing "20 mins of live piano freestyle" everyday this week as a way to de-stress. Check out her IG to tune in.
The Met Opera
The Met Opera has launched "Nightly Met Opera Streams" where every night of the lockdown they will air "a different complete operatic gem from our collection of HD presentations from the past 14 years," according to their website. Tune in at 7:30pm EDT, and see the upcoming schedule on their website.
Upcoming Streams
Courtney Barnett and Lucius & Friends
Join Courtney Barnett, Lucius, and a slew of other star performers for a live-streamed festival on March 23 at 6pm EST on Instagram. Sheryl Crow, Nathaniel Rateliff, Lukas Nelson, Fred Armisen, Emily King, Sharon Van Etten, Bedouine, Jonathan Wilson, Waxahatchee, Kevin Morby and more "surprises" are set to play the festival. Donations to Oxfam's Covid-19 relief fund are encouraged. Follow Lucius on Instagram to catch the show.
James Blake
James Blake will be going live on March 23 at 3pm EST to play some tunes. There's no word yet on what he'll be playing, but he recently covered Billie Eilish and Frank Ocean, so everything's on the table. Follow him on IG.
Ultra Virtual Audio Festival
What with the recent cancellation of Miami's Ultra Music Festival, SiriusXM is taking steps to create a virtual version of the festival. Beginning March 20, tune in to UMF Radio to listen to the sets of previously confirmed performers, from Major Lazer to Afrojack. If you close your eyes, it'll be like you're actually there.
Catherine Cohen
With the NYC comedian's European dates recently cancelled, Cat Cohen announced to her dedicated audience via Instagram that she will be hosting Cabernet Cabaret live from home every Wednesday until Club Cummings is open again. Stream it on her IG every Wednesday at 8pm.
Peg Presents: Digital Drag Fest
RuPaul's Drag Race's biggest-named alumni are participating in a Digital Drag Fest from March 27 through April 6. Alaska, Alexis Michelle, BenDeLaCreme, Divina De Campo, Ginger Minj, Jackie Beat, Jujubee and many more will be participating, and sharing their skills in cooking, lip syncing, singing, comedy. Tickets for these shows, which will be exclusive to view only for ticket holders, can be purchased here.
Erykah Badu
The mystic Dallas-based artist has teased the arrival of Quarantine Concert Series: Apocalypse One several times now on her social media, the latest update only saying that it's coming "soon..." According to Badu, for one dollar, listeners will be able to pick which songs she plays, and what clothes she'll wear. Keep an eye on her Instagram for more details.
Past Streams
ACL Stands With Austin
Spoon's Britt Daniel, The Gaslight Anthem's Brian Fallon and many more musicians played Austin City Limit's two-hour livestream on March 20 at 9pm EST. All money they raised went toward the Stand With Austin fund which supports the businesses and individuals impacted by the cancellation of SXSW. Watch it here.
Fat Tony
Houston rapper Fat Tony urged his followers to stay at home along with an incentive: "I'm doing a live stream concert on March 20 at 9pm EST called Purgatory cause that's what we're living in." The digital concert benefited the Houston Food Bank. Watch it here..
Digital Drag: An Online Drag Show
Drag queen Biqtch Puddiń and producer Megna took to Twitch to host a digital drag show featuring over 20 performers on March 20. The lineup included Alaska Thunderfuck, Vander Von Odd, Bible Girl, and Kat Sass, among others. Relive it here.
Waxahatchee & Kevin Morby
Indie artist Kevin Morby cancelled his April OMG Tour, and he made up for it with an Instagram livestream on March 19. Alongside fellow indie rock artist and girlfriend, Waxahatchee's Katie Crutchfield, Morby played tracks and took calls from fans. Watch it here.
Lizzo
The rapper, flute in hand, led a group meditation via Instagram Live on Saturday, and it's available to watch now at any time on her grid. "A meditation and mantra to promote healing during this global crisis. Use at your own pace. Love you," she advised.
Coldplay's Chris Martin
In promotion of #TogetherAtHome, the Coldplay frontman streamed from the band's Instagram on March 16, playing classics like "Viva La Vida," "Clocks," and "Yellow." Watch it here.
Ellie Goulding
No, Goulding won't be singing for her livestream. Instead, the artist is teaming up with the Body Coach for a "25 min workout" on March 17 at 7pm GMT. The Body Coach tweeted out, "You don't need any equipment and everyone can get involved. Let's get moving, get energised, have some fun and feel positive." Check out the Instagram post for more information.
John Legend
Following the footsteps of Chris Martin, Legend tweeted that he, too, would be streaming a concert from home on March 17. For those that miss it, click here to see the recording, featuring Chrissy Teigen practicing self-care.
Keith Urban
The country artist recently cancelled a Houston show, prompting him to livestream a concert from his basement with wife Nicole Kidman dancing by his side.
Yungblud
After the 22-year-old's tour was postponed, he decided to get creative and livestreamed a gig he called The Yungblud Show on March 16. From sunny California, Yungblud enlisted the help of Machine Gun Kelly and Bella Thorne to cook, play drinking games, and answer questions in between songs. Relive it here.
The Decemberists' Colin Meloy
The frontman of The Decemberists, Meloy sought out "fellow isolationists" on Monday by playing songs for nearly an hour on Instagram Live. Watch it here, and follow Meloy's IG for future shows.
Ben Platt
Broadway's Ben Platt will be putting his stage talents to good use by hosting a #QuaranTunes Virtual Dance Party on March 17. Platt will be accompanied by Noah Galvin and Kathryn Gallagher as they "listen to a virtual playlist together and dance, listen to each other talk and whatnot." Some of the artists on their playlist will include Billie Eilish, Lizzo, HAIM, Taylor Swift, and The Killers. Follow his Twitter for more info.