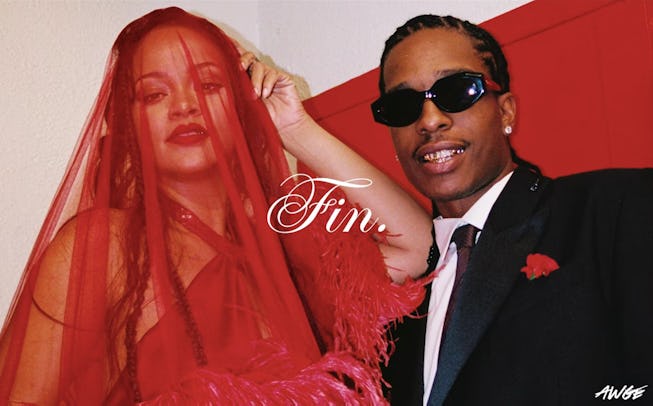 YouTube
A$AP Rocky & Rihanna Get Married In "D.M.B." Music Video
It's finally here. While there was never any promise that A$AP Rocky and Rihanna would make music together once they became official, it seemed likely that something was brewing on the music front when they were captured filming a mysterious music video back in 2021. Now — nearly a year after those infamous pap pics were first taken — the world finally gets to witness the fruits of that day. A$AP Rocky's touching ode to RiRi, "D.M.B.," has arrived, and it's all about his love for the superstar.
While it was previously speculated that Rihanna would be singing on the track, the singer and mogul turns out to only be featured in the music video, though it's a heavy feature at that. The song, a thumping, rhythmic track that finds Rocky recounting their relationship journey, opening his verse with the lines: "Time to call it what it was/ First I thought it wasn't nothin'/ Probably think I wanna hit and run." But soon it becomes quickly obvious how deep he's fallen for the "Umbrella" singer, "My angel and my Goddess, when my head get clouded/ My head get cloudy, my thoughts get cloudy/ You're my soulmate, my Goddess/ And baby/ Took a little time in a gray place/ For nothin', no thanks."
But even all of that doesn't compare to the utter and sweet sappiness of the song's music video, which is basically composed of reverential shots of Rihanna, exiting restaurants, laughing, counting money, smoking (there's a lot of that). At the end of the visual, Rocky and RiRi — in a red veil — get married, saying their "I Dos" with matching "I Do" grills. After the ceremony, they saunter down a narrow and dark hallway, grinning, as friends and family shower them in rose petals. It's an overwhelming closer to the video — though it's unclear if the wedding was staged just for the video or if the two actually tied the not (our guess is likely not).
Rocky first revealed "D.M.B." in a post-and-delete to Instagram on Tuesday evening, though he made the official announcement on Wednesday, May 4 — just a day before the track arrived on May 5.
The video is the closest thing the world has gotten from Rihanna regarding music in the last six years since she put out her last studio album ANTI in 2016. Rocky himself is also coming off a music hiatus of sorts, as this marks his first proper solo release since 2019. Other artists involved in the making of the song according to the cover include Skepta, Hector Delgado, Krash, Nort Ollem, Shlomo, and D33j.
The new song comes at tenuous time for the A$AP, who was arrested at Los Angeles International Airport in connection to an alleged shooting in L.A. less than two weeks ago. He's since been released on bail with a court date set for August 17.